What's at the heart of strong communities?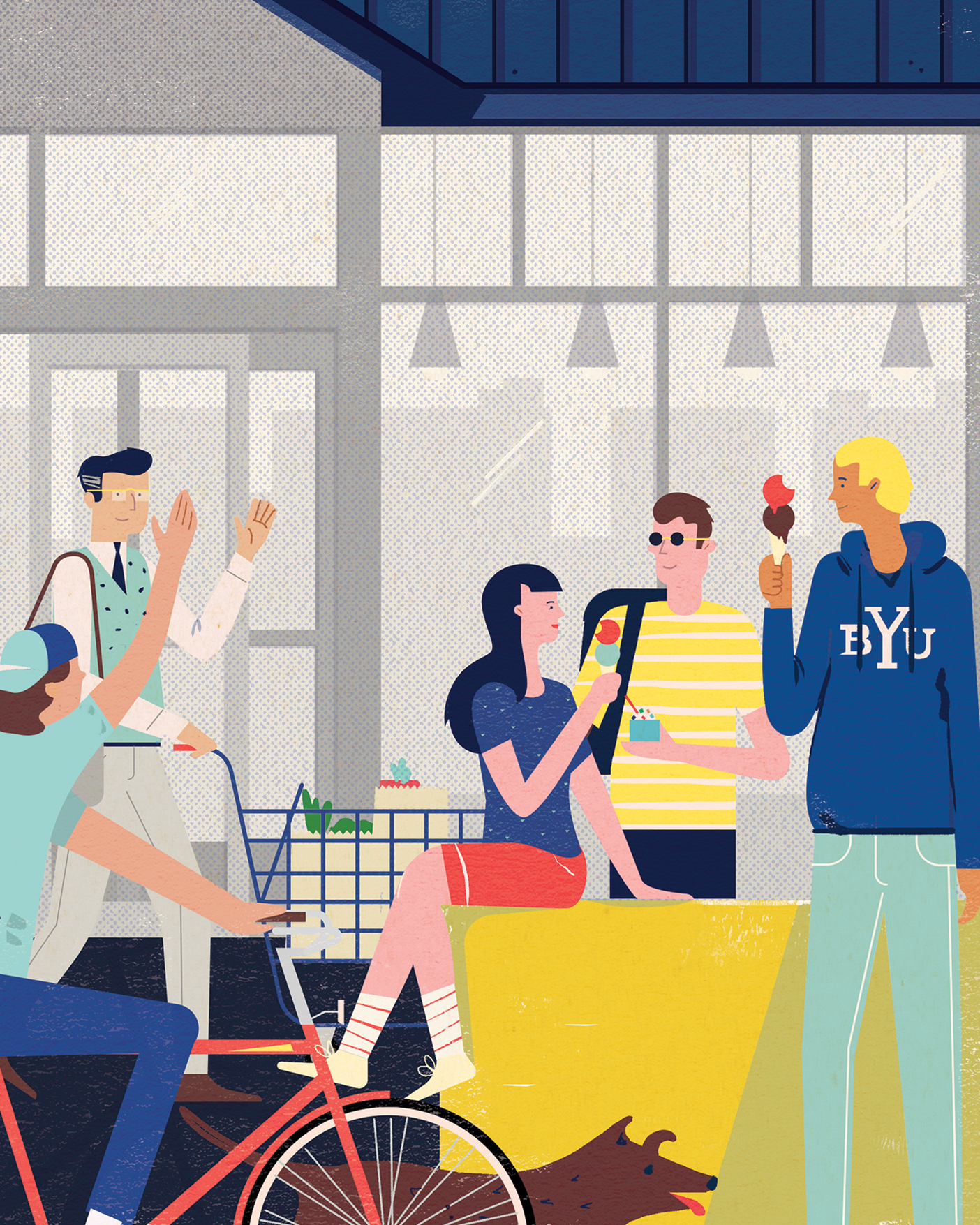 Imagine you are standing outside BYU's Creamery on Ninth. Students and professors jostle by for lunch, and families from nearby neighborhoods enjoy bowls of ice cream. At that street corner, many different social circles converge, says English professor Jamin C. Rowan (BA '99), making it one of the best on campus for encouraging interaction. "I rarely go there and don't see someone I know," Rowan says.
He calls street corners like the Creamery's the heart of strong communities. They attract a cross-section of society, facilitating casual relationships among very different people—people who may have nothing more in common than an ice-cream craving. Rowan is an expert on urban sociability, or those casual connections that strengthen communities. His recent book, The Sociable City, explores the intellectual history of sociability, tracing its development by analyzing the writings of urbanists such as Jane Addams, Jane Jacobs, and W.E.B. Du Bois.
Rowan finds that casual relationships are necessary, even if some aspects—like small talk—can be off-putting for some people. Without sociability, Rowan says, we cannot fully grasp the living situations of our fellow citizens and, therefore, cannot make economic, political, and social decisions as compassionately or responsibly. "We do not have to find social satisfaction in our interactions with strangers to want them to lead satisfying lives," he adds, "but we do need to know who those strangers are in order to help them thrive in our communities."
Rowan turned his intellectual pursuits into civic activism when he joined the Provo City Planning Commission in 2010. Then, in winter 2017, Rowan launched the Provo City Lab, a course where students work with local organizations, such as Provo City and Utah Transit Authority, to complete community projects. One student group held an on-campus event to educate students about the benefits of mass transit. "Some people think buses are for people who don't have money, . . . [and] we wanted to counter those stereotypes," says Marissa G. Getts ('18), the BYU team lead. Mass transit is not only cheaper and more environmentally friendly but also better for sociability. "You miss out on those opportunities for connection if you're driving in a car," says Jacob T. Johnson ('18), another student in the class.
For Rowan, the real reward has been seeing his students become engaged citizens. "Cities are waiting on people to make contributions," Rowan says, adding that anyone can get involved, no matter their field of expertise. We need to promote sociability, he argues, through urban designs that encourage casual connections, like the Creamery's corner. "As a culture, we've been taught to leave all that stuff to the experts," Rowan explains. "It's time to make sure our communities allow us chances to interact with other human beings. That's what, for me, makes life satisfying—feeling part of this larger human family."