The author of Letters to a Young Mormon drew an overflow crowd at a BYU lecture on Mormonism, morality, and making a mark on society.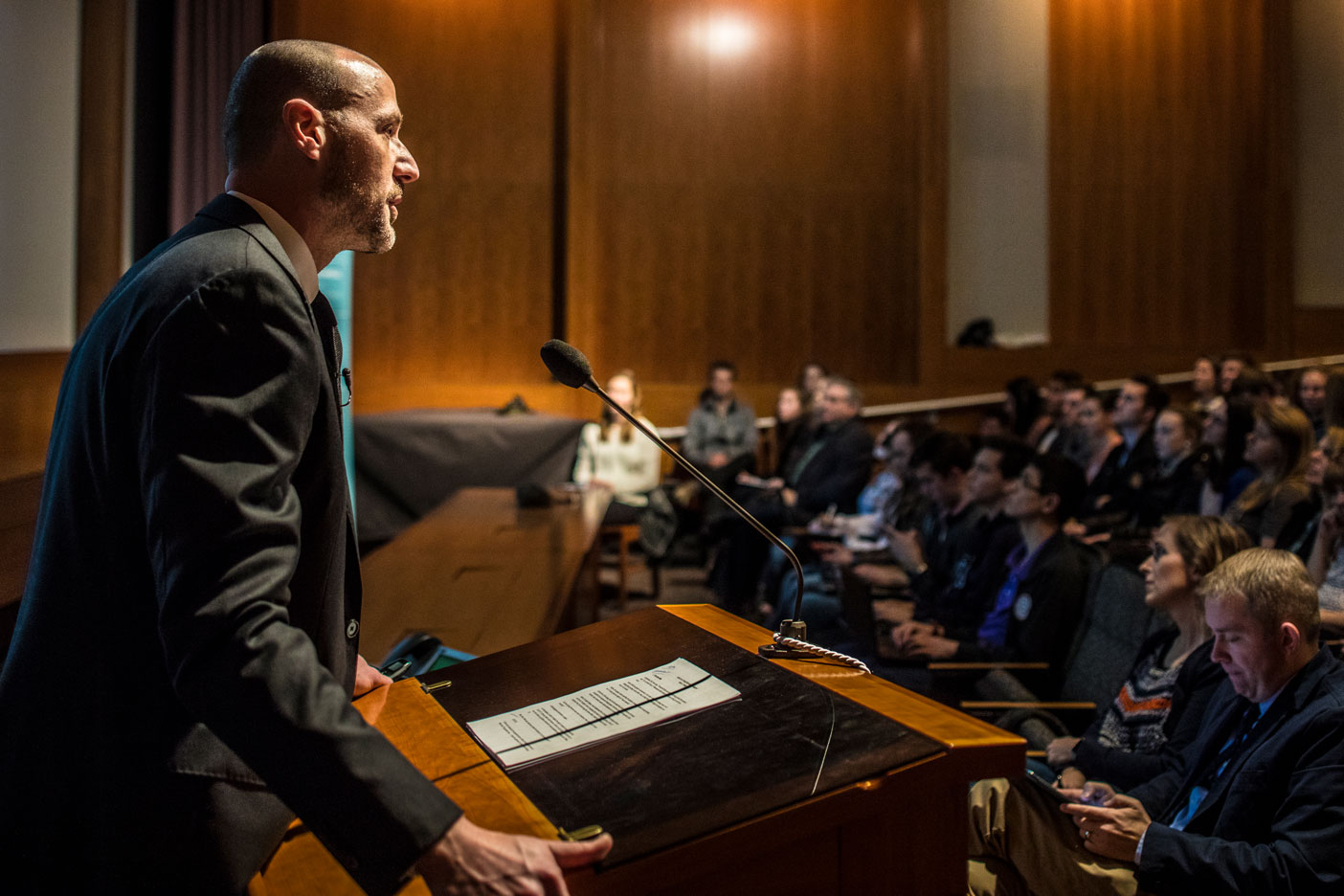 Mormon philosopher and prominent author Adam S. Miller (BA '01) is less interested in the perennial question "Is the Church true?" and more interested in what influence that truth can have on the world. In a Jan. 11 address at BYU's Harold B. Lee Auditorium, the Collin College professor and author of Letters to a Young Mormon and other books on theology called on his audience to exercise moral creativity—combatting the moral challenges of the day by thinking about them differently.
Miller suggested that sometimes being morally creative means changing the way you look at yourself and how you view moral issues. He challenged his audience to ask questions that deepen one's moral perspective. What does it really mean to be Mormon? What does defending the family look like? Are you willing to change how you think in order to become something more?
Following are excerpts from Miller's lecture:
What Is Moral Creativity?
"Moral creativity does not mean making up new morals. God's law is God's law. Rather, moral creativity has to do with the kind of creativity needed in order to be moral. It has to do with the kind of creativity needed to break bad habits. Or the kind needed to breathe life back into broken relationships. Or the kind needed to unbalance cycles of anger or violence. Or the kind needed to see past prejudices. Or the kind needed to be something more."
Love As a Creative Act
"Love is a fundamentally creative act. Love creates and recreates lives and worlds. Love depends on learning how to bend our ordinary lives, like a poet bends and saves ordinary words into creative and morally responsive shapes. In this sense, love is an ethical practice with a deeply aesthetic dimension. Love doesn't just require justice and mercy, it requires beauty and creativity."
Mormonism Isn't About Mormonism
"It is a mistake to think that Mormonism is about Mormonism. Mormonism is not about Mormonism. And if we try to force Mormonism to be about itself, we paint ourselves into corners and lose track of the very thing we are trying to say. . . . In my experience, Mormonism comes into focus as true and living only when I stop looking directly at it and instead aim my attention at Christ. Instead of aiming at Mormonism, I have to aim what Mormonism is aiming at. Otherwise, I'll miss what matters most."
Defending the Family Differently
"In addition to arguing that the differences between men and women are real and important and spiritually significant, the Proclamation also boldly claims that men and women are intended by divine design to be equal partners. . . . It seems increasingly obvious to me that in our day, defending the family means rooting out our world's misogyny. Defending the family means defending women from both the subtle and violent forms of degradation, abuse, and marginalization that riddle our world. It means taking seriously, perhaps for the first time in the history of the world, the solemn declaration that God intends men and women to be equal partners. In my view, this will be the defining moral issue of our generation."