---
A poet who crafts stanzas on 50-milers just might do this for a living.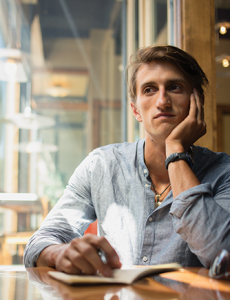 "I'm expecting Dr. Seuss or something," says Christopher N. Watkins (BS '98), BYU men's soccer head coach, recalling midfielder Conner D. Bassett (BA '13) getting up to recite poetry at the team talent show. Instead, Bassett poignantly delivered three Robert Frost poems from memory. And just a few months prior, Bassett, the closet poet—without taking a single poetry class or even telling anyone about his budding interest—had three of his own poems published in Portland Review, an esteemed literary journal. Says Watkins, "It was at that moment we all realized, 'Wow, this guy has another gift.'"
Psalm
"An Engine Against the Almighty"
—George Herbert
We wrestle, gentle
Jehovah, gentle
blade, or rather ring
bearer, keeper
of dirt and sleet under
streetlights. A kingdom,
weightless, entrusted
to the small palms
of a child. A garden
with a certain desert
distance, an angel's
interference, this
late-night duel. I know
the sound of wind
as well as I know
the shape of your
footprint. Or
is it the mark
of my knees in dirt?
— Conner D. Bassett (BA '13)
Now, two years later, Bassett is one of only 12 undergraduates, chosen from 700 applicants, to attend the month-long Bucknell Seminar for Younger Poets. "Subsidized writing time," Bassett calls it with a laugh. It's also a chance to learn from nationally acclaimed poets like Dan Beachy-Quick, who calls Bassett "ambitious while also being humble, something the art of poetry seems to me to require." Bassett had similar experiences last summer, receiving fellowships and grants to attend three other national poetry conferences.
Rainer Maria Rilke, the 20th-century Austrian poet, first captivated Bassett. "I can't quite describe it," he says, "but I was amazed." Allen Ginsberg, with his "visceral and exciting and very loud" style, inspired Bassett to write his own poems.
Bassett soon decided he wanted to write poetry for a living and hasn't looked back. Bassett began taking poetry classes—some at the graduate level—and waking up at 5 a.m. to practice his craft. He even quit the soccer team so he could focus on his writing.
Bassett didn't give up running, however: it's integral to his writing process. He runs six days a week, composing lines of poetry with every pounding of the pavement, crafting entire series (three or more poems woven together by a common theme) in ultramarathons, like the 50-miler he ran in his hometown of Las Vegas.
His mission to Russia also influences his work, which shares a subtle spirituality with Russian literature. "A lot of my spiritual longings are mirrored in Russian poetry," he says. English professor Lance E. Larsen (BA '85, MA '87) says, "I was so taken by [Bassett's] work, that I actually asked if I could publish one of his poems in Literature and Belief," the journal Larsen edits.
This fall Bassett will attend the University of Iowa, a top creative-writing program, for a dual MFA in poetry and Russian translation and to pursue his ongoing quest, not for poetic perfection, but for poetic profundity. "The goal is not to agonize over the 'perfect' poem, but to let the writing go along its own path, to explore," he says. "Poems echo against each other. They become deeper, louder, more meaningful in community. One poem begets another, begets another, begets another."
—Breckyn Moore Wood (BA '13)