At Camp WILD a team of students and professors helped at-risk boys discover their potential through challenging outdoor experiences.
Peanut buckles up his bright orange life jacket and yellow helmet as he stands next to a large yellow raft. His task for the day will be to help guide four of his peers through some of the whitewater rapids of Idaho's Salmon River, nicknamed "The River of No Return" by Lewis and Clark.
Nereo, who likes to be called Peanut, is 14 years old; his family moved to Utah from Argentina four years ago. He has buzzed brown hair, tan skin, and a toothy smile. He is shorter than many of his peers, but his swagger gives him an aura of teenage invincibility. Nonetheless, as he picks up his paddle and climbs into the back of the boat, he appears nervous and is quieter than usual. Today he will be responsible for keeping the boat on course and telling the other boys in the boat which direction to paddle—including when the group goes through Pine Creek, the first and largest of the rapids the boys will face for the day. He has helped paddle through the rapid three times already during the week, but he has never been in charge.
As the boat begins drifting down the glassy water on the hot July morning, Peanut asks Matthew A. D'Haenens, '04, an experienced river guide who is sitting in the back of the boat with him, "I can't do Pine Creek. Right? I can't, can I?"
D'Haenens smiles. "Sure you can. I'll help you, but you're in charge. And you can do it."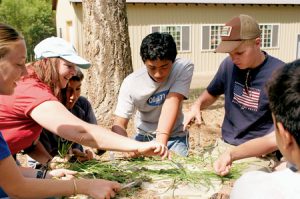 Aside from giving a few paddling directions during the next hour, Peanut is fairly quiet. The boat soon approaches the familiar bridge that marks the beginning of Pine Creek and starts picking up speed. Peanut, eyes wide, pauses for a moment and says quietly, "I don't think I can do it."
D'Haenens, paddling harder, responds, "You can do it, man. I know you can. Watch the current, stay left, and use your paddlers. You'll be great."
The boat moves through its first big dip, tilting, splashing the boys in the front of the raft, but not tipping. As it approaches a large rock in the middle of the river, Nereo's commands come quickly and loudly: "Go right, go right—everybody paddle forward—keep paddling forward—go left." The boys in the boat listen, paddling hard and fast, managing to avoid the rock and get through the rapid.
At the end of the rapid but before the adrenaline rush has died down, D'Haenens turns to Peanut. "You got us through, man. How do you feel?" Peanut doesn't hesitate. "Awesome," he says, grinning as the other boys on the boat cheer for him.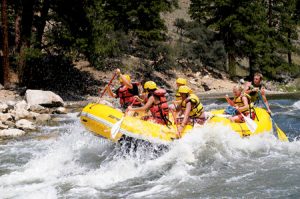 Nereo is one of 27 boys deemed "at risk of becoming at risk" who attended a three-week wilderness instruction and leadership camp in July. Camp WILD (run by the Wilderness Instruction and Leadership Development Foundation), held in Shoup, Idaho, was designed, planned, and carried out primarily by BYU students and professors hoping to study the impact of outdoor recreation on individuals' perceptions of their own abilities, also known as self-efficacy. Nereo's experience is just one example of their hypothesis: Give an individual a sufficiently challenging experience, allow him to complete it, and he will then believe himself capable of completing other difficult tasks.
Mark A. Widmer, '88, associate professor of recreation management and youth leadership, has spearheaded a number of studies involving the power of outdoor recreation to improve efficacy in both individuals and families. So when Mathew D. Duerden, '04, approached him about setting up and conducting research at a camp for at-risk boys, there was a quick bond. Their shared goal was to give a life-changing experience to boys ages 12 to 15 who, because of such challenges as a learning disability, low self-esteem, or coming from a single-parent or low-income household, might be considered at risk. More specifically, they wanted to see if the boys' outdoor successes and subsequent improved perceptions of their outdoor abilities would translate into improvements in their perceived abilities in the classroom.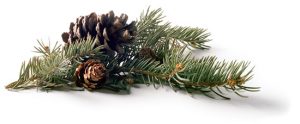 Eventually joining Duerden and Widmer were Stacy T. Taniguchi, '04, assistant professor of recreation management and youth leadership, and a team of nearly 30 energetic BYU student volunteers. The team, headed by Duerden and his wife, Chenae Christensen Duerden, '03, spent close to a year planning a camp that would involve backpacking and outdoor skills, whitewater rafting, and wildlife identification—all with the aim of providing challenging activities that would raise the boys' perceptions of their capabilities.
Widmer believes the boys' success in their outdoor experiences will carry over into their efficacy in academics and other areas of their lives. "We've found in the past that when people have an overwhelming mastery experience, they finish and think, Wow, now I can do anything," he says.
Climbing Personal Mountains
All of the boys at camp admire Matt. He is the camp jokester, and he is taller and heavier than most of the other boys. A few days into the camp, however, Matt has to turn back with Widmer on a day hike, too tired to continue, though he is just 20 minutes from the top of the mountain. Although he is supposed to leave for a three-day backpacking trip the next day, he is discouraged and tells his counselors, "I know I can't do this. I know I'll die." The counselors assure him that he is capable, encourage him, and give him some tips on his hiking and breathing techniques. When he begins hiking the next day, wearing board shorts, a bandana, a white T-shirt, and a heavy backpack, he walks slowly, asking periodically if the hike is almost over.
Three days later, however, Matt completes the hike and even has enough energy to run back to the cars, finishing before any of his peers.
Matt came to camp with some academic struggles, saying he wanted to be a comedian when he grew up. He left camp saying he might like to be a lawyer.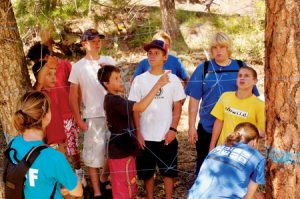 "We want these kids to succeed," Widmer says. "So we made sure that Matt wouldn't lose confidence or get frustrated by talking to him about specific things he could do differently to be successful. We show the boys that they can do things in a fun, non-threatening environment, where you can control the level of challenge, so that they perceive that it's hard, but not so hard that they're going to fail."
The leaders involved in the camp were determined not only to challenge the boys with a variety of activities but to help them complete these activities and feel good about their performance—whether hiking, rafting, or identifying birds and bugs.
"We wanted them to be able to see their potential," Mathew Duerden says.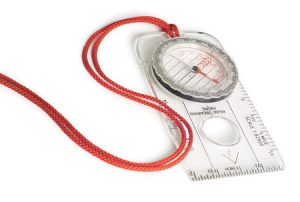 Widmer adds, "If people think they have too many limitations, they won't even try anything. These kids will have confidence that they can backpack and kayak. Matt didn't think he could hike or backpack. Other kids were afraid of the water or the rapids. But after they did these activities, their efficacy increased. Now when they go swimming or canoeing with their friends, they'll be the first ones in."
Catching Glimpses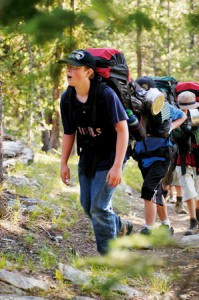 Many of the boys who came to the camp, not surprisingly, behaved a lot like adolescent boys do—they roughhoused, showed off, and acted tough. And sometimes, admits Chenae Duerden, "it felt like we weren't doing anything." But, says Mathew Duerden, "there were also times when they were really lucid. With everything that happened, there were those times when you'd really see who those boys are, and not just the teenage outer shell. You'd really see them let down their guard and be themselves. So often at that age you have so many walls, but we were able to really see through those barriers."
Taniguchi, who is researching what made the outdoor activities meaningful for the boys, explains that most individuals come into such experiences with facades they create based on what they think society expects from them. "But in the outdoors, there's a sense that, after we put ourselves in difficult situations, those facades don't help us anymore," he says. "So we start getting rid of the layers and seeing ourselves as we really are. Only when we start to see and experience the sublime nature of ourselves are we really able to reconstruct ourselves and build off our strengths."
Although the boys finished camp still behaving like boys, Mathew Duerden says most of them had "glimpses" of their potential and expanded what they thought they could do. "We've had so many parents tell us about major and minor things they've seen in their kids," he says. "It was great to see that some of the things followed them home."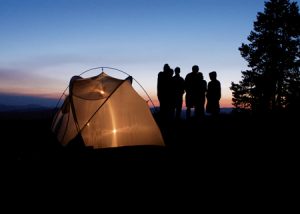 Although the future of the camp is dependent in large part on future funding, those involved in the project this year hope to further develop and expand the program for future research, perhaps even beginning a family camp to study family recreation.
Regardless of the future, Taniguchi says this year's camp and its preliminary results have been rewarding. "If we see that these boys are doing better and have a better perception of themselves, then what else is there? If this camp was able to provide meaningful learning experiences for these boys, what could be better than that?"