---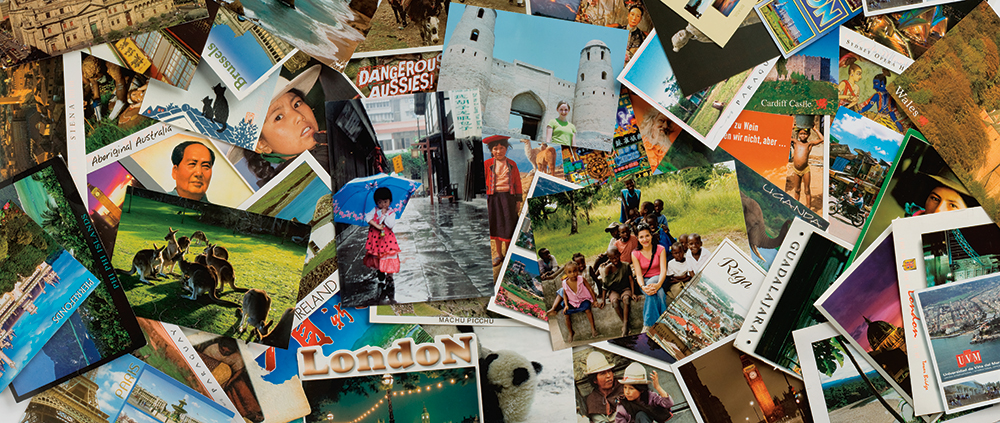 We've got mail. This summers' students sent BYU Magazine more than 100 postcards, sharing their experiences of studying, working, serving, and performing abroad.
Using GPS on unpaved roads and on the back of 110cc motorcycles, 10 BYU students spent their summer locating and visiting 240 secondary schools in Uganda's bush. Elsewhere, one BYU student studied leukemia in Ireland. Another BYU group performed—and endured a magnitude 7.9 earthquake—in China.
All are part of a growing trend in higher education: U.S. college students are studying abroad in record numbers, and BYU is one of the universities leading the throng. The Institute of International Education's Open Doors 2007 report ranked BYU ninth in the nation for the number of short-term study abroad programs and 16th for sending the most students abroad.
"Business, engineering, dance, education, and other fields are finding an international experience to be advantageous for their students," says Sandra Rogers (BS '74), BYU's international vice president. "My hope is that students who participate return with a greater appreciation for others around the world and a better basis for living and working."
This summer, BYU Magazine invited students studying abroad to send postcards from their international locales. The result was postcards, pictures, and words from BYU students who are engaging their world.
For travel tips from students who studied all over the world last summer, visit more.byu.edu/postcards.
---
56 countries visited by BYU students last year
2,040 students studied, performed, or volunteered abroad last year
77 percent of BYU students speak a second language
15 international study programs offered through BYU's Kennedy Center
62 percent increase in students studying abroad in the last 10 years, excluding BYU Jerusalem Center enrollment
17 percent of BYU students participate in a study abroad program before graduating
---
Wish You Were Here
What students fit on the back of a postcard.
Australia: Starla K. Aragon ('09)
Nursing study abroad
Differences between Provo and Geelong, Australia:
Provo:
Lots of babies and children
"Heck" is almost a swear word
Everyone knows a Mormon, if they aren't one already
Deer on campus is crazy and cool
Lots of worried and stressed students
Utah poof hair is common
Geelong:
Saw three babies total in a one-month period
Never heard of "heck," and "hell" is not a swear word
Hardly anyone is a Mormon—we were the first ones they had ever met
Kangaroo on campus—"Eh, no biggie"
Everything is simply "No worries"
Mullet hair is common
Bolivia: Natalie Brooks ('11)
Public health internship
At the end of June, a line formed across the street from my clinic. All sorts of people—young, old, indigenous, families, teenagers—were waiting in this line that stretched down the block, around the corner, and down the next street. . . . These people were waiting in line to buy government-subsidized rice. In only four months the price of rice about doubled here. I had heard about the global food crisis and rising costs of food, but to witness it in person was surreal.
China: Nicholas S. Bruderer ('10)
Ballroom Dance Company tour
I had the most moving experience of my life: I watched the birth of my first child through a laptop and Web cam. After the birth I rejoined the team at a formal dinner hosted by the Yantai city officials. When the officials found out what had just happened, they ran over and sat me at the head of the table and began to fill my plate with food. They presented me with a gift for my daughter, a beautiful crystal doll that represents the fire of the Beijing Olympics. I will always remember the kindness of the Chinese people.
China: Mary O. Vance ('11)
Dance study abroad in China
At the time of the earthquake, my study abroad classmates and I were in Chengdu, 60 miles away from the epicenter. We were in the middle of our teaching methods class when the ground first shook. We all bolted to our classroom doorframe, hoping to receive some protection from the debris that would soon fall from the walls and ceilings. I've never had so many different thoughts run through my head as we crouched and huddled together as the earth ruthlessly shook underneath our feet. . . . All of a sudden, someone sang the first line to the Primary song "A Child's Prayer." Relieved to hear something of comfort, I joined in, and it was a chain reaction from there.
Germany: Jordan M. Cox ('09)
Physics research internship with the Max Born Institute
At my job, I work with not only Germans. My advisor is Danish, my other colleagues are Russian, Pakistani, Italian, and Liberian. My classmates come from France, Mongolia, Latvia, and Israel! My favorite part of each day is talking in depth with thoughtful, intelligent people from literally all over the world.
Great Britain: Carolyn M. Haynie ('10)
London study abroad
I turned the corner (in London's National Gallery) and was completely amazed when I saw da Vinci's cartoon The Virgin and Child with Saint Anne and Saint John the Baptist. To see this work of genius up close and personal was such a spiritual experience . . . the depth and dimension da Vinci gave his subject was so lifelike yet positively ethereal!
Mexico: Jessica R. Hiatt ('10)
Service-learning study abroad
I volunteer at Instituto Helen Keller, a school for children with visual disabilities. Once a week we go swimming with them. Teaching blind kids to swim in a language I haven't yet mastered is definitely challenging, but the experience is purely amazing.
Tajikistan: N. Kaitlyn Pieper ('09)
American Councils Persian language 
program and BYU field study
Living in Dushane, Tajikistan, has taught me more about the joys of being a woman. Tajikistan has a strong tradition of families, and most Tajik women remain at home to raise their children. The Tajik women I have met here are at once vibrantly self-confident, gracious, and nurturing. Their faces radiate a calm tranquility that comes from living a life of service and goodness.
Uganda: Tali C. Whittermore ('08)
Field study in Ugandan schools
Attending church here in Uganda has been humbling and inspiring. The members are so new to the gospel—they are often the only ones in their family to join, and they do so notwithstanding great opposition. The Church will become very powerful with such members.
Know Before You Go
I wish I had taken my walkie-talkies or some type of simple communication system with a 4-8 mile radius.
—Sharilee Greene Guest (BGS '05), business study abroad in Europe
Pack around a small bottle of hand sanitizer with you.
Travel light! We Americans are generally so tempted to take too much stuff, and then we have to lug it around everywhere. You can wear your clothes more than once or twice.
—Cameron C. Poulter ('09), Peru
Study about the country before you get there. Two great books: Lonely Planet and Culturesmart.
Learn at least 10 words, regardless of how long or short your stay is. A few well-placed words are almost guaranteed to have your audience laughing and eager to teach you more.
—Rhett A. Ferrin ('10), business internship with SK, an energy and communications corporation, in South Korea
The Full Experience
Eat everything and anything that doesn't break the Word of Wisdom or any serious rules of sanitation.
Carry icebreakers: a deck of cards for long train rides, books to talk about, magic tricks for little kids. The best are pictures. Even if you can't speak a word in the other language, everyone understands pictures. A few family pictures or funny pictures of you are a sure way to make new friends.
—Rhett A. Ferrin ('10), business internship with SK, an energy and communications corporation, in South Korea
Getting Around
Don't be afraid to use public transportation. Buses are a great way to get around. They are cheaper than taxis, and there is never a lack of people willing to help you at the bus stations, usually in English.
—Nathan J. Wright ('09), Arabic study abroad in Jordan
Always ask the driver how much it will cost to get somewhere before you get in a taxi, and if the price is high, bargain down or wait for another taxi.
—Cameron C. Poulter ('09), Peru
Carry the business card or written address of your hotel. You can deal with just about everything except telling a taxi driver how to get to your hotel when you do not know the address.
—Rhett A. Ferrin ('10), business internship with SK, an energy and communications corporation, in South Korea
Must-Sees
Visit the nearest temple, or, if no temple is close, visit any location where the Latter-day Saints meet. I had an unbelievable experience getting to see the Church function in another country and another language. It reaffirmed my testimony of the truthfulness of the gospel.
—Heather S. Hawkins ('10), service-learning program in Mexico
Mindo Canopy Adventures zip-line experience near Quito is a must-do. It is a cheap price for the greatest thrill ever.
Call ahead if you plan to eat at the Quayaquil Ecuador Temple cafeteria. They may not be able to feed 15 people at once.
—Coleen F. Murray ('08), nursing study abroad in Ecuador
Definitely see Hiroshima, the A-bomb memorial museum (Hiroshima Peace Memorial Museum), and the A-bomb dome. We cannot afford to forget our past. If you will be in Tokyo and you like history, I also recommend going to Yasukuni Jinja. You will find an interesting take on Japan's participation in past wars and the Japanese opinion of the Western Invasion during the Meiji Restoration period. You cannot get this perspective from an American history book.
— Brandon J. Woodland ('09), internship in Japan with Daifuku, a material handling manufacturer
When in London, one must go to Hampstead Heath. It is a gorgeous park and the expansive grounds surround an absolutely beautiful manor house in the middle of the park. Plus, it's where they filmed a part of Notting Hill.
—Carolyn Haynie ('10), London study abroad
If visiting London, try to visit the countryside (commonly referred to as the Cotswolds area) for a few days—you will not regret it.
—Camille Mahlum Austin (??), London theatre study abroad
Two things you must see in Guadalajara: the temple and a soccer game in Estadio Jalisco.
—Ashley L. Harper ('11), service-learning study abroad in Mexico
Central Asia is a well-kept secret. Visiting Tajikistan, Kazakhstan, and Kyrgyzstan and participating in language or cultural exchanges will open your eyes to a whole new world of hospitality, perspectives, and culture.
—N. Kaitlyn Pieper ('09), American Councils Persian language program and BYU field study in Tajikistan
Security Measures
Be very careful about using credit and debit cards abroad.  Debit card thieves can install a device that reads your card information. The thieves can get your PIN by installing a small camera or having someone observe as you enter your PIN.
I was a victim of this scheme, and the thieves stole more than $1,300 from my bank account, leaving me with a negative balance of more than $600.
To avoid this problem follow these guidelines:
1) Use ATMs in trusted locations only. The best ATMs are inside banks that close at night.  However, even ATMs in banks can be compromised, so you should still take care.
2) Cover the keypad when you enter your PIN at an ATM—even when there is no one around. You never know if a camera has been installed.
3) Bring another card from a separate bank account in case of an emergency. You need a way to get money if your primary card becomes unusable, be it fraud or some other reason, such as forgetting to pull your wallet out before an impromptu swim in the sea (another personal experience).
—Dustin S. Cammack ('10), Emploment Resource Services internship in Brazil
Don't carry expensive things where they can be seen easily.
—Cameron C. Poulter ('09), Peru
Culture Savvy
What may be considered a friendly smile among Americans can often be misconstrued as a romantic invitation to youth of other nations.
—N. Kaitlyn Pieper ('09), American Councils Persian language program and BYU field study in Tajikistan
Culturally, you may want to be comfortable kissing strangers' cheeks.
—Ashley L. Harper ('11), service-learning study abroad in Mexico
Pay close attention to how people act and mimic them. I got a lot of compliments about my "good manners" when I had no idea what I was doing. I was just following what other people did or had briefly explained to me.
—Rhett A. Ferrin ('10), business internship with SK, an energy and communications corporation, in South Korea