---
To return punts for a living, you have to be quick, fearless, and a little bit crazy. Vai Sikahema possesses these qualities. During his eight seasons in the National Football League, the fleet-footed, 5-foot-9-inch Sikahema grew accustomed to the spotlight. As a punt return specialist, he would stand alone, some 50 yards from the line of scrimmage, to await a high, spiralling punt. After fielding a kick, Sikahema would scamper upfield, dodging defenders who were aiming to separate his head from his shoulder pads. This is a man who is intimately acquainted with the term crunch time. Sikahema returned more punts—292—than any other player in the history of the NFL. After the 1993 season, Sikahema sat in second place on the all-time list for most punt return yards: 3,169, just 148 shy of the mark set by Billy "White Shoes" Johnson. Sikahema could have sleepwalked his way to the record in 1994. However, instead of returning for a surefire chance to eclipse Johnson's feat, Sikahema retired to become a full-time, five-days-a-week sportscaster at WCAU-TV in Philadelphia.
As a punt returner, Sikahema made improvisation an art form. In his current job, improvisation is also considered standard operating procedure. He recently recounted a harrowing experience—a memory which has nothing to do with being chased by ornery, 230-pound linebackers.
It was 1994 and Sikahema was preparing to speak, on live television, to a potential viewer audience in the millions. He had been assigned to do a story on a controversial 1990s sports-related question: Are AIDS-infected athletes responsible to reveal their illness to the coaches and athletes with whom they train?
Sikahema visited a local university and interviewed several coaches and athletes about the topic for the evening news. Hours later, after editing and compiling an informative piece, Sikahema stood alone, before the bright lights and the camera, awaiting his cue. The voice of the producer buzzed in his earpiece, counting down the seconds. The plan was for the studio anchors to kick it to Sikahema, who was on location. Sikahema was to briefly introduce his story, then the station would cut away for his one-minute, pre-recorded segment.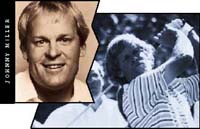 It didn't work out that way, however. A split-second before his cue, the producer suddenly informed Sikahema the tape had fallen victim to an electronic glitch. Sikahema was forced to ad-lib, for exactly 60 seconds, a complicated story.
This crunch time-in-prime time predicament was not one Sikahema could have foreseen when he was a student-athlete at BYU 10 years ago. Eight years of NFL experience didn't prepare him for this profession. Or did it? "What made football exciting to me was waiting for the game to start," Sikahema says. "It's the same when a producer talks in your ear. You get that same flow of adrenalin. I was quick on my feet in football. It's not much different in broadcasting."
In football, Sikahema was an elusive runner. In television, he's a straightforward journalist. "I used to think that to be a broadcaster you had to be born with the skills, like being a football player," Sikahema says. "Then again, I never thought I would play professional football."
Vai Sikahema is not the only former BYU athlete who is making noise in the field of broadcasting. Several ex-Cougars are thriving in some of the biggest markets and for some of the highest-profile media outlets in the nation. While it's not uncommon for athletes to become broadcasters when they finish playing, perhaps no other school has produced such a wide array of athlete-sportscasters in the past 13 years as BYU has.
No matter the season or the part of the country you click on a TV or radio, the commentary of former Cougars is part of the sports scene. With a radio, a TV, and, at times, a little help from a satellite dish, you can hear or see the following BYU alums on the airwaves:
Former BYU golfer Johnny Miller impresses national television audiences as a golf analyst for NBC-TV, doing prestigious events such as the U.S. Open and the Ryder Cup.
Tune into all-sports cable network titan ESPN on autumn Saturdays, and there's former Cougar and NFL star Todd Christensen, working as a college football color analyst.
In Houston, former quarterback Gifford Nielsen is the sports director at KHOU-TV in Houston. Nielsen is also a color commentator for Houston Oiler games on KTRH radio.
Glen Kozlowski, who played football for BYU and the Chicago Bears,
is a WGN radio personality in the Windy City.
Former BYU All-American Danny Ainge retired from his 11-year National Basketball Association career last summer to become a color commentator for Turner Sports' coverage of NBA games on TNT.
And another former BYU hoop All-American, Michael Smith, is also a color analyst, doing Cougar basketball games for the school's Blue and White Network, which has hundreds of affiliates throughout the country.
Even casual Cougar fans recognize the names Sikahema, Miller, Christensen, Nielsen, Ainge, Kozlowski and Smith. And the list of former Cougars-turned-broadcasters doesn't end there. Two ex-BYU golfers, Bobby Clampett and Jim Nelford, are commentators for CBS-TV. Last summer, the pair worked as reporters during coverage of The Masters as well as other tournaments. Clampett also has a nationally syndicated radio show called Drive Time, a daily three-and-a-half minute golf program featuring updates and player interviews.
And two former Cougar quarterbacks currently assist in BYU football broadcasts. Marc Lyons has been Paul James' sidekick on KSL radio for years while Blaine Fowler moonlights as a color commentator for the Blue and White Network.
There's also Paul Ruffner, a former Cougar basketball star in the 1960s, who has been broadcasting BYU hoops on KSL since the 1970s. This past season, Ruffner found himself saddled with a rough assignment: commenting on the play of his son, Bryon, who was a starter on the team.
None of the aforementioned men sought out broadcasting careers. Instead, it seems, broadcasting sought them. "Broadcasting," says Christensen, who echoes the majority sentiment of the group, "had never occurred to me when I was at BYU."
So why, and how, have so many former Cougars ended up in this pressure packed profession? Although their job descriptions and styles vary, there is a common thread running through their microphones: Each is articulate, entertaining, professional, candid, respected, humorous, knowledgeable, and dedicated.
Notably ironic, when considering the proliferation of BYU sportscasters, is that none of the above graduated from BYU's renowned broadcasting program, which has produced a vast and distinguished group of broadcasters in its own right. Nielsen graduated from BYU in communications with an emphasis in public relations and began work on his master's degree in organizational communication. But broadcasting wasn't what he had in mind then. "My communication professors at BYU prepared me well," Nielsen says. "I was getting a strong education, which prepares you for whatever life deals you."
At BYU, Sikahema studied public relations, among other subjects. Ainge graduated in communications. When he was in Provo, Kozlowski was interested in the teaching side of speech communications. "At BYU I had no clue about radio," he says. Christensen, on the other hand, studied social work and psychology while Miller majored in physical education, and for Smith, it was Spanish. (Of course, there is an exception. Former BYU baseball player Steve Eager did graduate in broadcasting and worked at KSL-TV as a noon anchor and crime specialist for a few years before he was hired last summer as an anchorman for KDSW-TV in Dallas.)
Yet most of these commentators attribute where they are today to BYU. Does coincidence explain this BYU sportscasting phenomenon? "No, it's not coincidence," Sikahema says. "Many athletes come out of BYU as returned missionaries. They're married, too, and have a maturity level beyond their years. We don't have to cultivate our abilities. Coming out of BYU, we already have them."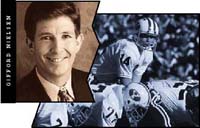 Nielsen embodies many of the principles that are stressed at BYU, including integrity and a strong work ethic. It has paid enormous dividends for Nielsen and the others. "You have to be a different kind of individual to do this work," Nielsen explains. "When you play professional sports you are pampered. We live in a hero-worshipping nation; we love those who excel in athletics. You go from that scenario to television, where you're punching the clock every day. It's a tremendous adjustment. When I was playing, I'd work for six months and then have six months off. I work all year round now.
"Television executives are not only trying to get someone who had experience playing, but someone who is willing to work. At BYU, we come out with the type of background where working hard for your employer is a moral obligation. You're a product of your environment."
"We try to project ourselves as honest and clean-living," Sikahema says. "As a university, we have a squeaky-clean image. I can't tell you what that means to those who are hiring in the broadcasting world."
Several allude to the prominent roles they assumed as LDS athletes at BYU. Cougar players, for instance, are frequently requested to speak at LDS Church firesides. Former BYU golf coach Karl Tucker always insisted his players enroll in communications classes to hone their speaking skills. "It's important to respond to people in a way that's intelligent and reflects well on our program," Tucker says. "Not to put people to sleep."
Clampett, one of Tucker's former players, says a penchant for speaking "trickled down" to BYU athletes from Tucker, football coach LaVell Edwards, former BYU athletic director Glen Tuckett, and the entire athletic department.
Furthermore, Kozlowski says, BYU's Sports Information department does a commendable job of training athletes to deal effectively with the media- which may explain why so many of them become interviewers after spending their college years as interviewees. When he was playing, Kozlowski says, he often wondered what questions he would ask if he were a reporter. Unwittingly, he was preparing himself for the future.
"You watch how athletes like Steve Young conduct themselves and how they're brought along at BYU, and it makes sense that they end up with a microphone," Sikahema says. "It's evident when you watch BYU players in the pros that they conduct themselves and project themselves well. It carries over into broadcasting."
Several Cougar sportscasters say being members of the LDS Church has also helped them learn how to communicate. "Some of it could be the LDS upbringing, which teaches you to bear testimony and speak from the heart," Miller says. "The best announcers speak from the heart, not from their head. When you speak with honesty and sincerity, people believe what you're saying. That's what I do. Some (broadcasters) may have higher IQs, but I give viewers everything I am and the best that I can."
Christensen says Church assignments he fulfilled as a youngster were a precursor to his broadcasting career. While Christensen was growing up in Oregon, his bishop, who also happened to be his father, would often call on him to deliver an impromptu talk when a speaker failed to arrive. And at age 16, Christensen was called to be a Gospel Doctrine instructor in a university ward. "In retrospect, it was a blessing to be performing in front of a group," Christensen says. "That was the turning point in my ability to communicate with a mass audience. I'm not intimidated when it comes to communicating with a large group of people."
Of course, there's no denying the fact that playing, not to mention excelling in, athletics prepared them for broadcasting. When he got started in TV, Christensen—who owns a Super Bowl ring and was regarded as one of the best tight ends in the NFL in the 1980s—says the video element of broadcasting was nothing new for him. "As a player I spent years watching film, so I'm rarely surprised by what I see when I analyze a replay. It's second nature to me."
The perspective of being a former athlete contributed significantly to Nielsen's ability to empathize with the players he covers. In 1986, for instance, the Houston Rockets and Boston Celtics played in the NBA Championship Series. During one of those games in Houston, the Rockets'
7C4D center Ralph Sampson and the Celtics' 6C1D guard Jerry Sichting engaged in a violent skirmish. Sampson and Sichting were on the floor hitting and kicking each other. Both players were ejected.
Every viewer across the nation wanted Sampson's explanation for brawling with a man who was roughly half his size. After the game, Sampson refused interview requests—except for one. Nielsen snared an interview with Sampson, which aired on KHOU and was picked up and shown by the major TV networks.
How did Nielsen convince Sampson to do it? "I had developed a relationship with Ralph. We had mutual respect," Nielsen says. "I promised him I would provide security guards when we walked from the locker room to the camera. I told him I would deliver him back to the locker room afterwards and no one else would talk to him. It was a huge story. I applied what I had learned as a player, and I knew how he felt."
Because of his years on the PGA tour, Miller can relate to the golfers he critiques on the air. He has been criticized by some golfers for his forthright remarks on NBC telecasts, but he makes no apologies. "I try to call it as it is," Miller has said. "I know what those guys are going through, what pressure they are enduring, and what choices they face on certain shots."
While each BYU broadcaster shares a similar background and faces similar challenges, each also has his own story as to how he jumped aboard the broadcasting bandwagon.
In 1983, Nielsen was in his sixth season as an Oiler quarterback when he was asked to fill in once a week during the off-season at KHOU while the station searched for a new sportscaster. It didn't take the station long to discover Giff was its man. Before the Oilers' training camp, the station asked Nielsen if he would retire to become a full-time employee. At first, he declined. Later, the station made an offer that was too good to refuse, and Nielsen became the sports director at KHOU-TV.
At the time Nielsen was hired, he didn't even know what a sports director was—except he was told to know everything about sports. Nielsen was brought on with no previous experience in that position or ostensible qualifications, aside from his communications degree from BYU and his knowledge of football.
Since then, Nielsen, 41, has eased into his role. At the station, he oversees everything from scheduling the on-air talent to selecting the stories that will appear on the evening's newscast to how these stories are covered. Nielsen, who in 1994 became BYU's first inductee into the College Football Hall of Fame, also reports the news at 5, 6, and 10 p.m.
"It's very entertaining and never the same," Nielsen says about being a sports director. "You have to react to events as they happen, and sometimes you've got a half an hour to get the story on the air." The versatile Nielsen also hosts his own weekly TV show, "Gifford Nielsen's Bullseye," a roundtable discussion program with local sportswriters about salient sports issues.
Sikahema, 34, began broadcasting professionally while he was playing pro football. He had an unusual résumé when he was drafted out of BYU by the St. Louis Cardinals in 1986: he was a 24-year-old returned missionary with a wife and child. As part of his Polynesian heritage, reporters learned, Sikahema participated in firewalking during the offseason. Soon, news hounds flocked to Sikahema for a good story. Because of the polished manner in which he conducted himself during interviews, Sikahema became an instant media hit in St. Louis.
During that first season, Sikahema accepted an offer to do a weekly sports show for a local radio station. Later, for a local TV station, Sikahema hosted a sports show at 6 a.m. on Fridays before "Good Morning America." "That's when I learned to write scripts and read a teleprompter," Sikahema says. Meanwhile, he led the National Football Conference in punt return yardage his first year in the league.
Sikahema dabbled in sportscasting with network affiliates throughout his career in Phoenix, Green Bay, and Philadelphia. Toward the end of his career, he was working year-round and had made a demo tape of his work. He was doing more than merely reading off scores. Although he gave up a chance to break an NFL record, Sikahema doesn't regret leaving football for sportscasting. "I never gave it a second thought," he says. "I felt that it was time to move on, just like when I left BYU to go on a mission."
In addition to being a sports anchor, Sikahema takes on other various assignments, such as hosting the Philadelphia Eagles' coach's show. And he continues to work hard at his craft. "It's still a learning curve," Sikahema says. "I've been full-time for more than a year, and a lot of it is just natural. There's a lot you have to learn, and they understood that when they hired me. I never had to work my way up in Yuma, Yakima, or Timbuktu. They took a chance on a guy who had potential."
In Chicago, Kozlowski, 33, hosts pre-game, post-game, and call-in shows on WGN radio—one of the largest stations in the Midwest—which carries coverage of Bears games. Occasionally he fills in for vacationing on-air personalities as well. He does radio work on the side, when he's not running his insurance brokerage.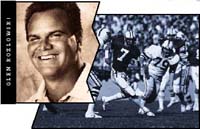 Kozlowski's signature show, "Koz's Kitchen," is offbeat. When he interviews athletes for his program, he talks to them about everything but sports. He hopes, in fact, to gravitate away from sports. When he can, he talks about his conservative lifestyle with listeners. "I eventually would like my own show: 'Glen Kozlowski on Life,'" he says. Kozlowski has also worked in television a little, and he's looking to do a show on a local cable TV station. But, he concedes, "I've got a face made for radio."
As when he played football, Kozlowski (who was a wide receiver, famous for his diving circus catches and, with Sikahema, was a member of BYU's 1984 national championship team), is in a zone of his own. "Everything I do is borderline goofy," Kozlowski says. "I'm just being myself."
When Bears rookie offensive lineman Evan Pilgrim arrived in Chicago last year, Kozlowski invited Pilgrim, a fellow BYU alum, to be a guest on his show. At one point during the interview, Kozlowski cued up a rendition of "Rise and Shout" (the same fight song that is played triumphantly after a BYU touchdown is scored at Cougar Stadium) to celebrate the pair's ties to Provo. Kozlowski began singing aloud, but his guest remained silent. Lamentably, Pilgrim didn't know the words. "Evan, how can you not know the words?" Koz playfully chided. "You guys scored enough times."
His foray into broadcasting happened accidentally, he says. While he was still a member of the Bears, Kozlowski was asked to be a sideline reporter during a charity event, aired on WGN, between some Bears players and students at a local university. Afterwards, the general manager of WGN radio told him he sounded good. He gave Kozlowski his card and told him to give him a call sometime.
Kozlowski didn't give it much thought until later, when he decided to retire a couple of years ago. Then he made the call. "A week later, I was working," Kozlowski says. "I was told, 'You'll either sink or swim.' Well, I'm dog-paddling right now."
His broadcasting baptism actually involved water. The first time he worked for WGN it was a Saturday afternoon and he was to host a show before a Chicago Cubs baseball game aired. The game was rained out, and from 12:20 to 6:30 p.m. he worked by himself. "I had two hours planned, and I had to tap dance for four hours," he remembers. "I had a headache afterwards. But it was good for me. I found out I could do it."
Smith, 29, found out he could do it, too, when he broadcast his first game Nov. 27, 1995—the night BYU played at the University of Nevada–Reno. That he moved so smoothly from basketball into TV broadcasting isn't much of a stretch. Cougar fans remember Smith for his prolific ability to score points (he's BYU's No. 2 all-time leading scorer, second only to Ainge) as well as his prolific ability to talk on the court.
Last fall, Smith, who had spent a few seasons playing professionally in Spain, was in Provo working out and waiting for his chance to latch on with an NBA team (he had played with the NBA's Los Angeles Clippers during the last half of the 1994–95 season). During that time, Smith was asked to be the Blue and White Network's color analyst. While he happily agreed to do it, Smith made it clear playing is still his No. 1 priority. He told the network if an NBA team were to offer him a contract, he would take it.
Still, broadcasting is in his future plans. A three-time academic All American at BYU, Smith, who served a mission to Argentina, is preparing to offer his services as a broadcaster to one of many Spanish-speaking networks which will descend upon the United States this summer to broadcast this year's NBA Finals. What foreign network wouldn't want color analysis from an NBA-caliber player who is also fluent in Spanish?
Smith says broadcasting has been in the back of his mind. "I've always thought about doing it, but I never thought that time would be now," he says; he appears to be on the cusp of a budding broadcasting career. "I'd like to make a living at it someday if the opportunity arises."
Christensen, 38, got his start even before he traded in his helmet for a headset. "Serendipity," he explains, is how he embarked on his broadcasting career. In 1981, the franchise for which he played, the Oakland Raiders, moved to Los Angeles. That, in addition to Christensen's facility with the language and knack for witty repartee, opened the broadcasting door.
At first, he grabbed the chance to host a TV variety show called "On Stage America." He also appeared a number of times on ESPN's "Up Close" interview program. In 1989, HBO approached Christensen about doing a show called Player Diary, which would chronicle his season as an
NFL player. Months later, during training camp, Christensen decided to retire and he joined NBC-TV, where for six years he worked as an NFL commentator. He also did a number of Notre Dame home games, including BYU's 1994 victory over the Fighting Irish. After leaving NBC and before going to ESPN, Christensen broadcast "American Gladiators" on the USA Network.
While at NBC, Christensen, who's known for his crisp delivery and insightful commentary, helped call two of the most memorable football games of this decade. In January 1993, he was an analyst during the Buffalo Bills' dramatic playoff victory over the Oilers (the Bills trailed 35–3 in the second half and ended up winning—it was the largest comeback deficit in NFL history). Eight months later he worked No. 2 Notre Dame's upset of No. 1 Florida State, a battle which was hyped at the time as college football's "Game of the Century." The game lived up to its billing and was one of the highest-rated televised sporting events of the year.
Nielsen, who played with Christensen at BYU, isn't surprised about his former teammate's success. "Todd has a wonderful vocabulary and he's outspoken," Nielsen says. "He's a fierce competitor. He has always had a lot to say. He's refreshing to listen to and he doesn't hide his feelings. He tells it like it is."
Indeed, this throng of Cougar commentators may eventually shatter the time-honored stereotype about "dumb jocks." Not that sportscasting is tantamount to aerospace engineering, but sports today have become, as BYU athletic director Rondo Fehlberg says, "the world's secular religion." Sports is a magnifying glass through which the nation views society; sportscasting attaches meaning to, and shapes, those views.
USA Today sports television guru Rudy Martzke says he's not sure why so many BYU athletes have turned into such talented broadcasters. "It requires a good, all-around education and mastery of the English language, which they received at BYU," he says. "Or maybe they just have good agents."
Whatever the reason, they are making names for themselves in broadcasting.
Ainge, 37, began as an analyst for TNT at the beginning of the 1995–96 NBA season. And he's receiving rave reviews for his rookie performance. After an audition last summer, TNT hired Ainge to fill the vacancy left by Doug Collins, now the coach of the Detroit Pistons. While Ainge could have continued playing (he had offers to become an assistant coach with the Phoenix Suns as well), he chose to delve into broadcasting, enabling him to spend more time with his family. Before taking the job, Ainge consulted a friend, Nielsen, about the rigors of the industry.
While he injects strong opinions when he covers NBA games, Ainge has the track record to back up his comments. After all, he was the 1981 College Player of the Year at BYU and won two World Championship rings as a member of the Boston Celtics. He was also an NBA all-star.
"He works at this job like he did as an athlete for so many years," Martzke observes. "He speaks his mind and is candid. He tells us the whys and hows of what is happening on the court." Martzke wrote recently that Ainge was the sixth "Best New Face" in sports broadcasting in 1995.
As a player, Ainge's stigma was questioning, in an animated fashion, every call by the referees. As a neophyte broadcaster, Ainge is secure enough to give in to self-effacing humor on the air. Recently, while broadcasting a New York Knicks–Chicago Bulls game at Madison Square Garden, Ainge said,
"I wish John McEnroe were here so I wouldn't be the biggest whiner."
TNT's ratings have soared by 27 percent this season. While Michael Jordan's return to the NBA this season may be primarily responsible for that increase, Ainge indeed has brought added flavor to the network.
Miller, meanwhile, is considered by many to be the top golf analyst in the country. "Nobody does it better than Johnny Miller," Tucker says. "He's been there on the tour and knows what it's like. He always has something intelligent to say."
Not that Miller, 48, was a slouch as a player. Miller began on the PGA tour in 1969, won the 1973 U.S. Open and in 1974 was the tour's top money winner. In 1989 Miller planned on retiring when NBC made him a flattering offer. Now, because of television commitments, he has cut back on his tournament appearances. Miller, who will be eligible for the senior tour in 1997, recently signed a five-year contract extension with NBC.
How big a celebrity has TV made Miller? As it turns out, the Nation's First Golfer is a big Miller fan. Last summer Hillary Rodham Clinton invited Miller to play a round of golf with her husband, President Bill Clinton, during the Clintons' vacation in Wyoming. Miller's appearance was a birthday present from Mrs. Clinton to the president. While on the links, Miller and Clinton spoke openly about topics ranging from Bosnia to family values. They may have differing political views, but that didn't matter. Clinton just wanted Miller time—and some pointers from the best golf analyst in the business.
At times, BYU's influence on Miller shines through. Miller has been known to evoke the name of his Cougar coach during telecasts, repeating what Tucker would tell Miller and his BYU teammates when they were in a similar situation during a tournament.
While Miller and the others take their careers seriously, it's clear they enjoy their new-found occupation. And, financially, they are handsomely rewarded for what they do. But which is more challenging: talking sports or playing them? Christensen says it's not even close. "Football is more taxing," he says. "When I played football I used to wake up in the middle of the night thinking, 'It's third down-and-six, what route do I run?'"
Kozlowski says people have responded well to his new role as a broadcaster. "When you're a Chicago Bear, people always remember you as a Chicago Bear," he says. "But a lot of people come up to me and say, 'I love your show.'"
Still, there might eventually be an entire generation of sports fans that recognize this group as broadcasters, not athletes. Not that it would bother them. "I think it's flattering when I'm only recognized as a broadcaster," Christensen says. "That means I've established myself."
"I hope people don't even remember I was a player," Sikahema says. "I want to stand on my own legs as a broadcaster."
Given their background, accomplishments and talents, it's no surprise that so many BYU-produced athletes have made the transition from pro sports to star in another competitive and demanding arena. The same qualities that made them stellar athletes make them stellar broadcasters today.
"It really is the same equation. Work is work," Sikahema says. "When you've gained success in something, you apply that to another field. You can succeed in anything you have unlimited enthusiasm for, and I love what I am doing. I may go my whole life without a real job."