---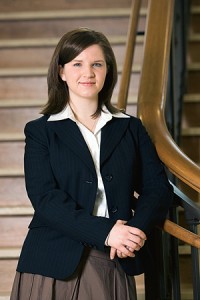 Growing up in a town of 234 people in rural Idaho, Tara Westover ('08) barely considered going to college—let alone receiving a prestigious scholarship to attend the University of Cambridge for postgraduate studies.
Westover, a history major, was recently named one of 45 U.S. college students to receive the highly competitive Gates Cambridge Scholarship, which is worth more than $37,000. She is the third BYU student to receive the award since 2004.
"The Gates Scholarship is to Cambridge what the Rhodes is to Oxford: it immediately identifies Tara as a self-motivated learner, a disciplined and well-rounded person, and a stand-out student in her major," says Madison U. Sowell (BA '75), director of BYU's Honors Program, of which Westover is a part.
The Gates Trust, established by a formative donation to Cambridge in 2000 by the Bill and Melinda Gates Foundation, seeks to support young individuals who excel intellectually, with strong leadership potential and a desire to serve society. Having seen economic and social challenges in the agricultural region of Idaho where she was raised, Westover hopes to pursue research that will identify the political and historical factors that prevent individuals from becoming successful and economically independent.
"I think what made me stand out [to the Gates] was that I could tie my research into my life story," she says.
At BYU Westover has served as an officer in the Phi Alpha Theta History Honor Society; an editor of The Thetean, a student journal for historic writing; and a member of BYU's Model European Union team. She also attended BYU's Cambridge study abroad program in the summer of 2007 with the aid of a Robert K. Thomas scholarship—a donor-funded scholarship that is awarded to 16 BYU honors students each year.
Westover graduates in April with University Honors. At Cambridge, she will pursue a Masters of Philosophy.