---
When the American economy started to crash in 2007, Brandy Sago Simper (BA '99) saw her family's income dwindle to almost nothing. She made the best of her circumstances and turned to her food storage to feed her family. Simper also worked harder at having a successful garden, started formulating practical recipes, learned how to turn food storage into gourmet meals, and published a website called the Prudent Homemaker to help those in similar circumstances.
Her website features dozens of varied recipes for families, from minestrone soup to black-bean burgers to chocolate wafers—all made from food-storage staples. "People are always surprised it's not just rice and beans and oats," she laughs. "With a little planning, you can make things your family actually wants to eat."
Self-taught, she also posts resources for sewing clothing, homeschooling, giving budget holiday gifts, and living frugally—resources accrued while homeschooling her six children. Even for those not suffering economic hardship, her pointers are useful—for students and parents alike.
Simper is also the go-to woman on gardening. Much of her food is gathered from her own garden, which she has made thrive in the Las Vegas desert. "It's all about working with what you have," she smiles. "We forget that the prophets have told us to be self-reliant, but since a lot of us grew up with the message, it doesn't always seem like a priority." Simper also emphasizes that the real secret to happiness is helping others, and she often encourages readers to serve those both less and more fortunate.
Simper does speaking engagements and garden tours, sharing the knowledge she has gained. She also has great expectations for her website, and she hopes she can "continue to add new recipes and free resources to help those who are also struggling financially."
---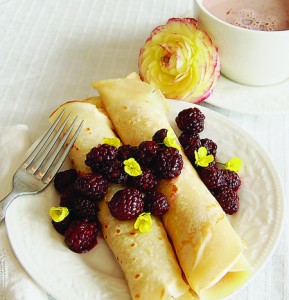 Crepes
2 cups milk (powdered works fine)
2–3 eggs (2–3 tablespoons powdered whole eggs plus 4 to 6 tablespoons water)
1 1/3 cups all-purpose flour
1/4 teaspoon salt
3 tablespoons sugar (optional)
1/8 teaspoon vanilla (optional)
Combine all ingredients in a mixing bowl. Whisk well, or use an electric mixer.
Spray a frying pan with non-stick spray. Heat pan to medium low.
Fill a 1/4-cup measuring cup with batter. Pour batter into pan, swirling the pan until the batter covers the bottom in a thin layer. Cook until crepe is golden around the edges and dry in the center (about 45 seconds).
Flip crepe carefully, and cook until golden (about 10 seconds).
Repeat with remaining batter, spraying pan again if crepes begin to stick (about every three to four crepes).
Fill or top crepes with powdered sugar; lemon juice and powdered sugar; canned or fresh fruit of any kind; Nutella; or ham, cheese, and herbs. Get creative!
Note: Omit sugar and vanilla for fillings that aren't sweet, like ham and cheese.