A student comedian enjoys new fame as "the man your grades could be like."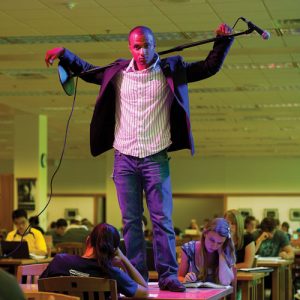 Hello alumni. Look at their commercial; now look at ours. Now back at theirs, now back at ours. It's BYU's parody of the popular Old Spice ads. But instead of promoting manly deodorant, it's the library. And instead of muscular model Isaiah Mustafa, it's BYU student Stephen C. Jones ('10). BYU's New Spice has been viewed more than 2 million times.
When the Harold B. Lee Library multimedia production team brainstormed ideas for 2010 promo videos, a twist on Old Spice topped the list. Meanwhile, Jones was quoting the original "man your man could smell like" commercial—"Hello, ladies . . ."—to friends in his ward. A member of the library team heard the spot-on impersonation, and the team found its actor.
From there, Jones and the team scripted a 55-second video that moves Jones through slick scene, wardrobe, and prop changes to encourage students to "stop studying in a cave" and try the library instead. It took just one day to film—and only one day to go viral.
The day after the video was posted on YouTube in July, Time magazine carried the link on its home page. Then it was featured on CBS with Katie Couric. And on CNN. And on MSN. Jones made appearances on KSL 5 and the talk show Good Things Utah.
"All of these people were calling me and texting me, [saying], 'I saw the little video thing,'" Jones says. "We thought [the video] was going to be cool, but [the attention] was just so random."
In the video, Jones declares himself "the man your grades could be like," but look again. The psychology major from Tallahassee, Fla., is also president of Humor U, a BYU stand-up comedy club.
He hadn't thought much of stand-up until a friend suggested he give it a shot. At Humor U auditions, "I just stood up and did my little thing," he says. "They called me back."
Jones and the group of 10–12 student comedians hold shows eight weekends a year, and audience attendance has increased. After New Spice went viral, Humor U sold out for the first time before the day of a show—during summer term, no less.
Parody fame follows Jones everywhere, but especially in Provo. A customer at a local Denny's asked him to sign her forehead. "The dating has never been terrible," he adds, but he notices more female friends with "a twinkle in their eyes."
And there are other opportunities opening up. Companies have asked Jones and members of the library team to make commercials—no more Old Spice parodies, though, despite many requests: "It just waters down the last one," says Jones. He's landed more stand-up gigs, emceed big events, cohosted BYU's Homecoming Spectacular, and is looking for an agent. His stake president also called him in—to request entertainment at stake leadership training. The Old Spice parody, Jones says, will be on his résumé. "It would entice any employer to know, hey, I was involved in producing a video that got the attention of more than 2 million people."
Jones graduates in December. Afterward he hopes to apply psychology to the business world with a master's degree in organizational behavior; he wants to do motivational consulting. But first, he has a few more months to study like a scholar.
"I'm definitely a library-goer," he says.
And apparently, as the video concludes, anything is possible when you're in the library.