---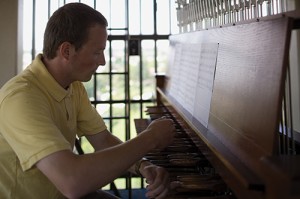 Stephan D. Burton's (BS '10, MS '12) fists slide up a 16th-note run inside BYU's carillon bell tower, his feet dancing out a melody that echoes across campus.
"The carillon is a percussion instrument," says Burton. If you want the entire campus to hear it, he says, you want to put a lot of force into it. "You can [also] play so softly that a nearby audience can barely hear it."
When he first heard BYU's carillon as a 4-year-old, Burton knew he wanted to play it. He began taking carillon classes when he got to BYU, and last summer he became the sixth BYU student to qualify for the prestigious Guild of Carillonneurs in North America.
Burton just began a doctorate in mathematics. When he considered grad schools, a nearby carillon was requisite, leading him to select Michigan State University. Burton has played seven carillons around the nation but has one favorite: "BYU's, of course."