Readers chime in with memories of BYU's bell tower.
Readers chime in with memories of BYU's bell tower.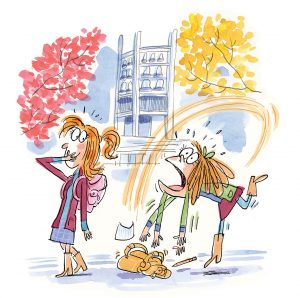 All Is Not Well
By Elizabeth Mason Child (BA '95),
Bountiful, Utah
My first year at BYU was a mixture of excitement and joy, mingled with a touch of homesickness and stress. Keeping on top of school and work seemed to be a common challenge for me and my freshman friends.
A month or two into the fall semester, I met a friend for lunch, where we commiserated about the challenges facing us. We finished lunch and headed out across campus to go to our next classes. Just then "Come, Come, Ye Saints" bonged out loud and clear from the carillon tower. Reminded, apparently, of the song's final refrain, my friend slammed her backpack to the sidewalk and yelled, "All is not well!"
Everyone around us froze, staring at my friend. I started to laugh; eventually, my friend laughed too. Now each time I have occasion to visit campus and I hear "Come, Come, Ye Saints," I smile, remembering that wonderful, difficult first year at BYU.
Hedwig in the Bell Tower
By JaNae Waters Ball (BS '13),
Henderson, Nev.
In 2010, anticipating the release of the second-to-last Harry Potter movie, I thought it would be cool for "Hedwig's Theme" to play from the bell tower the day before the premiere. I took to social media, creating a Facebook event titled "Bell Tower Plays Harry Potter Theme." It started out as more of a joke, but I figured it was worth a shot.
After a few days I was shocked to see how many people were anxiously anticipating the event; eventually we had 3,400 people "attending." The idea reached fellow student Jillian N. Hale (BM '13), a carillonneur who had the power to make it happen. So on Nov. 18 she marched up the stairs to play the song every hour from 8 a.m. to 6 p.m. for the enjoyment of Harry Potter fans all over campus.
A Ringing Reminder
By Christina Hartvigsen Moulton (BA '07),
Bountiful, Utah
My years at BYU were some of the best of my life. But my freshman year I was insecure, terribly homesick, and far out of my comfort zone. All of a sudden I was thrust into an environment where everyone seemed to be smart and talented—most of them much more than I. I felt stripped of all the identifiers I had used to qualify who and what I was.
On more than one occasion I remember trudging back to Heritage Halls from campus feeling homesick, lonely, and a little overwhelmed, only to hear the bells from the carillon tower ring out: "Come, come, ye Saints, no toil nor labor fear; But with joy wend your way." There were several times when I felt like the bells were singing directly to me. My toil and labor may not have been anything near what the pioneers who inspired that song went through, but the hourly reminder that I should carry on and find joy in my labor was often just what I needed to keep going.
Be Careful What You Laugh At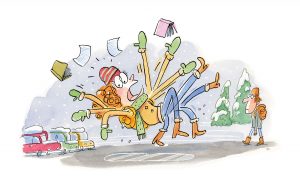 By HolliJo Wood Klein (BS '09, MAcc '09),
Portland, Ore.
After growing up in Houston, I had my eyes opened to the effects of the snow and cold during the winter semester of my freshman year.
One morning as I was trudging across the parking lot from the dorms to campus, I watched the guy walking in front of me slip on a patch of ice. Limbs flailing and books flying, he somehow managed to save himself from falling. That sight, combined with sleep deprivation, was just enough to get me laughing pretty hard. Not a minute later, my feet flew up from under me and I landed flat on my back in the parking lot. As I lay there with a broken, bloody hand, the beloved bell tower started chiming "Come, Come, Ye Saints." There was nothing I could do but laugh. Not only did I actually wipe out, but the chimes signaled I was late to class.
For the rest of my time at BYU, every time the bell tower chimed, it always took me back to that morning when I learned a painful lesson in physics—and humility.
Slow-Cooked S'mores
By Haley Bergen Hanzon (BA '10),
Sandy, Utah
During my freshman year my roommates and I came up with lots of ideas for bonding, fun, and harmless mischief. One late night we walked from our Heritage Halls apartment up to the carillon tower with a couple of grocery bags under our coats. Upon arriving we broke out chocolate, graham crackers, marshmallows, and tin foil to make s'mores on the spotlights that illuminate the tower!
Every time someone walked or drove by, we'd duck behind the tower, afraid of getting a lecture. So it took a while for the s'mores to be done. Also, it turns out those lights aren't as hot as we thought: our s'mores ended up al dente rather than flambé.
Hourly Forget-Me-Nots
By Elizabeth Beutler Bell (BS '00),
Orem, Utah
Toward the end of my freshman year at BYU, I prepared to send off my missionary, whom I had been dating since high school. He often sang to me, and it was with mixed emotions that I requested he sing one last song to calm both our nerves. He sang, "Come, come, ye Saints, no toil nor labor fear; But with joy wend your way."
I'm still not sure if he planned it or not, but for the next two years, every time I heard the carillon tower bells chime the hour, I was immediately reminded of him. I wrote him faithfully and waited the entire two years for him to return from his mission.
In the end, though, it actually wasn't the missionary for whom the bells tolled who stole my heart, but someone else—a guy named Scott Bell.
Yawp! Splat!
By Jeanna Mason Stay (BA '03),
Glen Burnie, Md.
It was Halloween night my freshman year, and my friend Brice and I had recently watched Dead Poets Society and were feeling inspired. Standing on the benches under the bell tower, we decided to heed Walt Whitman and "sound [our] barbaric yawp over the roofs of the world"—or at least over campus.
After yelling, "Yawp!"—repeatedly and loudly—I heard a "splat" behind us. I turned and saw a tomato splattered on the ground a few feet away. Two teenagers ran past us, throwing a supply of tomatoes as they went, though they didn't hit us with anything more than a few splashes of tomato juice and seeds.
The teenagers were gone before I could conquer my surprise; I'd never expected to find myself in one of those cartoon moments where the audience throws fruit and veggies at the terrible performers.
Several years later, Brice (BA '05, MPP '09) and I got married. We have done a lot of strange stuff since then, but this may have been the most surreal.
BYU Magazine pays $50 for stories published in First Person. Send anecdotes (of up to 300 words) to firstperson@byu.edu. Submissions may be edited for length, grammar, appropriateness, and clarity.