There are fans, fanatics, and fan antics. Here we have all three.
Bronco, Taysom, and Yolanda
By Thomas E. Norman (BA '89), Idaho Falls, ID
My brother Jeff, a USU alum, has to be the most loyal Cougar fan I know. He attends at least one BYU road game each year.
In 2013 we made the trek to South Bend, Indiana, for the game against Notre Dame. We attended the fireside the night before the game, and Jeff brought one of those Cougar footballs made especially for autographs. Bronco Mendenhall and Taysom S. Hill (BS '16) signed it, as did "Rudy" Ruettiger, a former Fighting Irish football player and guest at the BYU fireside.
The following day Jeff left the ball in his hotel room so the ink could dry during the game. Later, when it was time to leave for home, he checked the ball and noticed a fourth signature—by someone named Yolanda—along with "be happy." Apparently, a member of the housekeeping staff had thought it was okay to leave her signature too!
After a fruitless discussion with the hotel manager, my brother calmed down and returned home with his three cool signatures and Yolanda's. He still has the ball and a great story to tell along with it.
---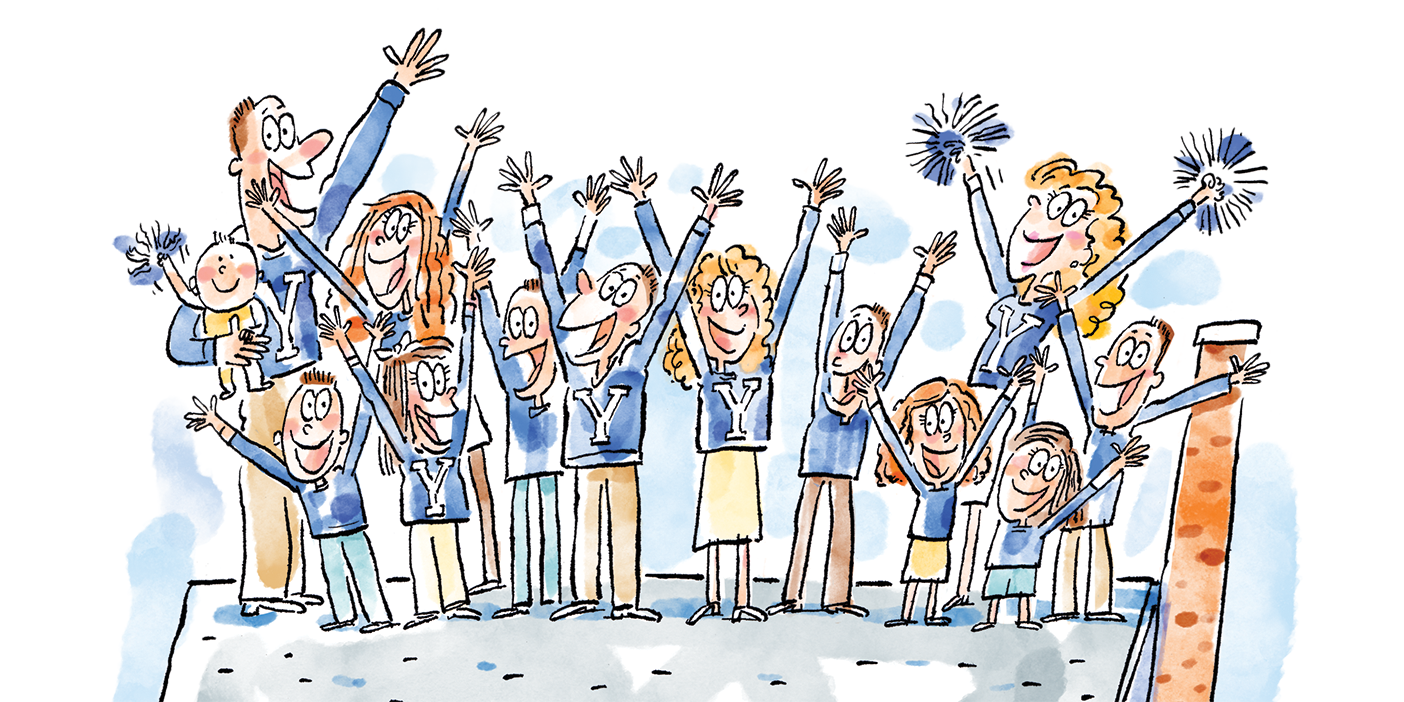 Rooftop Cheer Squad
By Ronald R. (BS '79) and Shannon Dalton Laudie ('78), Pleasant Grove, UT
Our family established BYU sports traditions many years ago while living in the Kansas City area. Back then, games were broadcast over the satellite at our stake center. We never missed them. Thus began the proper instruction of our 11 children in important traditions like wearing BYU blue and learning to sing the Cougar fight song on game day.
After we moved to Utah County, we began a new family tradition—the whole family now climbs onto the roof of our Pleasant Grove home every game day, and—all wearing Cougar blue—we stand and face Provo, 12 miles away to the south. With impressive volume we sing the fight song, complete with accompanying fist pumps and arm rolls. Neighbors come out and stand in their yards to join us.
Several years ago we submitted a video of our family singing on the rooftop to BYU's public-relations team. The video was played many times on the jumbotron at the stadium.
Even now that several of our older kids have left home, the tradition continues as they climb up ladders at their own homes on game day. Through the convenience of cellphones, we all still participate in singing as a group from wherever we live.
As the years go by, all our grandchildren are learning from an early age fun traditions associated with being a true-blue, through-and-through, dyed-in-the-wool BYU fan.
---
Father Alma
By Loren D. Chase (BS '05, MS '07), Anthem, AZ
My wife had recently converted to the LDS faith when we moved to Provo. She was an avid sports fan, so I was excited to take her to her first BYU basketball game. At the Marriott Center she quickly got into the spirit, yelling and cheering for the Cougars. When it was time to sing the fight song, she jumped to her feet and energetically sang along, following the lyrics on the jumbotron. After a minute, however, she paused. Confused, she turned to me and asked, "Is that why you do genealogy? Are all BYU students related to Alma?" It took me a minute before I figured out that she had looked away from the lyrics for a moment and missed a key word. I laughingly explained to her that it was not "Alma's sons and daughters" but "alma mater's sons and daughters."
---
Y My Face
By Sarah Allen Brown (BS '01), Stillwater, OK
After years of dreaming, I was finally at BYU for the fall semester of my freshman year. I was thrilled to get tickets to one of that season's first home football games. On a warm, sunny autumn day, a couple of friends and I crossed campus toward the pregame festivities. Proudly donning BYU T-shirts, we decided to show school spirit by getting our faces painted. I had the letters B, Y, and U painted across my cheeks and nose.
Although the sun was scorching hot by mid-game, we loved every thrilling minute. Later that afternoon we went home and washed our sweaty, painted faces. In a realization of semi-horror, it appeared I would be showing my school spirit for church the next day: I had forgotten to use sunscreen, though the face paint had inadvertently doubled as such. The flesh-colored letters were preserved on my sunburned face, showing my school spirit for days.
---
In-Law Rivalry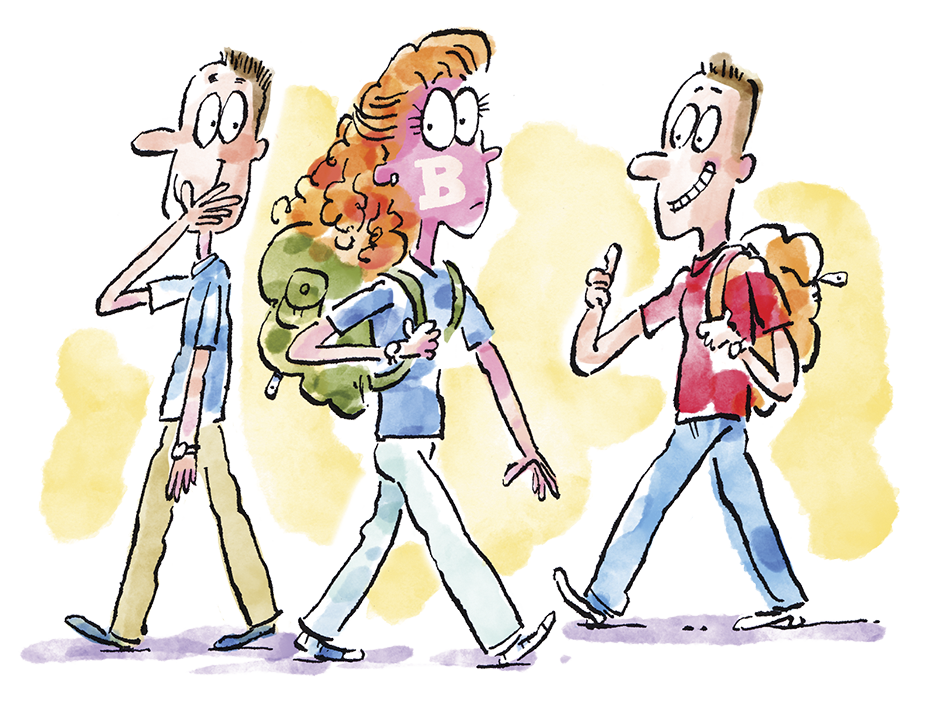 By Richard A. Brown (BS '70), Pleasant Grove, UT
It was rivalry week, with the big football game against Utah looming. My son-in-law, Dan, is a Ute fanatic, and for years this game had been an opportunity to show who could get the best of the other and garner the annual title of "super fan."
This year Dan was out of town, so the timing was right for a major prank. I secured an old beat-up red Nissan and perched it on a knoll in his front yard. With the help of my ward's priests quorum, we decked the car with a mannequin dressed in red, draped the entire house in blue cellophane, and hung a couple of large BYU flags. We positioned an old freezer on the front porch and hung a sign that read, "The Utes have gone cold." Then we painted a 10-foot Y in the center of the yard and stenciled the BYU logo in blue across his curb.
The neighbors loved it so much that they called KSL-TV, and a camera crew came to take video footage of our rivalry masterpiece.
The night was late when Dan and my daughter, Brooke, returned from their trip. As they rounded the corner of their street, to their astonishment, a spotlight illuminated their home and 30 to 40 neighbors were singing the BYU fight song on their front lawn. It was absolutely priceless to see the shocked look on their faces through the windshield.
A couple of days later, Tom Kirkland, the KSL sportscaster, announced on the evening news, "It's rivalry week, football fans. Take a look at what one BYU father-in-law did to the home of his Ute son-in-law. Can you imagine what Thanksgiving will be like at their house this year?"
Needless to say, it was a pretty sweet Thanksgiving, at least for one fanatic BYU fan.
---
We Want Your Stories
The prompt: Back When You Had Class. Admit it. You probably had a love/hate relationship with your classes at BYU, especially American Heritage. But then something awesome (or awful) happened, and you never skipped class again. From desk snoozing to failed attempts at schmoozing to your least gracious entries and exits, time spent in class (and in alternative classrooms like newsrooms, labs, and dance studios) is at the core of a BYU education. Whether your memory was inspiring ("Eureka!"), embarrassing ("This isn't my backpack!"), or just plain silly ("Did that really just happen?"), send us your favorite classroom-related experience. Deadline: March 2, 2018
BYU Magazine pays $50 for stories published in First Person. Send anecdotes of up to 300 words in length to firstperson@byu.edu. Submissions may be edited for length, grammar, appropriateness, and clarity.