Gardening expert Larry Sagers cultivates green thumbs.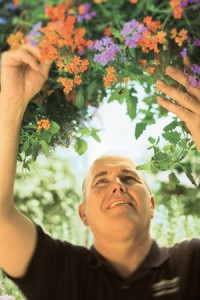 If a green thumb means having the knack for making plants flourish, then Larry A. Sagers (BS '73) has green thumbs, fingers, and toes. The prominent Utah garden authority believes no patch of earth is beyond redemption, every garden contains something lovely, and all horticultural questions are interesting—even those that have been asked dozens of times.
Sagers' passion is plants, and he happily studies such flowers and vegetables as Antirrhinum majus or Brassica oleracea variety Botrytis—snapdragons and cauliflower to the rest of us. As a horticulture agent for Utah State University, radio host on the KSL Greenhouse Show, garden columnist for the Deseret News, and educator for Thanksgiving Point gardens, he is willing to help anyone learn about plants. He also has a travel business that takes groups to some of the world's most beautiful gardens, and in July he will become the first Utahn inducted into the hall of fame for the National Association of County Agricultural Agents.
A Budding Passion
From boyhood, Sagers has been fascinated with plants; he was inspired by generations of avid family gardeners as well as an influential sixth-grade teacher who, among other demonstrations, brought carnations from his greenhouse and showed the class how to dye them different colors.
Sagers loved horticulture. He just had never thought about it as a profession.
During his freshman year at BYU, however, Sagers decided to take plants seriously. "I remember sitting in a math class crammed with 900 students," he says, "and thinking, 'I'm just a small-town boy; this is too much for me.'" He carefully scrutinized the course catalogue the next semester, looking for small, interesting classes.
He got "small." He and five other students enrolled in a plant propagation course and were graded on plant yields from their assigned plots at the BYU greenhouse.
And he got "interesting." "One class is all it took to hook me," he says. And there was so much more to study beyond that first class. Sagers discovered and enrolled in courses on landscape design, interior plants, floral design, orchards, soils, vegetables, and pest control. "I found my home in the agronomy and horticulture department at BYU, and it was life changing. My BYU experience gave me a broad-based education that is invaluable for what I do today."
He also got a career. Sagers earned a bachelor's degree in horticulture from BYU and pursued a master's degree in plant science from Utah State University.
He loved every minute of it. "I am so fortunate," he says. "My avocation is the same as my vocation."
Cultivating a Career
For the first several years after graduation, Sagers operated a floral business with his brothers in Tooele, Utah. When he realized he wanted his career to include teaching and working with people, he applied for a job with Utah State, and they sent him to be the USU Extension agent in Fillmore, Utah, where he helped residents solve horticulture problems. He later worked in extension offices in Utah and Salt Lake Counties.
In his role as a county agent, Sagers had been a guest on the KSL Greenhouse Show a few times. When the show's host moved to Nevada in 1984, Sagers' employer at Utah State said it was part of his job to take over the KSL slot. He complied, and more than two decades later, the show is a part of his job that he still enjoys.
For three hours every Saturday morning, the voices of Sagers and cohost Tim Hughes can be heard on the radio and over the Internet, sharing tips and talking with callers and special guests. One of Sagers' strengths is his ability to make every caller feel valued, says Hughes. "Larry can be asked a question he answered only a few minutes earlier, but because he knows the listener may have just tuned in, he treats it respectfully and with thoroughness."
The show's ratings are impressive, says Hughes. "They rival those of most radio stations in the market during primetime, Monday through Friday. Such Saturday-morning ratings are unheard of. We have 10 phone lines in the studio and they are busy continually. Some people will be on hold for more than an hour just to talk to Larry." His following is particularly evident when he does a remote broadcast. "We will be at a client's location," says Hughes, "and people will come from all over to meet Larry and show him their plants. He is like a rock star."
A Harvest of Knowledge
Sagers' weekly garden activities also include a trip to Lehi to consult and teach at Thanksgiving Point, a family-oriented destination with 55 acres of theme gardens and walking paths. "Larry has consulted with us from the earliest developmental stages," says Tracy L. Erdmann ('77), Thanksgiving Point gardens director. As the gardens were being established, Sagers advised the staff on plant selection throughout the gardens, sharing his expertise on both indigenous and problem plants. In later years he has been helpful in identifying pests.
He has also shared his knowledge with Thanksgiving Point patrons. "We quickly became aware of Sagers' value as an educator and approached him about creating our gardening courses," says Erdmann. "He teaches about 75 percent of the classes."
Sagers' weekly classes draw local residents year-round, and topics range from solar greenhouses and landscape design to irrigation and gardening. The USU Master Gardener class he teaches there is consistently popular. Erdmann lauds Sagers as a respected expert who has helped Thanksgiving Point establish credibility in the world of horticulture.
Sagers has also shared his expertise for more than 15 years through a weekly newspaper column. His articles—more than 1,000 of them—in the Deseret News have given him another opportunity to meet people. "If I see a garden that stands out," he says, "I'll interview the owners, take photos, ask how they did it, and pass the information on to the readers."
In his own garden, Sagers raises vegetables, plants flowers, and maintains an orchard. He also spends much of his time studying. He never knows what questions will be asked or from where they will come. "To be prepared, I have had to expand my knowledge in horticulture as well as other subjects," he says. Among the questions he anticipates is the inevitable "What is your favorite garden?" As no respecter of gardens, he always offers his unfailing answer: "The garden I am in right now."
Feedback: Send comments on this article to magazine@byu.edu.
---
How to Turn Your Thumb Green: Sagers Answers Common Gardening Questions
How can I eliminate wild morning glory (field bindweed)?
Everyone wants to know how to get rid of it, but I'm afraid that isn't the correct approach. It's more like trying to win the war with a series of victorious battles. You can't spray it just once. It's such a persistent weed; you must do something every year to keep it under control.
Why do my tomatoes have black spots?
You can get blossom-end rot on the ends of tomatoes when they get too dry or too wet. You have to water them more evenly. There's nothing you can spray because it's an internal process. There is no pest involved.
Why don't I get the same results as my father/friend/cousin?
This is most likely a soil problem. People will want to know, for example, why they don't get the same results their father gets in his garden, even though they live near each other. Odds are the dad's home is 50 years old and had good top soil. Back then, your soil didn't get "stolen" and sold. Modern homes tend to be built on sub soils, and you have to take time and effort to fix those soils.
How can I reduce water loss in my yard?
Drought-resistant ground covers reduce water loss and shade the soil. Strategically placed trees also cool the soil, resulting in less evaporation. Terraced slopes save water by slowing the runoff and allowing more water to soak in. Additionally, proper irrigation can save 30 to 80 percent on outdoor water use. Adjust the sprinklers so that turf grass is irrigated separately from shrubs and flower beds, and apply water more slowly on sloped areas than on flat surfaces.
What watering practices should I follow?
Drip irrigation saves water. Drip systems work well for narrow strips, shrub borders, raised planters, trees and shrubs, or home orchards and gardens. Avoid frequent, shallow sprinkling that leads to shallow root development. Early-morning watering is best because temperatures are cooler and the air is usually calmer. Highly compacted soils don't absorb water, so aerate turf grass, particularly on slopes.
What is the most popular garden vegetable and fruit?
Hands down, the most popular vegetable is the tomato. You can never buy as good a tomato in a store unless it's from a local grower. For fruits, it's probably the peach. Store peaches tend to be pretty firm and not juicy. I say you don't have a perfect peach unless the juice runs down your face and onto your shirt.
---
At larrysagers.com you can read hundreds of articles Sagers has written to share gardening advice with readers of the Deseret News.