Jonesin' for Taste bloggers Jade and Michael Jones share two summer drinks: horchata and agua de jamaica.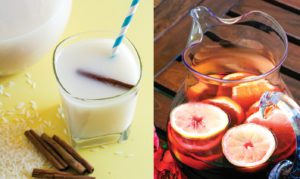 Living abroad in the Netherlands, Jade Artis Jones (BA '10) and her husband, Mitchell M. Jones (BA '10), are raising four kids and sharing their adventures on Jade's thriving food blog, Jonesin' for Taste. "I have a diverse heritage," says Jade. "I'm native Hawaiian, indigenous Mexican, and European. We recently found out we have ancestors from Liberia. I wanted to get to know all those cultures and have them be something my children embraced too." Jonesin' for Taste has recipes from around the world, including these fresh Mexican drinks to keep your summer cool.
Homemade Horchata
This favorite is perfect for summertime barbecues and warm nights at home. Let it soak overnight or try it with Mexican vanilla for a richer flavor.
1 1/3 c. long-grain white rice, uncooked
2 cinnamon sticks
6 2/3 c. water
1 1/3 c. milk
2 tsp. vanilla extract
2/3 c. sugar
Blend rice, 3 cups water, and cinnamon sticks for about 1 minute to break up the rice and cinnamon sticks.
Transfer to a large pitcher, add remaining water, and let mixture soak for at least 3–4 hours.
Strain mixture through a double layer of cheese-cloth or a coffee filter into another pitcher.
Add milk, vanilla, and sugar. Stir well. If desired, refrigerate until well chilled and serve with ice.
Agua de Jamaica
Also known as hibiscus tea, Agua de Jamaica is a refreshing Mexican drink that is both sweet and tart. It is popular in the Caribbean and Latin America.
1/3 c. dried hibiscus flowers
2 c. boiling water
½ c. sugar
6 c. cold water
2 cinnamon sticks
1 orange, sliced
1 lemon, sliced
1 lime, sliced (optional)
In a large glass measuring cup or French press, pour boiling water over dried hibiscus. Allow to steep for at least 5 minutes.
Carefully strain out the hibiscus and pour the concentrate into a large pitcher.
Add 6 cups cold water and sugar. Stir well.
Add cinnamon sticks and fruit slices. Let chill for at least 2 hours before serving over ice.