---
By Peter Gardner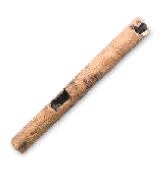 In June 1998 BYU's Office of Public Archaeology (OPA) unearthed a substantial piece of Salt Lake Valley's prehistoric puzzle, right between the homes of the Utah Jazz and KSL TV. The location, the timing, and the artifacts found sparked public interest, and before long the Beehive State was abuzz with talk about the dig.
"In 20 years of doing this, I've never seen so much interest," says Richard K. Talbot, director of the OPA.
The excitement began when a light-rail construction worker found bones in the wake of his backhoe near the intersection of South Temple and 300 West. In compliance with state and federal law, the worker called the state archaeologist to assess the findings. The archaeologist determined that the bones were human and possibly 1,000 years old. When the crews found more bones, the state archaeologist called in BYU's OPA to do a full survey.
"Within a half hour we found several other features," says Talbot. "From that point we took over the whole project." Since 1981 the OPA has given students opportunities to participate in archaeological digs throughout Utah and surrounding states. Through the digs, students gain valuable experience while bringing to light and preserving clues to the region's past that might otherwise be destroyed or covered by construction projects. In this case they were able to uncover information that would have remained lost below Salt Lake City's busy streets. Only the sec-ond Fremont Indian ruin excavated in Salt Lake Valley, this find provides a substantial link to other Fremont ruins throughout the state.
The BYU team found a very well built pit house (a dug-out dwelling), storage structures, stone tools, pottery, and a rare whistle made out of a bird bone–the prize find of the dig. The ruins belonged to a Fremont Indian family that lived in the 12th or 13th century and were part of a larger community that stretched across the alluvial fan on which downtown Salt Lake City is built, says Talbot.
"We had reporters coming by daily from all the major news sources in Utah," says Aaron Fergusson, a graduate student in anthropology from Palm Arland, Fla. Fergusson, who says he is interested in archaeology in part because it allows him to get away from phones, traffic, and crowded streets, admits reluctantly that "the publicity didn't hurt."
"We had people off the streets coming by every day asking about it, asking us to show them what was going on and what we found," Talbot says. Before the dig ended, a few teenagers, several business people, and a Cub Scout pack had volunteered their time to help excavate the site.
"A lot of it is just moving dirt; you don't have to be a scientist to do that," says Aubrey Baadsgaard, an anthropology graduate student from Spanish Fork, Utah.

The dig revealed a portion of a larger story that began around the time of Christ, when a group of Great Basin Indians stopped hunting and gathering and settled down as farmers. These Indians, known today as the Fremont, settled across most of Utah and in parts of Colorado, Nevada, Wyoming, and Idaho, concentrating themselves in the areas with available water. About 1,400 years later, perhaps because of drought, the Fremont Indians finally decided to pack up and leave for greener pastures. Nearly 450 years after that, a group of weary pioneers trickled into the Salt Lake valley. Hungry and worried about the coming winter, the first thing they did was plow up the land, covering any traces of their prehistoric predecessors. Desert fields became farms, farms became a bustling pioneer community, and eventually the community became a metropolitan center–burying all clues about the Salt Lake Valley Fremont Indians under concrete, brick, and asphalt.
"It's a big puzzle that you're taking many pieces of and trying to fit together in one picture," says Talbot. "The digging is fun, but trying to put all the pieces together at the end is the most fun."
"It's not glamorous, but it's still exciting," says Baadsgaard. "You're discovering the unknown."