---
5:06 AM
THE ALARM SANG, interrupting the silence that had lasted only a few hours. It was a shrill, flat song—and most mornings it wasn't the only one. Often two or three different alarms would go off before Laura M. Sorenson ('06) rolled out of bed.
Sorenson's job in the bakery began at 4:30 AM, when much of campus held a dark stillness. An acting major whose rehearsal schedule often kept her up until 1 AM, Sorenson needed a job to fund the study-abroad program she hoped to attend in London.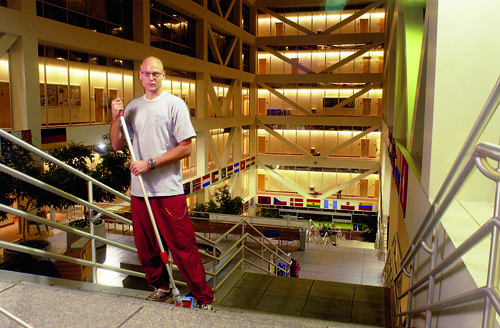 There are nearly three times as many student employees as permanent staff at BYU; students are integral to keeping campus alive. The vital role of students is manifest daily in the workroom of BYU Mail Services. The constant sorting and delivering of BYU's mail does not rest, and with the urgency of the mail, some days are hectic. Despite this, Daniel R. Evans ('07) and Richard C. Tripp (BS '02) enjoyed their day at work on Sept. 22. Evans (left) and Tripp attribute the jovial atmosphere of a potentially stressful job to an understanding supervisor whose motto is "You are here to go to school first."
Ethan L. Snyder ('06) resonates with that sentiment. He cleaned the Tanner Building at 5 AM, glad to get work done so he could focus on academic pursuits.