---
Baseball
After hitting five home runs and three doubles over five games in May, outfielder Kory J. Knell, '06, was one of three players named Louisville Slugger National Player of the Week by Collegiate Baseball Magazine.

Nickolas S. Lemon, '05, was chosen by the Chicago White Sox in the eighth round of this year's Major League Baseball draft.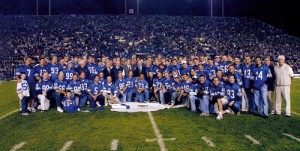 Football
Marking the 20th anniversary of the Cougars' 1984 National Championship, the entire team was inducted into the BYU Athletic Hall of Fame in September. The team was also honored in pregame and halftime ceremonies of the BYU and Notre Dame game. The New Orleans Saints took linebacker Colby A. Bockwoldt, '04, in the seventh round of the NFL draft.
Men's Golf
The BYU men's golf team finished ninth at the 2004 NCAA Division I Golf Championship, led by Oscar D. Alvarez, '06, who placed 17th overall. Appearing in the tournament for the first time in four years, the Cougars finished plus 36, marking their best team finish since 1999. Alvarez received an All-American honorable mention from the Golf Coaches Association of America alongside teammates Todd B. Miller, '05, and R. Jacob Ellison, '07.
Men's Swimming
Head coach Timothy J. Powers, '75, received the Distinguished Service Award from the College Swimming Coaches Association of America.William H. Betz, '04, assistant swimming coach at BYU, was honored by Coca-Cola as a Community All-American for his more than 1,900 hours of service in El Salvador.
Men's Volleyball
Jonathan A. Alleman, '05, received a postgraduate scholarship from the NCAA. Alleman was a Second-Team All-American and was named to the NCAA Final Four All-Tournament Team in 2003. Playing for Bameso in the Men's Open Gold Division, Victor A. Batista, '06, led the Dominican Republic club team to the 2004 USA Open Championship in Atlanta. Batista was named the tournament's MVP and also earned all-tournament team honors.
Softball
After completing a 34-18 season, several BYU softball players received national recognition. First baseman Ianeta M. Le`i, '06, catcher Paige L. Paramore, '06, and outfielder Deborah J. Dodds, '06, were named to the second-team All-Region West Softball Team after the 2004 season. In addition, Paramore and Le`i were named to the 2004 Easton All-American team.
Women's Golf
Finishing strong with a last-round team total of 305, the women's golf team placed 13th in the 2004 NCAA West Regional at Stanford Golf Course, nine strokes short of qualifying for the NCAA Championship. The 13th-place finish was BYU's best regional finish since 1994 when they also finished 13th.