---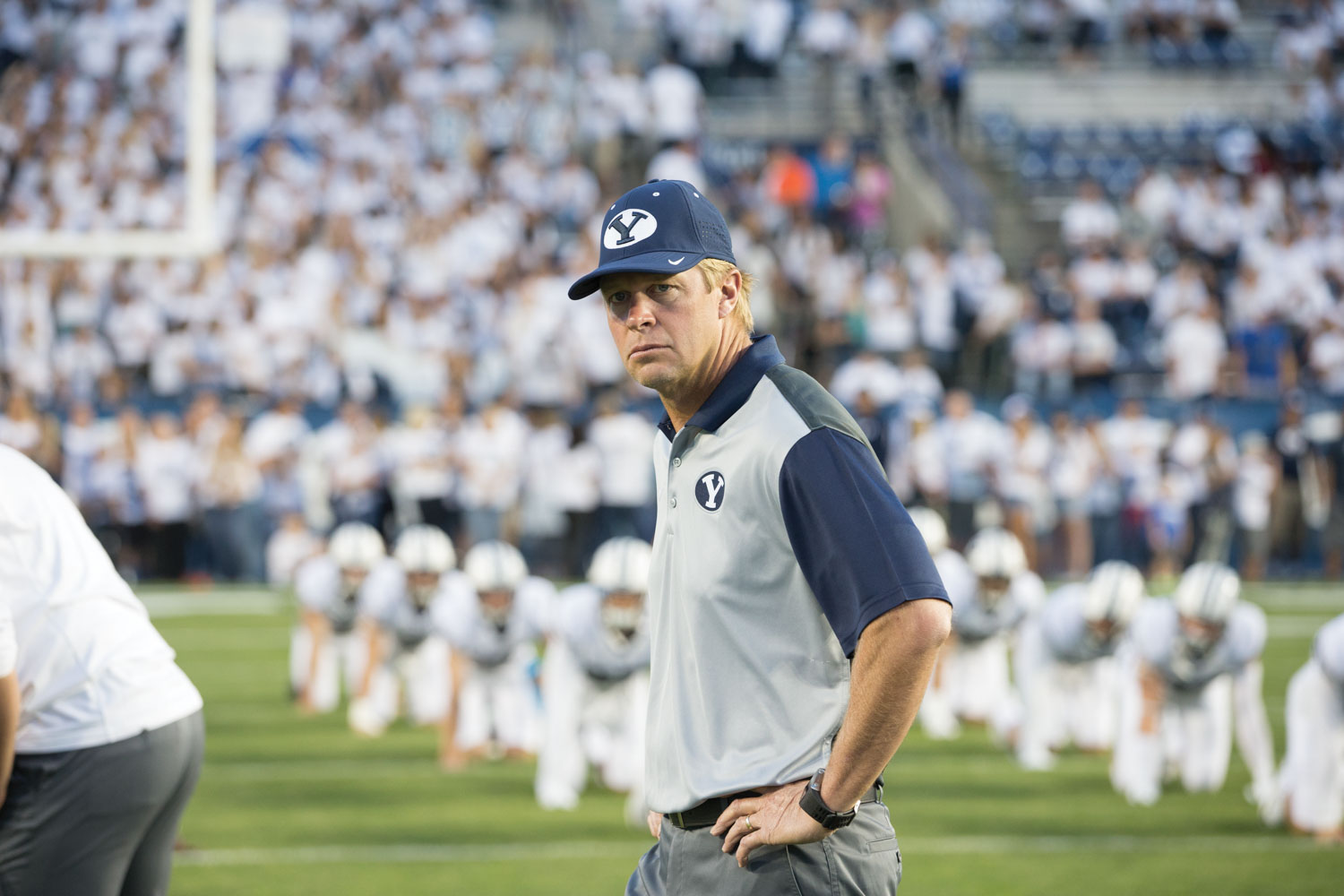 Here's a look back at 11 years under Bronco Mendenhall:
1. Games We'll Never Forget (Yay!): Mendenhall presided over some memorable victories—from the Hail Marys of 2015 all the way back to knocking off no. 17–ranked TCU in 2006. In between were Beck-to-Harline, beating no. 3 Oklahoma at Cowboys Stadium, and QB Taysom S. Hill ('16) leading the charge in two Texas takedowns. Go Cougs!
2. Games We'll Never Forget (Sigh): But you can't win 'em all—like the 2005 51–50 overtime loss to TCU (Cougar faithful are still sure TCU fumbled at the goal line) or the heartbreaker in 2015 against UCLA, when the third time wasn't a charm for early-season miracle worker Tanner C. Mangum ('18). Or multiple close-but-not-quite outcomes against rival Utah.
3. Tradition, Spirit, Honor: From the football office walls to the back of the scoreboard to (briefly) the players' jerseys—Mendenhall's team values permeated the program.
4. Tenacious D: Although armchair defensive coordinators sometimes bemoaned the cornerback spacing ("We're giving them 10 yards!"), Bronco Mendenhall earned a reputation as a defensive guru. He helped hone eventual NFL players like Bryan M. Kehl (BS '14), Kyle Van Noy (BA '13), and Ezekiel "Ziggy" Ansah (BS '13).
5. From the Horse's Mouth: A Harvard Business Review subscriber, Mendenhall was "fully invested" in "leveraging" his player's "assets" and "aligning" them with the team's "core values." Bronco-speak spread throughout Cougardom through annual shirt slogans—from "Raise the Bar" to "Fully Invested" to "Quest for Perfection."
6. Out-Frowning Edwards: Like his mentor, Bronco mostly kept his intensity bottled up behind a dour sideline demeanor. Except when he didn't: like after a 2012 four-down goal-line stand at Boise State, when Mendenhall whooped it up with an arm-swinging, high-stepping dance, or when he crowd surfed the locker-room celebration following the 2015 Nebraska victory.
7. Friday-Night Enlightenment: Mendenhall's embrace of BYU's spiritual character was most evident in pre-game firesides, where players shared testimony through word and music to audiences across the country—and even at the Utah State Prison.
8. Old-School Y: Early on Mendenhall lobbied for BYU to return to the oval "stretch Y" for the football helmets. The Y revival was soon evident everywhere—on center field, hoodies and hats, and the stadium pillars.
9. Independence Streak: Although Mendenhall expressed a desire during his last years at BYU to join a Power Five conference, the 2010 decision to go independent in football suited the unconventional coach well. As an independent BYU would eventually build one of the toughest schedules in the nation and travel coast-to-coast for its nationwide fan base.
10. Life Coaching: Mendenhall famously declared that football came fifth in his priorities for players—after faith, family, friendships, and school. Former players like Van Noy laud Mendenhall as much for developing them as men as for shaping them as football players.
Bronco by the Numbers
.697: The second-highest winning percentage for a BYU football coach (99-43)
11: BYU went bowling every year under Mendenhall, going 6-5
12th: Highest final national ranking (2009)
3rd: Highest final team defense ranking (2012)
4th: Highest final team offense ranking (2006)