---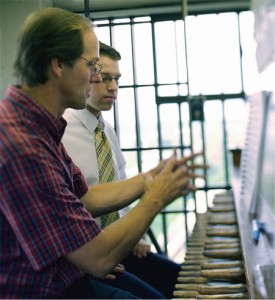 BYU's 2007–08 Undergraduate Catalog probably doesn't appeal to the indecisive. Students are offered 447 pages filled with 130 majors, 99 minors, and courses on nearly every topic imaginable—and then some. Here are some classes you might not have expected:
MUSIC 160, SECTION 24: CARILLON 
Organ players get one-on-one lessons in the famed bell tower and pound out a recital for all Provo to hear.
GEOGRAPHY 313:

 REMOTE SENSING

 
An important part of the new geospatial-intelligence program, this class teaches future James Bondses how to analyze airborne and spaceborne images.
EXERCISE SCIENCES 125: FLEXIBILITY
Twice a week, students learn about the importance of staying limber. Each class, they stretch for 35 minutes and take a 15-minute power nap.
INTEGRATIVE BIOLOGY 270: ANIMAL RESTRAINT
Students get hands-on experience in restraint and first-aid techniques for pets, livestock, and wild animals. Perfect for those who caught frogs and lizards as kids.
FOREIGN LANGUAGE 330: HILIGAYNON
One of 85 language courses offered at BYU, this class provides advanced training in a language spoken by millions in the Philippines.
RECREATION MANAGEMENT AND YOUTH LEADERSHIP 223: FLY FISHING
The course teaches in-depth skills for various outdoor activities, including how to land that lunker trout.
THEATRE AND MEDIA ARTS 452: PUPPETRY
Dexterous performers learn to construct puppets and give entertaining and educational shows.