---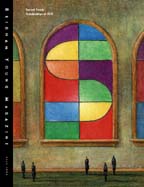 By Lisa Ann Jackson and Jeff McClellan
Editors Jeff McClellan and Lisa Ann Jackson recently sat down with BYU administrators who work with scholarships. The group consisted of M. McClain Bybee, assistant advancement vice president over development; Sue Hare DeMartini, director of scholarships; Stephen E. Hill, private scholarship coordinator; Ford L. Stevenson, associate dean of admissions and records over financial aid and scholarships; and John S. Tanner, former associate academic vice president over undergraduate studies.
In the following pages these administrators candidly discuss issues and offer advice and insights to provide a glimpse of the philosophies behind scholarships and the challenges administrators face in meting out funds they consider sacred.
Because scholarships are centered around students, Lisa Ann Jackson also sought out five scholarship recipients. Here they share their perspectives on scholarships and their thoughts about BYU.
To find out more about university, college, and department scholarships, see the scholarships guide in this issue, contact the scholarships office (801-378-4104) or a college advisement center, or visit the scholarships office Web site (https://ar.byu.edu/dept_scholarships/scholar.html).
Investing in Students
BYM: What are some of the philosophies behind scholarships at BYU?
DeMartini: BYU offers scholarships as an investment in students' education. We desire to support those who have demonstrated a serious and diligent commitment to spiritual and intellectual endeavors. We are hoping that by investing in students we can prepare them for greater service in the Church and society in general once they've left BYU. We trust that this investment will bring rich rewards to students and to the Church in years to come.
Scholarships serve a variety of university purposes. We use scholarships to attract well-prepared students to BYU. Having good students in the classroom elevates the quality of teaching at the university and benefits all students who come here.
Scholarships allow us to attract students of unusual promise and talent in specific areas like music, dance, art, theater, and other specialized fields.
We also use scholarship funds to increase cultural and ethnic diversity at BYU. Because BYU represents the worldwide Church, we feel it's important for our student body to be somewhat representative of the Church's population. Cultural and ethnic diversity broadens students' perspectives and enhances their educational experience.
Hill: This idea of investment reminds me of the parable of the talents. One of the servants received five talents, another two, and another one. At the time of reckoning, the first two produced returns on the initial investment in them and the Lord rewarded them generously. The servant given one talent hid his and eventually forfeited the "scholarship." In the bigger picture, what we do with scholarships is more important than how much they are worth.
BYM: How are university scholarships and talent awards funded?
DeMartini: Our funds come from the Church and private donors. Athletic grants are funded through gate receipts from games and through private donations.
BYM: How many students receive scholarships?
DeMartini: Our most current figures are for the 1996­97 school year. The number of students receiving university scholarships, grants, and awards was 9,224 excluding athletes. If you add athletes, the figure is 9,680. We should note that those numbers are an increase from the previous year. In 1995­96, the number of students receiving university scholarships, grants, and awards was approximately 9,066 excluding athletes and approximately 9,522 including athletes.
Tanner: The key advantage BYU offers is admission to the university. Everyone who is admitted receives, in effect, a tithing scholarship. The costs of an education at BYU are heavily subsidized by funds from the Church. In addition we are able to offer about a third of our students another scholarship: either half- or full-tuition. But those awards are only a small increment compared to the large scholarship that everyone gets in coming to the university.
For all students some of the goals Sue mentioned would apply. The Church is making an investment in every student with the hope that BYU will provide an education that leads not only to students' own personal growth, but to their ability to contribute to society and to the kingdom.
Making the Grade
BYM: What criteria do students need to meet to earn a scholarship?
DeMartini: We have different criteria for different categories of scholarships. For freshmen we use the same formula that is used for admission. The factors in the formula are composite ACT scores, high school grade point average (GPA), and course curriculum including seminary attendance. We give additional weight to the GPA for particular classes we feel are beneficial to college preparation–English, math, lab sciences, foreign languages, history, and government.
BYM: Is scholarship selection a mathematical formula or computer analysis where you plug in numbers and it gives you the names of recipients?
Hill: The formula is the first cut. Essentially the computer looks at several indicators, ranking students based on those indicators. That determines the cutoff from year to year. We are making very fine distinctions because our incoming freshman class is so well prepared that there aren't major differences in academic preparation.
Stevenson: After we have looked at the consideration list and established cutoffs, we spend a lot of time as a scholarship committee reviewing the list to make sure promising students have not been overlooked. We will look for students who have gone to very small rural schools where the curriculum may not be as strong as in larger schools with more AP and honors classes. If they have taken all the difficult classes their school offers, have a strong ACT, and are the valedictorian, we will extend a scholarship to them even though they may be below the cutoff. We will also look for students with high ACT scores despite lower GPAs who have gone to very rigorous high schools where the average grading may be considerably lower than at most other schools.
DeMartini: At times we may use discretion when specific situations come to our attention. For example, a high school counselor or bishop may contact us and say, "This student has had cancer and has been hospitalized for eight months. She's been able to keep up by doing her work at home, and she's overcome insurmountable odds." We take those kinds of things into consideration and make an evaluation about whether she qualifies for a scholarship.
BYM: So, if we have readers whose children are still achieving despite extenuating circumstances–a disability, a serious illness, extreme hardship–would you suggest they attach additional information to their applications?
DeMartini: Yes, we welcome that kind of additional information. Such situations are rare, but knowing about them helps us make better decisions.
BYM: Do you measure character or extracurricular intangibles?
DeMartini: Character is measured for all students who come to BYU. They have to be recommended by their bishop or stake president to be admitted, so we make the assumption that all the students that come to BYU are of high character and integrity. Only with the Gordon B. Hinckley Scholarship, the university's premier academic award, do we look at candidates' extracurricular activities.
BYM: Do you consider where students are from or the opportunities they may or may not have had at their schools?
DeMartini: We recognize that parity does not exist among schools. Some have more to offer than others. As Ford mentioned, where possible we try to level the playing field when we go over the scholarship consideration list.
But a student's state or country of residence is not a factor except in a few private scholarships. Some people think that only students from Utah get scholarships, and some people think only students from out of state get scholarships. When we are awarding academic scholarships, where they are from or who they are children of has no bearing on our decisions.
BYM: What can high school students do to prepare for scholarships?
Hill: The best things students can do are develop their gifts and talents and prepare to be successful in an academically rigorous program. There really is no way to anticipate scholarship criteria and cutoffs because our formula evolves, our population improves, and the needs of the university change.
BYM: What are the scholarship requirements for continuing and transfer students?
DeMartini: The most important criterion in awarding continuing student scholarships is total GPA. In an effort to promote diversity and fairness, we consider continuing students among their peers in their own colleges so that students in humanities are not competing against students in physical and math sciences. Therefore, GPA requirements vary among colleges.
With transfer students we look at four different things. First, we average the number of courses completed in each enrollment; they must be full-time students actively engaged in the institution they are attending. We also consider the percent of general education classes completed, their GPA in those classes, and their overall GPA.
BYM: So with this varying criteria and human review factors, you couldn't just say that everyone with a 3.6 GPA gets a half-tuition scholarship and everyone with a 3.85 GPA gets a full-tuition scholarship.
DeMartini: That's right.
BYM: What is the likelihood of a student receiving a scholarship after the first year at BYU?
Stevenson: That may be one of the most frequently asked questions we receive. One of our major focuses over the last five years has been significantly increasing the amount of scholarship money available to continuing students. The board of trustees was very sympathetic to our request for additional funds for continuing students. Those funds, in combination with the success of the capital campaign, now allow us to award scholarships to approximately the same percentage of continuing students as new freshmen.
DeMartini: At the present time, our greatest emphasis is our new freshmen and continuing students. We don't want to bring new freshmen in on scholarship and then not provide opportunities for scholarship support later. Hence the budget for transfer students is smaller than we would like. But after a transfer student's first year at BYU, he or she is considered a continuing student and can apply for those awards.
Considering Need
BYM: Are there need-based scholarships at BYU?
Stevenson: Yes, we do have need-based awards, and BYU students have access to the federal Pell Grant program. About 8,300 of our students qualify for $20 million of aid annually. Unfortunately, there is much more need than we have resources to alleviate.
DeMartini: We respond to people on the question of need by specifically addressing the family's financial situation. Most often we can find ways for a student to attend BYU with or without a scholarship. With part-time employment, summer earnings, and help from family or grants, BYU is manageable under most circumstances. But there may be times when it just isn't financially wise for a student to attend BYU–when it would be much more reasonable to remain at home and study there for a while.
Stevenson: The board of trustees deals with the issue of need by keeping the tuition at BYU as low as it can. There have been recommendations over the years to increase tuition at BYU, but when they get to board members, they say no. The board has consistently decided to continue the general subsidy for every student rather than dramatically increase tuition.
BYM: What are some of the criteria for need-based scholarships?
DeMartini: We use the results from the Free Application for Federal Student Aid. It is the same form students complete to apply for Pell Grants and federal student loans. We look at their cost of education minus other financial aid they receive and that gives us an idea of what their need is. We also consider other extenuating financial circumstances, looking at what the family's situation is and what the student's situation is.
Hill: Parents and students should know that, in general, we will not consider a student for a need-based award who is not working. Students need to do all they can within their own power, and we expect families to help where they can.
Some students think that working a part-time job may compromise their chances for a scholarship because their grades may suffer. However, studies indicate that if a student is working no more than a part-time job–20 hours a week–there is not a decline in grades. In fact, in many cases we find that students do better because they are budgeting their time more wisely.
Facing Challenges
BYM: What are some of the challenges you face in administering scholarships?
Stevenson: One challenge we face is that we increasingly have better qualified students at BYU. We have more students with excellent grades. We were looking at demographic information on continuing students for the coming school year and found that we have 191 more students this year than last who have a GPA of a 3.84 or higher. A year's tuition times 191 students is half a million dollars. That's quite a bit of money.
Tanner: We also have exceptionally well-prepared students who come in as new freshmen. In this fall's freshman class, 33 percent have ACT scores of 30 and higher; 33 percent have high school GPAs of 3.92 and higher; and 33 percent were in the top 5 percent of their graduating class. We do admit people with lower qualifications than that, but those who have these kinds of qualifications are getting offers–very high offers–elsewhere.
Another challenge we face is part of our larger culture. We are living in a culture that has an entitlement mentality. We expect that when we have these kinds of credentials somebody ought to give us an award. And some of the people that it matters to most are not the students but the parents. They say, "My daughter has been such a remarkable student. I find it incomprehensible that BYU wouldn't give her a scholarship. She's entitled to it." The problem is, we only have a finite budget. How do you get funds enough to give everybody the scholarship they feel they deserve and probably do deserve?
BYM: How do you deal with the issue that many students could qualify for academic scholarships at other schools but don't qualify here?
Stevenson: There are students who turn down offers at other institutions to attend BYU without a scholarship. But BYU is an incredible bargain when you compare our costs of education with some of the schools offering scholarships. This is true even for those who come to BYU without a scholarship. The Church subsidizes about 70 percent of the actual costs of BYU. So BYU is significantly less expensive with tuition at $2,700 a year.
Bybee: When I talk to people who are focused on scholarships, I try to say to them, "Let's focus on what you are really receiving at the university–the quality of the education. What is BYU offering for an education? Let's not get caught up in the fact that Indiana gave your daughter a $20,000 scholarship and all BYU gave her was $2,700. We just paid for her education." Here it is subsidized, but some don't see that part of the picture.
Stevenson: It's an emotional challenge we wrestle with. Some parents who could easily finance their son's or daughter's education are very distraught if we don't offer their child a scholarship. On the other hand, we have students who come to BYU with no support from their families. They live on an incredibly tight budget and work part-time. We wish we could recognize and help them all.
Replenishing the Well
BYM: McClain, about how many of the gifts and donations you receive are earmarked for scholarships?
Bybee: Our feasibility study for the capital campaign indicated that people were interested in students. Most charity is given for one of two purposes: to save lives or to change lives. We have had some wonderful support, but we don't need to get carried away with dollar amounts.
It is important to realize that dollar amounts don't translate directly into scholarship funds. If we receive a million dollars in cash, we don't just spend the money; we plant trees and pick the fruit. We use donations to create a permanent endowment from which we use the interest for scholarships. This way, trees will continue to grow and the fruit will be there every year. If we spent all the money this year, then what would we do for the students who come next year? A million dollars provides approximately 20 students with full-tuition scholarships for one year. So you see, it takes a lot of money to run this program.
DeMartini: One thing I really want to emphasize is the concept of replenishment. Scholarships and grants given by the university are gifts. The majority are being funded through the tithes of the Church members. Other funds are gifts from donors. I feel very strongly that financial aid isn't an entitlement. The reward for hard work in school is the acquisition of knowledge and the development of skills that will benefit students throughout their lives. The reward should not be a scholarship, necessarily.
I see a scholarship as a gift, as an investment. Students who come here are blessed in ways that they wouldn't be blessed by going other places. They can give that gift of education to someone else by the contributions they make in the future. Those contributions may or may not be financial. There are other ways to replenish besides financial ways.
I hope students will appreciate the gift they have been given and will use their time here to work very hard and do their best. And once they leave BYU, I hope they will use their education to bless others by choosing to voluntarily pay back their scholarships. But even more, I hope they will recognize what their education has done for them, what talents they have acquired, how they can bless the Church and their families and their communities through that education. That's the concept of replenishment in my mind.
Hill: Scholarships are funded by tithes and offerings. We consider this money sacred, and with it comes a responsibility–the responsibility for students to leave BYU and use their education to bless others.
KEEPING KAREN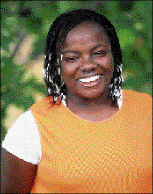 With tuition deadlines looming, Karen Brown faced the probability of leaving BYU and returning home to Jamaica. Her resources had fallen through and funds for tuition would not be there.
Karen had only been at BYU for a semester. She transferred from the University of the West Indies in summer 1997 hoping to have the intellectual, social, and spiritual experience she had heard about ever since joining the Church six years previous.
"I had always heard good things about the BYU experience and I really wanted to be part of that," Karen says.
She received a part-tuition scholarship for international students, and her father and brother had signed on as sponsors–a requirement for all international students. But during her first semester in Provo, she realized that coming up with the rest of tuition for the following semester would be a challenge. Help from home was less than she anticipated, and international students can only work on campus and only up to 20 hours a week–enough to cover living expenses but not enough to save toward tuition.
"The rules are so much stricter for international students–there was just no way that I could do it all by myself," Karen says.
Her sister, a student at Ricks College, suggested Karen speak to the scholarships office and explain her situation. She was working hard in her intellectual pursuits and her grades reflected that effort, so she decided to approach them.
The financial aid office considered Karen's circumstances and offered her a need-based award that allowed her to stay at BYU.
Like most scholarship recipients, Karen is grateful for the financial assistance to attend school. But in addition, she is grateful to those who considered her circumstances.
"I consider myself lucky. Well, probably not lucky, but blessed," she says.
"I don't think I'm more deserving than anyone else, so that makes me even more grateful that they were willing to help," Karen says. "BYU is a great place to learn compassionate service. Because I have benefitted from that kind of service, it gives me a greater disposition to do the same for other people."
Karen hopes she can reflect the example others have set for her at BYU when she returns home. "The most important thing is being a good example," Karen says. "It all starts with the personal growth and development that I've been gradually achieving since I've been at BYU."
Karen plans to graduate with honors in French and Spanish and then continue on to a master's program in international relations, perhaps at another school. "I feel a need to develop my talents and develop myself so I will be able to be someone who is influential, somebody who can make a difference," she explains.
"I want to represent BYU. I'll be a graduate from BYU and that's a great thing to be."
MEETING OF THE MINDS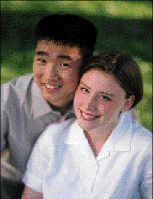 Sitting at his brother's high school graduation, eighth-grader Ben Mizukawa decided he was going to be his class valedictorian–not because of recognition or scholarships, and especially not because of a particular interest in academics. Ben wanted to be valedictorian because the valedictorian got to speak.
Having been in gifted and talented programs since elementary school, Ben had the ability to achieve his goal. And in 1993, he stood as valedictorian at Oxon Hill High School, located outside Washington, D.C., and told 9,000 students, family, and friends–people from all cultural and economic backgrounds–to be nice. Those 9,000 answered back with a standing ovation.
"That speech was probably one of the best moments in my life," Ben says. "It was just really neat to see that there were still that many people who were confirming a message to be nice."
Achieving his goal also helped him earn another honor: BYU's Ezra Taft Benson Scholarship, a four-year award named for the LDS Church president at the time it is given. During his freshman year at BYU, Ben hosted a group of high school seniors who were finalists for the following year's Benson scholarships. It was in that group of five finalists that he met Jenny Rebecca Jensen.
She, too, was a valedictorian, but perhaps with more traditional motivations. Both her parents are educators, and they encourage academic excellence in their home. Jenny Rebecca participated in gifted and talented programs throughout elementary and junior high school in Greensboro, N.C. When she reached high school she divided her time between two local schools to participate in the best combination of curriculum. Knowing her family's financial limitations, she focused on school work in hopes of earning scholarships. As a result she also spoke at graduation and received a Benson scholarship at BYU.
The rest of their story is typical: They crossed paths again after Ben's mission. They dated and were married. But Ben credits meeting his wife directly to the Benson scholarship.
Now they are only semesters away from finishing at BYU. Ben will graduate next August in anthropology. Jenny Rebecca finishes in December with a secondary education degree, emphasizing humanities. They both are grateful for what they consider blessings brought by their scholarships and education.
"My education has made a difference in me. It's made me a better person, and I care about the things that I've learned," Jenny Rebecca says. "I'm not going to leave college and stop caring about learning. The scholarship was a positive investment in me in that respect–and a very permanent one."
Ben adds, "Because of my scholarship, I think I expect a certain quality of work and a certain character from myself now. And no matter how unworthy I felt receiving the scholarship at the time, I realize that I have the rest of my life to make myself worthy of it–and I think that's something to work for."
BOOT CAMP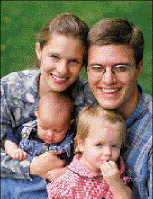 When Desmond Eppel's father visited BYU for the first time, he looked out over campus from Desmond's dorm window. Viewing campus sprawled out beneath the seventh floor of Deseret Towers, he told his son that this place was like boot camp.
"'It's the Lord's boot camp,'" Desmond recalls his father telling him. "'He's preparing his army to go out in-to the world.' That image has stayed with me, seeing this place as a training ground."
Desmond and his wife Janina are from South Africa and feel that their time at BYU has been just that–spiritual and secular training for future Church and civic service. Desmond's studies in comparative literature, French, and Latin are preparing him for law school, and his and Janina's experiences with the LDS Church are preparing them to better serve when they return home.
"Every calling is full in our ward, and everybody is doing their home teaching. It's wonderful to see that," Desmond says. "Seeing that it can be done is sometimes the first step in doing it yourself."
Desmond is at BYU on the Ezra Taft Benson Scholarship–a four-year award named for the LDS Church president at the time it is awarded. In South Africa the typical high school student takes six subjects, and particularly bright students might earn one distinction (the South African equivalent of an A). Desmond took seven subjects and received seven distinctions.
"Having a scholarship makes the whole experience more consecrated," Desmond says. "I know the scholarship is from tithing funds, so there's a very spiritual aspect to my education in addition to the facts and figures."
He and Janina are careful to point out that without the assistance provided by Desmond's scholarship, it would be much more difficult to accomplish both their educational and personal goals. In South Africa it is difficult, even with the help of scholarships, for a couple to be married and have a family while attending school.
But because of the scholarship, Janina has been able to be at home with their 20-month-old daughter and their 2-month-old son and Desmond has been able to stay in school full-time. He also works part-time on campus.
After Desmond finishes his degree next April, he plans to attend law school somewhere in the United States. He and Janina will then return to South Africa where Desmond hopes to use his education to influence his country and society.
"My ultimate goal is to enter international diplomacy as a representative of South Africa and be a force for good in whatever office I am able to hold," Desmond says.
"We often think that there is much required where much is given. We really feel like we're very blessed, and we really expect there's going to be an accounting. We're going to be responsible for what we've received."
RETURNING TO LEARNING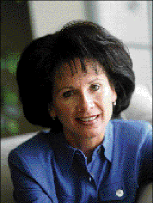 On her first day of school at Utah Valley State College, Martha Wall was as nervous as any freshman. Wandering through crowds, she looked for classrooms her daughter had shown her days before the semester began. She had not taken a college course for almost 30 years and she was anxious.
"I don't think people realize that to an older student, just the thought of stepping back into that academic world again is intimidating," says Martha, now a senior at BYU from Orem, Utah, majoring in English. "You wonder if you can train your mind again to study and to absorb information like it once did."
But she was determined to succeed. The single mother of four daughters, Martha had just moved from Seattle and was beginning a new phase in her life.
"There's something about being an older student. You apply yourself very, very hard. You're determined to succeed. You think, 'OK, this is my second shot, and I'm going to make this work.'"
And she did. She left UVSC with an associate degree in English, a 3.9 grade point average, and the highest student honor given by UVSC's English department.
She began at BYU summer term 1997. Having done so well at UVSC, Martha hoped to receive a BYU scholarship when she transferred. In the application process, however, she discovered that her transfer GPA was being combined with grades she had earned almost 30 years earlier when she attended BYU as a freshman in 1968­69. The combination dropped her GPA enough to make her ineligible for any awards.
"I was a dumb little 18-year-old who did not know why I was at college," Martha says, "so I had lots of unofficial withdrawals and a terrible grade point average."
When Martha discovered that her former BYU GPA still stood, she immediately appealed to the scholarships office, explaining her circumstances. After considering Martha's situation, scholarship administrators found that although Martha did not qualify for a traditional academic scholarship, they could offer her a private scholarship.
Receiving special consideration from the scholarships office and personally meeting the family who donated the funds for her scholarship, Martha feels a sense of responsibility to use her time at BYU to the fullest. "I feel like I would be letting them down if I didn't stay at the very top and get the most I can out of this scholarship."
Martha plans to finish her bachelor's in English next April and will be applying for BYU's English graduate program, hoping to start the following fall.
And as for going back to school after so many years away, "It has been the richest experience," says Martha. "You don't live life without gathering a lot of life's experience and knowledge. You walk into the classroom with that level of maturity and put it together with the classroom experience, and you sit in awe most of the time."