---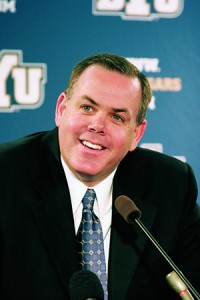 On April 11, athletics director Thomas A. Holmoe (BS '83) announced that David Rose, after eight years as the lead assistant to Steve Cleveland, would take over as head coach of the men's basketball program. Two days earlier Cleveland had resigned to accept the head-coach position at Fresno State.
"We have known for a long time that Dave would sooner or later take advantage of an opportunity to become a Division I head coach," said Holmoe, "and we are thrilled that this opportunity has come at BYU. He has been a significant part of BYU's success and we are confident he will build on that success."

Rose takes over the BYU program with 22 years of coaching experience, including 10 seasons as a head coach at the junior college and high school levels.
"I'm honored to be named the new head basketball coach at Brigham Young University," Rose said. "I look forward to building on the strong basketball tradition that has been established at BYU. I'm excited about the opportunity to coach the players that are in the program and those who will join us in the future."

As BYU's associate head coach the past eight years, Rose played a vital role in rebuilding BYU's program from an inherited 1-25 team into a regular post-season participant and 20-game winner.

As a player, Rose was a two-sport athlete at Dixie State College before transferring to the University of Houston, where he was a shooting guard and co-captain of the famous "Phi Slamma Jamma" team featuring Hakeem Olajuwon and Clyde Drexler.

Rose becomes the 17th person to guide the Cougar basketball program since its first season in 1903.