---
Treats with old friends make for great alumni get-togethers, but for the last three years the College of Nursing has sponsored a Homecoming service project in lieu of a more traditional cookies-and-punch gathering. Between the Homecoming parade and the football game, alumni and students gather to assemble newborn kits for mothers in Utah and several countries.
While studying abroad, students deliver these kits—which include blankets, clothes, hats, bars of soap, and soft diapers with safety pins—to women in Ecuador, Tonga, and Guatemala. They also donate kits to a local Utah program for young unwed mothers.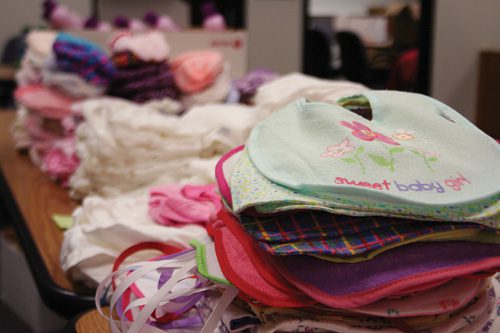 All supplies are donated. In addition to personal donations, handmade bibs and blankets come from local church programs. Students in the Y-Serve office in the Wilkinson Center also make newborn hats for the kits.
During Homecoming the college completed more than 250 kits in an activity that drew alumni, faculty, students, and community members.
"We've been getting really good comments," says Rose Ann Wadley Jarrett (BS '65), public relations supervisor for the College of Nursing. "It's a wonderful opportunity to both reunite and do something worthwhile at the same time."
Jaclyn Michelle Groesbeck (BS '08), who is now an ER nurse at Primary Children's Hospital in Salt Lake City, worked with her friends to assemble several kits. "It's really an incentive to come to the reunion," she says. "I feel it gives you something to do and talk about, and putting together the kits really made me feel good, knowing babies were going to get what they needed."
Groesbeck also enjoyed returning to campus. "It's nice coming here to serve others, because that's what we were taught by both our nursing program and the university." Groesbeck adds, "You can even help other students by giving them tips on clinicals or other parts of the program."
Emily Vest Covey (BS '08), a member of the College of Nursing alumni board, was in charge of the project this year. "It was fantastic," she says. "We are grateful for all the people who serve and give their time. We look forward to many more years of service."