---
Design a new Ping-Pong paddle. It's a challenge industrial-design professor David C. Morgan (BFA '93) has served to his sophomore studio class now for eight years. The catch: the paddle has to meet a specific need.
His students have returned niche paddles of all kinds: the ultimate Around-the-World paddle—with multiple handles for fast pickup. An oversized paddle for kids, made out of swim-kickboard foam to deaden those wild hits when they finally connect. There are paddles for the deaf, the blind, individuals missing digits, and people with arthritic hands. Students test each other's paddles, scribbling feedback right onto a dozen or so plywood iterations. And they test with their target markets.
"You get some real unvarnished feedback in nursing homes," says Henry P. Lee ('19), who made his paddle for elderly players. The need he spotted: getting the ball off the floor. "They'd give this blank stare, like, 'Well, I'm not going to go get it.'" His extended paddle, with a nifty 3-D-printed attachment, recoups the ball without requiring a full waist bend.
The Ping-Pong paddle, of all things, is Morgan's way of helping students develop empathy, "of getting them thinking about someone other than themselves."
"Because, really," says Morgan, "design isn't about things; it's about people."
Check out the paddles we featured in the spring 2018 print issue: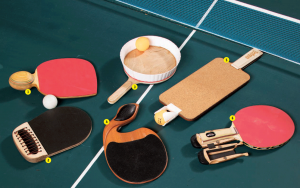 KEY
1. Challenge: Missing digit Solution: Michael R. Hayes ('18) developed a round handle that the player can grasp between fingers.
2. Challenge: No thumb Solution: Using Alison Brand's (BFA '17) paddle, the player can intertwine fingers in the strings.
3. Challenge: Panic disorder Solution: The player can create a soothing sound and motion by rotating the ball around the detachable rim on Elliott M. Bliss's ('20) paddle.
4. Challenge: Arthritic hands Solution: Danielle M. Bullock's ('20) wide, padded handle takes the strain off thumb grip.
5. Challenge: Elderly Solution: Henry P. Lee ('19) added a paddle clip for collecting the ball from the ground.
6. Challenge: Parkinson's disease Solution: Tyler D. Anderson ('20) created a fatter handle that attaches magnetically around a standard paddle handle.