---
The future President of the United States didn't like doing his homework, but his mother was unrelenting. "This isn't fun for me either, Buster," she would chide, says BYU illustration professor Robert Barrett, who recreated the scene—a boyish Obama studying under mom's watch—for the forthcoming picture-book biography Only in America. The children's storybook tells of Barack Obama's life and journey to the White House. Barrett also illustrated a companion book about Michelle Obama.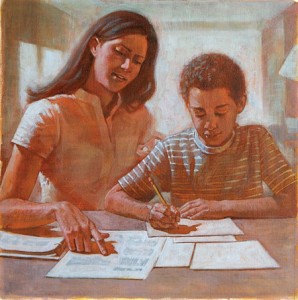 Both books, published by Marshall Cavendish, will be released in early 2010. They are authored by Carole Boston Weatherford, whose previous works have made the New York Times best-seller list and garnered a Caldecott Honor. The contract to illustrate books by a high-profile author about the man who holds the highest office in the country came to Barrett through one of his former students, Justin C. Rucker (BFA '99), an agent at Shannon Associates in New York City.
"His art sells itself," says Rucker, who negotiates contracts for commercial illustrators. Barrett suspects a portrait he did of a former BYU student of African descent stood out in his portfolio. Another former student, a BYU employee's family, and Barrett's current TA have found their way into the Obama books, sitting for Barrett as models.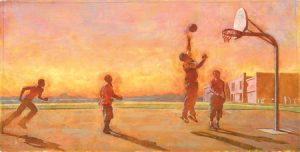 "The discipline of illustration is very research intensive," says Barrett, who took effort to be accurate, down to Michelle's former hairstyles and the future president's left-handed follow-through on the basketball court. There are 25 illustrations in the President Obama book alone, ranging from a young Barack with his boyhood pet monkey up to his 2008 acceptance speech.
"An illustrator tries to tell a good story while making an accurate and convincing accounting," says Barrett. "I don't try to spin my agenda into it."
Barrett has now illustrated a total of 20 children's books.