---
A rare, original photograph of Brigham Young has been donated to the L. Tom Perry Special Collections at the Harold B. Lee Library. It is the oldest original photograph of the prophet BYU has in its possession.
The "daguerreotype" was donated by Mark and Suzanne Richards last December. Mark's grandfather, Preston Nibley, served as an official Church historian from the mid-1940s through the early 1960s and wrote the book Brigham Young—The Man and His Work, published in 1936.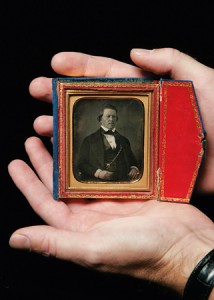 When researching the book, Nibley became acquainted with several of Brigham Young's descendents, including his daughter Clarissa Young Spencer. Spencer presented Nibley with a few of her father's possessions, including the daguerreotype.

Recognizing its significant historical value, Mark and Suzanne donated the photograph to Special Collections. "I feel that it is appropriate that the daguerreotype of Brigham Young should go to the university that bears his name," Mark says.

Thomas Wells (BS '82), photo archivist for Special Collections, says daguerreotype photography was introduced to the Salt Lake Valley in 1850 by Marsena Cannon, who is believed to have captured the image of President Young around 1854.