---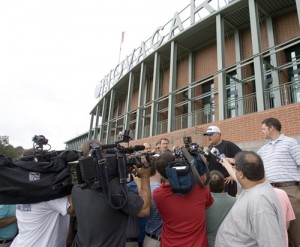 Former BYU greats take flight with the Philadelphia Eagles.
With 3:21 remaining on the game clock, Chad W. Lewis (BA '97) sat in the Philadelphia Eagles' end zone, celebrating on the hard January-chilled turf. While he had just caught the pass that would send his team to the Super Bowl, the former BYU tight end knew immediately that he wouldn't be playing in that all-important game.
Seconds earlier, Lewis had burst to the right side of the end zone, beat his defender, and wrapped his hands around a two-yard TD pass, sealing the Eagles' 27-10 victory over the Atlanta Falcons. It was his second touchdown of the day, and an exuberant Philly crowd roared in appreciation. But afterward, Lewis sat conspicuously on the turf, rolling his arms in front of him.
"As I caught it, I twisted back to catch the ball and I felt my foot pop. So I sat down, and I knew I couldn't get up, and so I just kind of celebrated there, sitting down on the ground. Later I got e-mails saying, 'Bro, you need to learn how to dance or something—that was horrible.'"
In a single moment, Lewis extended the Philly season and ended his own, severely tearing his left Lisfranc, a ligament that binds the foot together. Time stood still as Lewis enjoyed a rare moment at the top of his game. "I thought, 'How sweet it is that the Eagles are finally going to the Super Bowl.' It was so great. And I had a good game, and the pressure was off."
Other BYU alums shared in the Eagles' victory that day, most notably, Eagles head coach Andy W. Reid (BS '82), who credits much of his success to the mentoring of R. LaVell Edwards (EdD '78).
BYU has a somewhat unlikely tradition in this proud and patriotic town where football fanaticism takes on religious fervor. Many former Cougars have donned green Eagles jerseys, including Jim R. McMahon ('81), Vai Sikahema (BA '02), Kurt K. Gouveia ('88), Ty H. Detmer (BS '92), Steve P. Kaufusi (BS '94), and S. Reno Mahe ('02). The most recent addition to the list is lineman Scott L. Young ('05).
"There has been a steady stream—in fact, it's been really an unbroken stream of BYU players," says Sikahema, who played the last two years of his pro career at Philly and is now the city's top-rated sports news anchor. "It's been great for all of us who are connected with BYU. One of the guys called it 'BYU East.'"
Edwards attributes the BYU-Philly connection to similar offensive philosophies; like BYU, the Eagles rely on the pass to win games. That philosophy existed at Philadelphia even before Reid was hired as head coach in 1999, inheriting a team that was 3-13, but Reid's experience with the offensive scheme has served him well.
FAMILY, FAITH, AND FOOTBALL
The entrance to the Novacare Complex in Philadelphia—headquarters and practice facility for the Eagles franchise—is flanked by tall columns against a brick façade, making the building appear like a modern adaptation of the ancient temple at Delphi. Atop the columns, large eagle logos face each other, a nod to the Greek myth wherein Zeus sent two eagles to circle the world and meet at its center; the center was Delphi.
The inner lobby features an Eagles History Wall, with murals of Eagles teams and players past—alongside inspirational quotes and images from examples like Mother Teresa and Martin Luther King. When Reid arrived here as head coach, Philly fans were in need of some new highlights for the history wall, with a team that had gone 45 years without winning a football championship.
"The press in Philadelphia were after the owner for even considering Reid, let alone hiring him when he did," says Edwards. "But when Andy got there he was so thorough in his preparation for the interview and had a program all outlined as to what needed to be done to get Philadelphia back up on top again. He totally sold the owner and that's how Andy wound up with the job."
In Reid's first year, the Eagles improved to 5-11. The next year they went 11-5. From 2000 to 2004, the Eagles won more games than any other team in their conference (the NFC).
In Reid's uncluttered office, green-framed windows overlook the team's practice fields. Dressed in a black Eagles T-shirt and athletic shorts, Reid sits in an overstuffed black leather chair where he has been shuttling through tape of his next preseason opponent on a giant video screen. Since he was a graduate assistant for the Cougars, Reid has been collecting plays and observations—advice from greats like Edwards at BYU and Michael G. Holmgren ('82) at Green Bay—into the three-ring binders that now stand on his open bookshelves. A lineman by temperament and body type, he is a thoughtful, understated man in a world dominated by superstars, ego, and bravado.
"It's not one guy that makes this thing run," he says. "Maybe that's the old offensive line in me, but I don't really care. I'm going to be stuck out there because I'm the head coach, but it's not my most favorite thing to do. I'd rather just be in the background."
Reid, who grew up in Los Angeles, played tackle and guard at BYU, where he received bachelor's and master's degrees and joined The Church of Jesus Christ of Latter-day Saints. He later coached at a number of universities before joining Holmgren's staff with the Green Bay Packers.
Reid's overall winning percentage makes him one of the most successful active coaches in the NFL, and his playoff win total (seven) is the most in club history. In his 14 years of coaching in the league, his teams have made the playoffs 11 times. While he had coached in the Super Bowl two other times (as an assistant with Green Bay), the 2004 appearance was his first with Philadelphia, after three losses in the NFC Championship games in previous years.
A trip to the Super Bowl, Sikahema explains, is a dream for Philly fans, who have developed an inferiority complex after so many years without a championship—in any sport.
In the face of this volatile, sometimes frustrated crowd, Reid is known for being steady, calm, and unflappable, almost "Edwardsian" (as in LaVell). Even after last year's disappointing Super Bowl loss, he was not shaken. "Heck, we'll get over it. We'll get through this thing, and we'll come back and learn from it," he said after the game, expressing confidence that his players will return to the Super Bowl. "The reason I think we can get back here is we have a great nucleus of young players who have had a taste of this thing."
"He understands the big picture and the short-term picture," says Eagles owner Jeffrey Lurie. "Andy has no ego. To him, it's all about building team continuity. He's comfortable with himself. He's not paranoid, worried about what others think or report. He's genuine and people follow that."
At a press conference at the edge of the practice fields, Reid demonstrates his even temper. By the number of reporters and news cameras encircling him, one would anticipate some truly remarkable news to be announced. In reality it is only the day before a "throwaway" preseason game against the New York Jets with no bearing on the Eagles' record. As always, Reid gives an injury report and then tells the media, "Time's yours," and takes questions.
A reporter asks Reid if he's anxious to get this game over with and move into the regular season. Reid replies, "I like this game right here. I like it because it gives me an opportunity to see what I have outside the first unit. It gives them their last crack at making this football team. I get excited about that. It gives them enough playtime where you can evaluate them."
Andy's relationship with the media, and by extension, with Eagles fans, is pretty low-key. "I think the town would love to have the high and the low guy," says Reid's wife, Tammy Garrett Reid ('82). "But he's just so even. They needed a guy who is even-keeled and calm and isn't going to freak out when something goes wrong. At first everybody really hated that about him."
BYU fans during the LaVell Edwards era know the result of this calm demeanor. "Nobody panics—that's the biggest thing," says Reid. "Nobody feels like they're out of the game. If you're not winning, they think, 'Hey, we can get back into this thing in a heartbeat.'"
In addition to getting to know Reid as a coach, Philly fans also recognize Reid as a religious man and a family man. In the off-season, Andy and Tammy try to make time to share their experiences by presenting firesides on "Family, Faith, and Football"—"in that order," says Tammy, who met Andy when they were students at BYU. Coaching often keeps families on the move, and the Reids are no exception; their five children were each born in a different state. Tammy, who calls herself the "head coach of the head coach" and has the business cards to prove it, tries to make NFL life a little more family friendly.
"Tammy has carried on Patti Edwards' tradition (at BYU) of meeting with all the wives at the beginning of the season," says Chad Lewis' wife, Michelle. "I loved that. She would have us all over for a potluck dinner. For some of those new wives, that's their first contact with the other wives. Most of them don't know anyone, so you're able to bond and make friendships that you can carry on through the season."
"It's not Provo, Utah; it's the NFL," says Chad Lewis, noting the contrast between Reid's team and the traditional NFL environment. "The NFL is not geared toward families necessarily. It's geared toward winning games and making money and dominating. But Andy is a family person, and he makes concessions for his coaches and his players to have time with their families. He lets them know that that's a priority to him."
While Reid discourages talk about religion on the team as a rule, his players respect his principles and recognize his uniqueness as an NFL coach. They know Reid won't allow compromising movies on their charter flights. They know he discourages swearing.
"I tell them to just watch their language in a professional manner," says Reid. "If a doctor's in doing surgery or if a lawyer's in court, they're not going to be swearing up and down."
"Everyone who works with him and plays for him knows exactly where he is coming from," says team president Joe Banner. "We wanted someone with a strong set of convictions who wasn't going to be affected by ups and downs and public pressure."
RETURN MAN
On top of Vai Sikahema's computer at the NBC 10 studio sits a beige brick with BYU carved in big letters, a constant reminder of his foundation. Today, he is looking over some video segments for a BYU promotion featuring Philadelphia players. His own sentiment echoes that of his BYU brothers: Sikahema loves being in Philadelphia, but his heart is in Cougar Town.
Known best by BYU fans for his impressive kick returns, including one for 100 yards, Sikahema is the main sports anchor in the country's fourth-largest media market. Sikahema is not shy about sharing who he is and what he's about with his Philly television audience.
"Vai is the number-one sportscaster. They've encouraged him at NBC to talk about his religion. They don't want him to hide it or avoid it," says Lewis. "He'll bring the missionaries into his stories. He covered the Winter Olympics in Salt Lake City with the backdrop of the temple. He did tons of point of interest stories with the MTC—all these missionaries learning languages—really fun things. He went into the MTC and visited a group of missionaries headed to Philly."
When he presented a BYU devotional in 2004, Sikahema showed students some of the stories he produced for NBC and shared his faith and philosophies. "How many of you remember your first visit to this campus? For me. . . the most lasting memory I have was seeing the sign as we pulled up to campus: 'Enter to Learn; Go Forth to Serve.'. . . Over the years as I return to Provo, I always find myself looking at that sign and reminiscing about the first time I saw it and then wondering if my life reflects that model."
Sikahema returns to Provo often for football games and other events. In BYU's 2002 graduation ceremony, Sikahema returned to receive his bachelor's degree after 17 years, a story he later shared with his Philadelphia TV audience. President Merrill J. Bateman made a point of welcoming him back to campus from the podium. "We remember him as one of the greatest kickoff return men in the history of Brigham Young University," Bateman said. "He is maintaining the tradition of being one of BYU's greatest return specialists."
"We all have chapters in our lives that we wish we could go back and redo. This was one of them for me," Sikahema said in his TV story about his BYU graduation. "My oldest son is a sophomore in high school, so he's a couple of years away from college. I wanted to have some credibility when I would encourage him and tell him that he needed to go to college. I needed to have the credibility of a college degree to be able to do that and say that."
In the NBC 10 studio, Sikahema looks over his script. On cue from the anchor, he teases the latest sports news: "And I'm Vai Sikahema. Eagles fans will not see Donovan McNabb throw any touchdown passes to Terrell Owens tomorrow night against the Jets. I'll tell you why in the latest sports." After reports on the damage caused by Hurricane Katrina, rising gas prices, and the weather, the automated cameras slide across the polished floor of the studio to focus in on Sikahema. As a kickoff return man, he has faced the prospect of being caught and leveled by opposing players moving at full speed. As a sportscaster, he faces the camera with the same cool exterior.
"The Birds wrapped up practice today as they get ready for their final preseason game tomorrow night," he begins. Then Sikahema explains that Coach Reid will rest his starters and give the younger guys on the team a chance to compete for spots on the final roster.
The next day, an hour and a half before the game, Sikahema is at Lincoln Financial Field ("the Linc"), standing on the white endzone line near the player's entrance, on the opposite end of the field from where Chad Lewis caught the game winner last January.
As the stadium lights come up, chiseled, larger-than-life players run onto the playing field for warm-ups. Everyone recognizes and acknowledges Sikahema and several, including former BYU player Reno Mahe, stop to chat. When newly drafted Scott Young, another former Cougar, emerges from the portal, he meets Sikahema for the first time. Sikahema greets Young warmly, then immediately invites him to his New Jersey home on Saturday to watch the BYU vs. Boston College game.
"Our home has been kind of the welcome wagon for all those BYU players that come here," says Sikahema. "At one point or another everybody has lived in my basement, either for a couple of days or overnight or a couple weeks while they are trying to find places."
"Vai has a huge role here," says Mahe. "He and his wife bring you into their home. He has that family atmosphere. He reads his scriptures with his kids, has family prayer; he's such a great example."
Many Eagles players are a part of the same "BYU ward" in Philadelphia, where Sikahema once served as bishop. Their bonds as BYU alumni and Church members often intersect with their roles in the Philadelphia sports world. At his BYU devotional, Sikahema recalled interviewing Ty Detmer as his bishop one night and then, 24 hours later, questioning him on national TV about his performance on the field.
"We were probably five or six deep around his locker with notepads, microphones, and cameras rolling when I started the interrogation. 'Ty,' I said, 'the coach pulled you from the game in the fourth quarter after throwing your third interception, which, I might add, was thrown into double coverage. Can you walk me through your progression and tell me what you were thinking when you threw that ball?' A hundred local and national media members were hanging on every word, and Ty looked at me with a crooked grin and said in that slow Texas drawl, 'Ah, Bishop, I made a mistake. Will you forgive me?'"
COUGAR CONNECTION
After a strong training camp, two preseason wins, and one preseason loss, Reid's Eagles have just 11 days until the regular season begins. Teams must be trimmed from 71 players down to 53, making this game against the Jets a very important one for athletes like Mahe and Young, who are both competing for spots on the roster.
As Mahe catches a few practice punts before the game begins, he sees a familiar face and jogs across the field to talk to Doug T. Jolley (BA '01), a former BYU standout playing for the New York Jets.
After chatting with Jolley, Mahe runs off the field and down the portal to the locker room. A few minutes later, the cheerleaders and the Eagles mascot, "Swoop," lead the players onto the field to the tune of "Gonna Fly Now," the Rocky theme song. An impressive preseason crowd, most of them wearing green jerseys, nearly fills the stadium.
The Jets score on their first drive and take a lead that is never relinquished. Both Mahe and Young get playing time. Mahe is solid on special teams, blocking for his return man and making a tackle after sprinting downfield with the punting squad. Young lines up as an offensive guard in the fourth quarter and also plays some special teams.
When the team is down by 20, Reid, unruffled, looks down at his play card. When Koy Detmer, Ty's younger brother, throws an interception, the television commentators report that there's "nothing for Andy to worry about. This is a night to evaluate whether individuals are handling their assignments," assuring viewers that Reid is the best coach in the postseason, "when it really counts."
Tonight is also a chance for recently drafted Young to show the coaches his abilities. Young, according to the Eagles media guide, was "one of the most powerful athletes in college football. Young exploded onto the 2005 draft scene with a tremendous effort at the NFL Scouting Combine, which included 43 repetitions of 225 pounds on the bench press, two shy of the combine record."
At game's end, the 6-foot-4-inch 312-pound offensive lineman works his way off the field and into the locker room. "I couldn't be happier than I am here in Philly. I'm just excited to be out here, hopefully to be part of something special this year."
Not far from Young's locker, someone begins a familiar song, at first faint and then louder. "Rise all loyal Cougars and hurl your challenge to the foe." The ever-buoyant Mahe walks by, spreading BYU spirit. "We will fight day and night . . ."
Young laughs. "Reno's a great guy. I've been really impressed with him—first of all as a person of high standards and class and second of all as a football player. A good LDS guy, a good family man. He's helped me out a lot since I got here."
Mahe shares a locker again this year because the Eagles keep recruiting players to compete for his spot. "Those lockers are like indications," he says. "Whenever you're sharing a locker, you never know if you're going to be the one to keep it or give it up." Happily, Mahe is versatile, a running back with good pass-catching hands who plays well on special teams.
After the game, Mahe meets up with his family and heads south of the stadium to Chickie's and Pete's, a popular sports hangout where Mahe works in the off-season. Sikahema makes his way to the restaurant as well, and when he walks into a reserved room at the back of the restaurant, he is greeted warmly by a large group of players and their families. One player holds Mahe's baby while Mahe and his wife take turns entertaining their other daughter.
"My ultimate goal is to make my wife the happiest person in the world, be a great father, and an honest man," says Mahe, who has said he would be content to do the laundry for the Eagles. Mahe is beloved in this town—by his teammates, the fans, and the media.
In the days ahead, Mahe and Young get word that they both have positions with the Eagles. Mahe will stay where he is, and Young will be part of the practice squad.
Having a seasoned Cougar on the same pro team can really help a younger player. Jim McMahon talked Sikahema into going to Philly and helped with the transition. "It was great having somebody around who had played there and knew the ropes," recalls Sikahema.
When Lewis went pro at Philadelphia, he says Ty Detmer was there to help him learn the offense—and Detmer even threw him the first pass he caught in the NFL. "After we learned we were going to Philadelphia, we met with Ty and Kim Detmer in LaVell's office about what the pros were like. Going there with him took a lot of pressure off because we grew up in the same system at BYU. If I had a problem with a play in Philadelphia, he would tell me to run it like a similar play at BYU."
As he begins his pro career, Young is fully aware that there's a BYU history—and a support group—here in Philadelphia. "That was one thing that my friends and family were thankful for—that I was coming into a place where there were people that I could follow. You've got Reno and Coach Reid here, and you've had Chad Lewis, Justin Ena, and Ifo Pili—there's been a whole BYU connection that makes me want to be a better person and makes it easier. I think people respect our religion and faith more because of that. I've heard people call it BYU East. I want to be part of BYU the rest of my life, so I fell into the right place."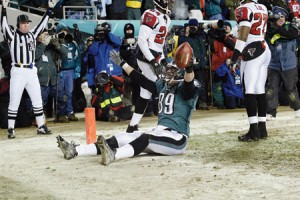 FIRM AND UNDAUNTED
IN LATE 2005, NEARLY 10 MONTHS AFTER HE WAS INJURED IN THE NFC TITLE GAME, Chad Lewis signed with the Eagles—for the third time. "I worked really hard to get back here," he said at a Nov. 9 Eagles press conference. "It's been a big mountain to climb, and I am honored to be here. I know what a gift it is to be on this team, and I am ready to give everything I have to help this team win."
Lewis was right back in the action five days later, catching a 17-yard pass from Donovan McNabb in a losing game against Dallas. Although the Eagles struggled this season, Lewis stayed positive and focused.
"Chad is a good football player, but he's even a better person," says Coach Andy Reid. "He has always been a leader on this team. You get another leader back in that locker room, and that is a plus."
When he's not on the football field, Lewis has a unique opportunity to serve as an NFL ambassador. Fluent in Mandarin Chinese—learned while serving a Church mission to Taiwan—Lewis recently traveled to China with NFL commissioner Paul Tagliabue. "The NFL would like me to be their face of football over there," says Lewis, who graduated in Chinese and communications.
In 2004, when his team didn't make it to the Super Bowl, Lewis accepted an invitation to deliver color commentary for the game for Chinese Central Television.
"I had never done commentary for a football game before," says Lewis. "Never. Not college, not high school, never in English, much less the Super Bowl in Chinese!"
After that game Vai Sikahema asked Lewis about the experience. "He told me it was fine, but he didn't have a football vocabulary, so he said things like, 'I testify that the quarterback's throw was true,'" Sikahema recalls.
After suffering what could have been a career-ending injury last season, Lewis was happy to return to the NFL at age 34. "When you turn 30 in the NFL, you are an old man. This is a young man's game, and you have to have a passion to play it, to compete, to prepare, and I still have that."
To give him strength to compete, Lewis writes an inspirational allusion to faith and family on the side of his football cleats.
"On every pair of cleats that I wear," says Lewis, "I write the words firm and undaunted and then the initials of my wife, Michele, and my kids, Emily, Sarah, Jake, and Jeff. And when I go to the sidelines, I look down and think about the resolve of the 2,000 stripling warriors, who are my heroes. When things were the worst, they rose the highest. In the course of a football game, bad things are going to happen. And sometimes we're going to get beat. To me, those words are just a reminder that when things are at their worst, that's when you have to rise up and be firm and undaunted."
For more about former BYU players and coaches in the NFL, or to view Vai Sikahema's devotional address, visit more.byu.edu/philly.
FEEDBACK: Send comments on this article to magazine@byu.edu.