---
By Charlene Winters, '73
PARENTS from 19 states plus the District of Columbia converged on campus Sept. 22–24, 2000, for BYU's first Parents' Weekend. While in Provo they participated in activities as varied as campus plays and concerts, an address byBYU President Merrill J. Bateman, faculty lectures, a barbecue, a football game, a 5K run, and church meetings with their students.
Peter B. Ritter, '85, of Boise, Idaho, who graduated from BYU in political science, says his reason for visiting campus was simple. "I'm a baby. I miss my son," he said of his freshman, Eric, who is majoring in anthropology.

Brent R. Knudsen, '78, of Los Gatos, Calif., was on hand for the run and says he especially enjoyed listening to President Bateman offer his vision for the university. Knudsen, who attended the University of Utah, Georgetown, and Harvard in addition to BYU, said the weekend was a great chance to see the campus while spending some time with his daughter Andie, an elementary education major.

The new Parents' Program is designed to help parents become more involved in their children's education by bringing them together in social and intellectual exchanges. The program will also enable parents to stay better informed about university developments.

"Many colleges and universities experience great success with similar ventures," said BYU Alumni Association president Russell K. Booth, '68, in announcing the program. The Parents' Program was developed in response to parents' suggestions gleaned from surveys conducted by the alumni board of directors and other university departments.

After coming to see their freshman son, Ryan, W. Kevin Rust, '81, and Janis Jones Rust, '78, of Colorado Springs, Colo., said they certainly would come again for another parents' event. The Rusts said they "laughed and laughed" at comedian Johnny B., who entertained during the barbecue.

Michelle Cooke's only regret about the weekend is that there was time to hear only two faculty lectures. "I would have loved attending every one," said the Conifer, Colo., resident. She and her husband, Larry, came to BYU to visit their daughter Whitney, a freshman in sports medicine.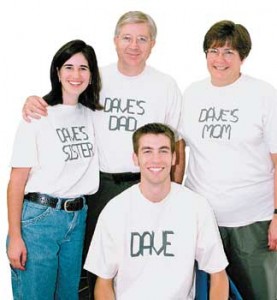 One student hard to miss at the events was Dave N. Sullivan, a sophomore majoring in construction management from Sandy, Utah. His family wore shirts proclaiming their relationships: "Dave's Dad," "Dave's Mom," and "Dave's Sister." Dave's shirt merely said "Dave." Theirs is a BYU family. Bruce A. Sullivan, '73, received a degree in music. His wife, Vivienne Brown Sullivan, '74, earned her degree in nursing, and sister Karen Sullivan Johnson is a BYUjunior studying youth recreation and leadership.

"We invite all parents to participate," said Nancy Carson, event planner. "We believe such a program has been long missing from BYU, and we believe the timing is right as we begin a new century at the Y. We are organizing a parents advisory board and seek feedback from anyone interested in the program."

INFO: Those interested in being involved with or commenting about the Parents' Program should contact Nancy Carson at 243 ALUM, Provo, UT 84602; 801-378-6748; or nancy_carson@byu.edu.