---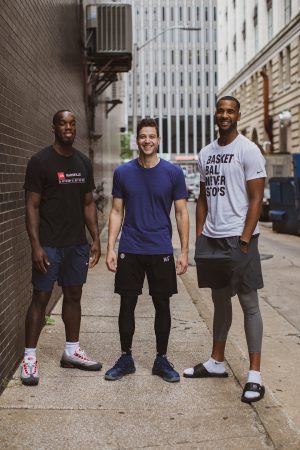 It was like 2011 all over again.
James "Jimmer" T. Fredette (BA '16), N. Charles Abouo (BS '12), and Brandon J. Davies ('13)—three of the guys who made magic seven years ago taking BYU to No. 3 in the NCAA polls—reunited this summer in ESPN's The Basketball Tournament (TBT), a stack-your-own-team, winner-take-all tourney with a $2 million pot.
Jimmer—the man, the legend, the verb—topped the TBT in scoring, and the team advanced to a Final Four game with all the echoes of 2011: Davies put down coast-to-coast dunks; Fredette made back-to-back threes. Team Fredette lost, 76–80, but the BYU nostalgia was flowing online, in the stands, and on ESPN primetime.
.@jimmerfredette!!!!! 👌@teamfredettetbt on a 10-0 run and cuts the lead to ONE. Get to ESPN!! #TBT2018 pic.twitter.com/1NwlGGhrNX

— TBT (@thetournament) August 3, 2018
"It's just natural to play on a team with them again," Fredette says of Davies and Abouo.
Adds Davies, "It's like we never missed a beat."
Catch up with these Cougs at magazine.byu.edu/TeamFredette.