---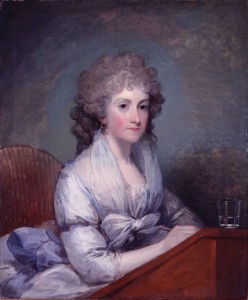 A woman in a dove-gray dress. A drawing desk. A plain green background. But no artist's signature, and no clues to the woman's identity. When BYU acquired Portrait of a Lady in 1975, the painting was attributed to Gilbert Stuart, the "Father of American Portraiture," but it has never been authenticated.
Last semester students in five BYU classes, ranging from art history to figure painting to costume design, researched the portrait and Stuart, looking at everything from paint application to hairstyle and costuming. It was the first time students have been invited to analyze a painting from BYU's Museum of Art (MOA) in such depth. For eight of the students, the experience culminated in a videoconference with one of the nation's foremost Stuart experts, Metropolitan Museum of Art curator Carrie Rebora Barratt.
Stuart painted more than 1,000 portraits during the late 18th and early
19th centuries, including the likenesses of European royalty and the first five presidents of the United States.
Students and the MOA were unable to trace the painting's provenance beyond 1969, and radiographic study of the canvas and paints would be of little help, says Marian Eastwood Wardle (BA '73), American art curator for the MOA, because many artists then used the same materials, and Stuart rarely sketched on canvas before painting. Instead, students sifted through hundreds of Stuart portraits online, hunting for small details. One other portrait has a water glass, and a few others have similar drawing tables.
"One thing is for sure," Wardle says. "Seeing [the painting] in the print study room just propped up with no frame makes it harder to believe it's a Gilbert Stuart than if you frame it beautifully and hang it on a gallery wall."
Though research has been inconclusive so far, students are working on placing the portrait within Stuart's overall work.
"When you have [a painting] that's in an institution, you don't get to question it," says Kalisha Roberts Jacobson (BA '08), who studied the painting in her American art history class and as a MOA curatorial assistant. "It's really fun to be a part of this. I feel kind of like an adventurer on a discovery."