Glimpses at Sister Marjorie Pay Hinckley, Elder Bruce R. McConkie, Elder Orson Hyde, and other Latter-day Saints will fill up your summer reading.
Fifty was my favorite age," writes the late and much-missed Marjorie Pay Hinckley. "It takes about that long to learn to quit competing—to be yourself and settle down to living. It is the age I would like to be through all eternity!" (p. 50). So reads one of a number of Sister Hinckley's insightful musings in Small and Simple Things (Deseret Book, 154 pp., $14.95), a lively and lovely little collection of some of her thoughts, treasured scriptures, and favorite recipes. Commenting on Alma the Younger's statement that "by small and simple things are great things brought to pass" (Alma 37:6), Sister Hinckley notes, "I couldn't possibly have understood this when I was young like I do now," and points out that our lives weave patterns from "the seemingly insignificant things we do over and over" (p. 1). I thoroughly enjoy this little volume, published a few months before her death on April 6, 2004, and so will you. This book is graced by several dozen stunning color photographs of "small and simple" flowers and trees and offers a wonderful way to remember a saintly Saint.
Several recent biographies also merit your attention.
In a biography of his father—The Bruce R. McConkie Story: Reflections of a Son (Deseret Book, 454 pp., $25.95)—Joseph Fielding McConkie, '65, has created a can't-put-it-down compelling read written in a tone and style that proclaim he is a big chip off the old block. Telling his father's remarkable life story from his point of view as Elder McConkie's oldest living son, Joseph Fielding McConkie, professor of ancient scripture at BYU, discusses Elder McConkie's great contributions as a defender of the faith, apostolic missionary, teacher of the gospel, and gospel scholar and scriptorian (he wrote all of the chapter headings and summaries in the current versions of the standard works).
Two recent biographies of President Heber J. Grant enhance this year's course of study in priesthood and Relief Society. Ronald W. Walker, '61, has written Qualities That Count: Heber J. Grant as Businessman, Missionary, and Apostle (BYUStudies, vol. 43, no. 1 [2004], 299 pp.), a collection of 12 essays that examine Heber J. Grant's life as a family man, businessman, young apostle, and missionary in Japan and England. You can get this volume by subscribing to BYU Studies(byustudies.byu.edu), a journal which most of you, when you finally subscribe, will wonder how you ever did without! Another useful short biography is Heber J. Grant: Exemplar to the Saints (Covenant, 192 pp., $11.95) by Matthew J. Haslam, '94.
Myrtle Stevens Hyde, a genealogical scholar and contributing editor of The American Genealogist, has filled a gap in LDS history with publication of a thoroughly researched and well-written biography, Orson Hyde: The Olive Branch of Israel(Agreka Books, 610 pp., $29.95). Myrtle Hyde has chronicled it all—Elder Hyde's search for truth, his life as a Campbellite preacher, his conversion to Mormonism, his call to Apostleship, his mistakes in Missouri that almost cost him his membership, his repentant return to fellowship, his mission to Palestine, and his dedication of the Holy Land from atop the Mount of Olives. Reading this book provides fresh glimpses into events in Mormon history as lived by one of the first Apostles of the Restoration. I can't think of a better account anywhere, for example, of the proceedings of the School of the Prophets at Nauvoo; and here is the definitive account of Elder Hyde's historic mission to the Holy Land.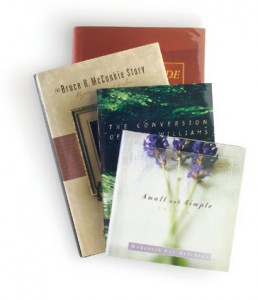 Susan Stewart, '70, in Pure Gold: Keith Elliott Garner, A Behind-the-Scenes Look at a Builder of the Kingdom (Promontory Publishing, 373 pp., $29.95), recounts the exciting life of Keith Garner, missionary to Hawaii, bishop, mission president in Southeast Asia, director of Temple Square, member of the presidency of the International Mission, and powerful witness of the Book of Mormon. This is the interesting life of a devoted, full-time Latter-day Saint, as written—well—by his secretary and chief administrative assistant of 25 years.
Merrill Osmond and Janice Barrett Graham, '76, harmonize nicely in Let the Reason Be Love: A Song of Faith (Tidal Wave Books, 169 pp., $19.95), to tell, using Osmond's journal entries as points of departure, what Hugh Nibley calls "the frank and revealing tale of life in a show business family with a gospel orientation, a tale all the more sensational because it really happened" (book jacket).
Robert G. Freeman, '85, and Dennis A. Wright, '73, in Saints at War: Korea and Vietnam (Covenant, 488 pp., $39.95), continue the story begun so well in their firsthand accounts of Latter-day Saint servicemen during World War II. The authors have collected nearly 150 biographical accounts of LDS Marine, Army, Air Force, and Navy veterans engaged in the Korean (1950­53) and Vietnam (1959­75) campaigns. Among these fascinating stories are accounts by General Authorities Russell M. Nelson, Hartman Rector Jr. (who joined the Church during the Korean Conflict), Joe J. Christensen, '53, and Lance B. Wickman.
Ann N. Madsen, '75, has taken an unusual approach to biography in Making Their Own Peace: Twelve Women of Jerusalem (Lantern Books, 235 pp., $17.95). After describing the sad conditions of life in Jerusalem, Madsen, a senior lecturer in ancient scripture at BYU, tells the stories, gleaned by interview, of 12 remarkable women of Jerusalem—Jews, Muslims, and Christians—often in their own words. These women, at once individual and representative, all love deeply, live courageously, and work energetically to realize their hopeful visions and to build bridges of peace amidst the turbulence of the Eternal City.
Shifting literary genres, I am pleased to recommend the latest novel of Douglas H. Thayer, '55, The Conversion of Jeff Williams (Signature, 234 pp., $18.95). Thayer takes Mormon fiction to new literary heights in this well-crafted demonstration of faithful Latter-day Saint fiction examining how the applied gospel shapes and gives purpose to human lives. In this landmark coming-of-age novel, Thayer, a BYU professor of English and creative writing, explores growing up humanly andMormonly in the modern world. Thayer captures 17-year-old Jeff Williams' memorable summer, spent away from California beaches and with his admirable, spiritual—and ill—cousin Christopher Lowery and his affluent family. Set on Provo's east bench, the novel follows Jeff's conversion and his introduction to genuine love, deep sorrow, and to the soul-satisfying Mormon way of coping with human life and death. In this tender and moving love song to Mormon spirituality, Thayer shows how Mormon literature is done.
Finally, we turn to an excellent work of Utah history by veteran historian D. Robert Carter, '62, Founding Fort Utah: Provo's Native Inhabitants, Early Explorers, and First Year of Settlement (Provo City, 263 pp., $17). Drawing upon an impressive array of primary sources, Carter presents a history of the first year of settlement in Utah Valley, 1849­50. He points out that the settlers of Fort Utah (Provo) were not the typical Mormon settlers who had been "called" to colonize. Rather they were a hardened group of frontiersmen trying to improve their economic lot, who, when confronted by the theft and harassment of Native Americans, "used some alarming tactics to mercilessly crush the Utes" (xiii) in several encounters, including the Battle of Provo River and the conclusive Table Point massacre. Their defeat of the Utes opened the door for the settlement of Utah Valley, but Carter points out that "for the first 25 or more years of Provo's existence, Church leaders considered Provo to be a wayward, fractious settlement" (xiii).
Good reading to you this summer!
Richard H. Cracroft is the Nan Osmond Grass Professor of English, Emeritus.