---
By Richard H. Cracroft
I greet you at the dawn of the new mortal millennium, at some time during which (mark my words, O ye of little faith) the immortal Millennium will get under way. Meanwhile, we have all reflected on the historic events of the last century and millennium. It seems to me that Thomas Carlyle was right when he wrote in Heroes and Hero-Worship (1841) that the history of the world is but the biography of great men (and women). From the Latter-day Saint perspective, biography is simply told: Jesus of Nazareth was the hero of the first millennium anno Domini, and Joseph Smith Jr. was the hero of the second thousand years A.D. But there have been a great many other heroes, writ large and small, in the Restoration Era, and there is much to be gained from studying the lives of Latter-day Saints who have fought the fight, kept the course, and finished their work.

One of the most remarkable Latter-day Saint General Authorities of the 19th century was George Q. Cannon (1827–1901)–English LDS convert; pioneer of 1847; among the first missionaries to the Hawaiian Islands; publicist for the Church; called to the apostleship at the age of 33; counselor to Church presidents Brigham Young, John Taylor, Wilford Woodruff, and Lorenzo Snow; the force behind the founding of Brigham Young Academy; imprisoned (twice) for "cohabitation"; non-voting territorial delegate to Congress; and author of the first biography of Joseph Smith (whom he knew in Nauvoo). George Q. Cannon was the quintessential 19th-century Mormon–much as Gordon B. Hinckley has been the quintessential 20th-century Mormon. Until recently, however, Cannon's life and contributions have gone largely unchronicled.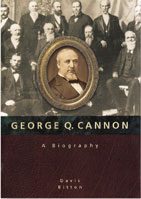 That shadowed recess in Church history has now been flooded with light. Lawrence R. Flake opened the door with his biography, George Q. Cannon: His Missionary Years (Salt Lake City: Bookcraft, 1998; 208 pp.; $17.95), which follows Cannon through his five full-time missions. Now comes the first volume of Cannon's missionary journals, To California in '49, edited by Michael N. Landon (Salt Lake City: Deseret Book, 1999; 187 pp.; $29.95). And Cannon's entire life has been splendidly rendered by Davis Bitton in his landmark biography George Q. Cannon: A Biography (Salt Lake City: Deseret Book, 1999; 554 pp.; $34.95). Bitton's biography, superbly researched and well written, is an instant and enduring classic which will stand as the definitive biography of one of Mormondom's most important leaders.

Another welcome addition to Mormon personal history is What E'er Thou Art, Act Well Thy Part: The Missionary Diaries of David O. McKay, edited by Stan Larson and Patricia Larson (Salt Lake City: Blue Ribbon Books, 1999; 301 pp.; $24.95). David O. McKay's well-written, informative and inspiring diaries provide the first opportunity to read the missionary diaries of one who would later become president of the Church. The diaries follow young Elder McKay on his mission to Great Britain (1897–1899) and capture a slice of missionary life in that era. The diaries, though a century old, recall for 20th-century missionaries the familiar spiritual highs and mundane lows, the joys and sorrows and emotional roller-coaster experiences of LDS missionary life in any era. Amidst Elder McKay's diverse missionary experiences are found those gems which he later shared with the Church–for example, the remarkable missionary meeting held on May 29, 1899, during which the noted presence of angels and a remarkable outpouring of the spirit led Elder McKay to record, "It was the best meeting I have ever attended." Another well-known occurrence that made a profound impression on the man who would become the ninth president of the Church was his encountering and recording the inscription over a doorway in Scotland which would focus his life: "What E'er Thou Art, Act Well Thy Part."

In Henry William Bigler: Soldier, Gold Miner, Missionary, Chronicler, 1815–1900 (Logan: Utah State University Press, 1998; 208 pp.; $19.95), M. Guy Bishop has written the biography of a little-known pioneer who acted his part well. Bigler, a member of the Mormon Battalion, was wintering in the Sierras on orders from Brigham Young when he inadvertently became the first chronicler of the discovery of California gold near Sutter's Fort. Bigler did not find the gold, nor was he with James Marshall at the time of discovery, but the one-sentence notation in his diary on Jan. 24, 1848, has been cited in every Western history since H. H. Bancroft: "This day some kind of mettle was found in the tail race that . . . looks like gold." His daily account of the battalion's march, his chronicle of the first LDS missionaries to Hawaii, his painstaking record of his life as a Mormon farmer and family man, and his accounts of the 1877 completion of the temple in St. George recover for posterity the life of a quiet Mormon hero. Bishop has told well the story of this humble, devoted Latter-day Saint pioneer who endured and obeyed and kept the faith.

Norma S. Davis, BYU professor emeritus of humanities, classics, and comparative literature, has drawn upon several years of research and a treasure trove of newly discovered correspondence to write her carefully crafted and definitive A Song of Joys: The Biography of Mahonri Mackintosh Young, Sculptor, Painter, Etcher (Provo: BYU Museum of Art, 1999; 305 pp.; $65). The last of Brigham Young's grandchildren to be born before the prophet's death, Mahonri Mackintosh Young (1877–1957) became one of Mormonism's and America's most distinguished artists. Any Latter-day Saint in touch with Mormon culture is familiar with Young's definitive statues of Joseph Smith and Hyrum Smith on Temple Square, and with the Seagull Monument in front of the Assembly Hall. Most of us have gazed at the heroic figures atop his This is the Place Monumentand have been moved by his Brigham Young sculpture which graces Statuary Hall of the national capitol, and some of us may recognize his sculptures of Industry and Agriculture, his dynamic boxing sculptures, and his remarkable accomplishment as a painter. (You will want to visit the classic exhibition of Young's works, Mahonri: A Song of Joys, on display at the BYU Museum of Art through Sept. 9, 2000.)

Not strictly biography but certainly spiritual autobiography is Of Heaven and Earth: Reconciling Scientific Thought with LDS Theology (Salt Lake City: Deseret Book, 1998; 234 pp.; $18.95), compiled and edited by David L. Clark, professor of geology and geophysics at the University of Wisconsin–Madison. Of Heaven and Earth is an exciting collection of 11 well- written essays by faithful members of the Church (most of themBYU alumni) who are distinguished, internationally known scientists. Devoted to the premise that "resolution of modern scientific thought with LDS theology is possible," these highly readable personal essays show "how a few believing scientists have accomplished this" resolution (p. 5).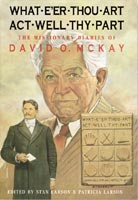 Space permits only brief notice of a number of recent non-biographical books. A book that many of you will find of great interest, but one that is unlikely to receive much attention, is "From This Place": Lectures in Honor of David O. McKay Delivered Annually at Brigham Young University–Hawaii Campus, 1963–1992, compiled and edited by Jesse S. Crisler and Jay Fox (Laie, Hawaii: BYU–Hawaii, 1999; 486 pp.; $31). 

The book is composed of 30 lectures ranging from historical accounts and scholarly insights to examinations of the creative process, all through lenses of faith.

Robert Farrell Smith's second volume in his very funny Trust Williams trilogy, Falling for Grace: Trust at the End of the World (Salt Lake City: Deseret Book, 1999; 323 pp.; $15.95) continues the tale begun in All Is Swell: Trust in Thelma's Way. Smith's novels are great fun. As is Sanpete Tales: Humorous Folklore From Central Utah, by William Jenson Adams and Edgar M. Jenson (Salt Lake City: Signature Books, 1999; 128 pp.; $15.95). Adams recounts a bundle of delightful dialect stories, collected by his grandfather, Edgar M. Jenson, as he heard them from some of the thousands of Scandinavian Saints who settled in Sanpete County, Utah.

Those of you looking for a good book for introducing non-Mormon friends to Mormonism will enjoy Brad Brase's Why Would Anyone Join the Mormon Church? (Springville, Utah: Bonneville Books and Cedar Fort, 1998; 160 pp.; $9.95). K. Douglas Bassett, in Latter-Day Commentary on the Book of Mormon (American Fork, Utah: Covenant Communications, 1999; 540 pp.; $25.95), has compiled and arranged, topically and chronologically, thousands of statements by General Authorities, scholars, and others about every aspect of the Book of Mormon. And in his attractive The Gate of Heaven: Insights on the Doctrines and Symbols of the Temple (American Fork, Utah: Covenant Communications, 1999; 342 pp.; $24.95), Matthew B. Brown has drawn on biblical scholarship and modern revelation to examine in refreshing depth the wealth of symbolism associated with the holy temples, which the Israelites called "the gate of heaven" (Gen. 28:17).

Good reading to all!


---
Richard H. Cracroft is the newly designated Nan Osmond Grass Professor in English at BYU; he is also director of the Center for the Study of Christian Values in Literature and bishop of the BYU 203rd Ward.