---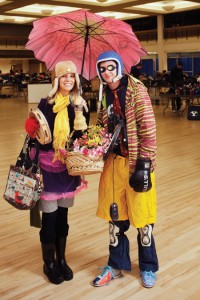 It feels like Black Friday as the clock strikes 9 a.m., the doors open, and eager customers—some of whom have been waiting outside since midnight—rush in. Except it's Saturday. And the deals here are much better: where else can you buy a $120 calculator for only $12?
Here, at the BYU Lost and Found Sale held in the Wilkinson Student Center Ballroom each fall, customers find great deals on items not claimed within at least two months of being found. While, within that window, the BYU Lost and Found boasts a return rate of 83 percent for items worth $5 or more, the year's worth of unclaimed merchandise at the October 2010 sale was plentiful. Prices ranged from 10 cents (for a bookmark) to $180 (the winning bid for a digital projector). Searching for a water bottle? You had 937 to choose from. But if you were looking for Scrabble, a cooler, or a baby stroller, you had to be quick to be the one lone victor. The high rollers in the crowd battled in an auction for cameras, iPods, and even an electric guitar.
Curious freshmen, seasoned seniors, and Provo residents all took advantage of others' lost treasures, and sale proceeds went to Student Life. Unsold items were donated to Deseret Industries.
Students Rebecca E. Jack ('12) and Eric S. Brewer (BM '10) model some of the gems that were for sale.
Becca:
Umbrella: 1 of 212, the fifth most common item
Glove and Mitten: 2 of 712, the third most common item
Tutu: grabbed by AnneMarie Anderson ('12), who formed a coalition with five friends to race for the best merchandise
Total price of ensemble: $33.50
Eric:
Swim Goggles: 1 of 52 pairs at the sale
Boxing Gloves: snatched up only two minutes after the doors opened
Racket: 1 of 7; you could play eight different sports with equipment for sale
Total price of ensemble: $24.00