---
By Michael Smart
None of Jack W. Sites Jr.'s years of training prepared him for the intensity of the moment. Not his doctorate in zoology, not his decades of experience in the field and in labs around the world. The BYU professor slowed his breathing and calmly released the industrial strength rubber band stretching from his thumb.
PLINK!
The ink-pen-sized mesquite lizard fell from the cactus where it had been sunning itself in the Mexican heat and lay stunned for a few seconds. Sites' bulls-eye allowed his "hunting" partner, a BYU undergraduate student, the precious few seconds necessary to scoop up the nondescript brownish-gray reptile and store it with the other lizard specimens gathered for pivotal research exploring how species diverge.
Sites and his team had discovered a five-square- kilometer patch in the dusty Mexican desert where two genetically different communities of mesquite lizards overlapped. By gathering specimens and looking for slight variations in their DNA, Sites could actually observe evolution as it was happening.
For this groundbreaking study and 20 years of cumulative effort to solve some of biology's basic questions, Sites has been elected a fellow of the American Association for the Advancement of Science, the world's largest federation of scientists.
"My peers think my work addresses fundamental questions, and I guess they like that," Sites drawls humbly in his native Tennessee twang. "I get motivated by big questions, like how species change and diverge, and I spend a lot of time going after large research grants to answer them. In the course of that work, sometimes things like this award happen."
Sites' department chair is more forthright when discussing the honor. "Few scientists receive this recognition from AAAS; it is reserved for scientists whose work is truly outstanding," says Richard R. Tolman. "Sites' work with mesquite lizards is recognized worldwide as cutting-edge research."
And these lizards are just a drop in the prolific zoologist's specimen-gathering bucket. Since he first grabbed a 20-pound snapping turtle bare-handed at age 15, he has analyzed the venom of Brazilian coral snakes, documented the reproduction methods of reptiles atop Mexico's volcanoes, and explored the unique species of Australia's Northern Territory. Now Sites has begun work on an effort to preserve giant Amazonian turtles.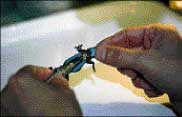 "I love to be in the field–I feel like I'm getting paid for a hobby," he says. An avid photographer, Sites meticulously records his forays on film to augment his lectures. "Nothing grabs students like a color slide with a story behind it," he says, remembering his experience teaching introductory zoology. "If my house caught fire and my family was safe, my slide collection is the first thing I'd grab because it's the only truly irreplaceable item I have."
And Sites makes sure slides aren't all his students see. He took three master's candidates and eight undergraduates with him to Mexico for the mesquite lizard study. And because of his connections in Australia he was able to send two students to summer field studies with the University of Queensland and the Applied Ecology Research Group in Canberra. The students spent weeks camping in the wilderness gathering samples. "How many undergrads in the country can do that?" he asks.
Sites also hopes to involve students in his work with the endangered Amazonian turtle. The 100-pound turtles are being slaughtered at an increasing rate for their meat and eggs, so a Brazilian government agency enlisted Sites to study the turtles' nesting and migration patterns in an effort to preserve the quiet giants.
His preliminary findings indicate that the turtles, which range over a habitat the size of Europe, return to the same region every year to nest. After Sites examines turtles from other parts of the enormous Amazon river basin, he may be able to recommend which beaches warrant special protection to preserve the distinct genetic variations of giant turtles. He also hopes to recruit sociologists and economists to help the turtles' human neighbors adjust to the protection of one of their main commercial products.
"This is exciting new ground for me," Sites says. "It's an interdisciplinary project, and it has such potential to make a real difference in terms of conservation."