---
By Erica Griggs
BYU's Islamic Translation Series (ITS) is expanding to include two additional series of translated texts—Arabic Scientific Texts and Eastern Christian Texts. Now collectively called the Middle Eastern Texts Initiative (METI), the three series are projects of the Center for the Preservation of Ancient Religious Texts (CPART), a division of FARMS. Daniel C. Peterson, director of CPART and executive editor of METI, hopes the two new series will bring Western audiences a more complete representation of the Middle Eastern intellectual and religious tradition.
The need to broaden the publishing project became obvious about a year ago, when scholars in Middle Eastern studies began submitting manuscripts that didn't fit under the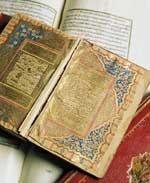 original series, which is dedicated to Islamic philosophy, theology, and mysticism. "There are so many interconnections with all these languages and cultures in the Middle East that it was hard to say, 'We'll take your manuscript and not yours,' because they really are the same tradition," says Elizabeth W. Watkins, associate editor for METI.
For example, the first books that will be published in the scientific series, On Asthmaand Medical Aphorisms,were written by Moses Maimonides, a 12th-century Jewish rabbi and physician who wrote in Arabic and lived in Egypt. "He's part of that tradition," Peterson says. "He's reading Muslim sources and is influenced by them, so to say that he doesn't belong would be artificial."
The first organization to facilitate publishing in this field, METI receives submissions from Middle Eastern scholars around the world. Glen M. Cooper, series editor of the Arabic Scientific Texts series, says BYU is attracting "the cooperation and support of the greatest scholars in the field."
"It's something that was waiting to be done, and we were able to move in and start doing it," Peterson explains, adding that the project has put BYU "at the center of an international field."
As another benefit to this academic project, the translations are giving some Middle Easterners and other Muslims across the world access to their own culture. Peterson says that METI is publishing the works of some of the best-known Arabic thinkers in the Middle East. Unfortunately, many Muslims, and even many people native to the Middle East, cannot read Arabic, nor can they easily find these ancient texts in good (or even poor) editions. Many of them can read English, however. METI's bilingual, high-quality, inexpensive editions are making it possible for such people to read the works of philosophers, scientists, and theologians they have heard about and respected all their lives.
To celebrate this coming together of Eastern and Western traditions, in the past three years METI's publications have been featured at a total of six international receptions in Los Angeles, New York, Washington, D.C., and most recently, London. "We hope [diplomats and representatives from Middle Eastern nations] come away with a sense of mutual friendship and respect," says Peterson.
So far METI has published three titles, and eight more are in process. Peterson hopes the project will continue as long as there are ancient Middle Eastern texts that deserve translation and publication. And then, "when the books are cited, it's 'BYU, Provo, Utah,'" he says. "In the whole world, BYU is the place where this publishing is done."
---
For more information, visit the METI Web site(https://www.cpart.com/meti/).