---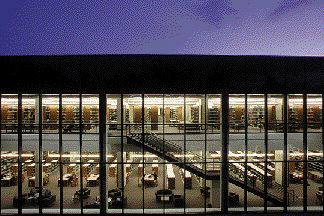 By Stephanie Tripp
President Gordon B. Hinckley, chairman of the BYU Board of Trustees and President of the LDS Church, dedicated the Howard W. Hunter Law Library March 21, joined by his counselors in the First Presidency, BYU President Merrill J. Bateman, distinguished guests, law students and faculty, and others.
"I am grateful for this beautiful and serviceable building which will aid every scholar of the law who studies here," he said. "It is a remarkable and wonderful facility."
The law library was praised for its practicality and beauty. "I am grateful to all for how beautiful the building is on the exterior and interior and also for the functionality of its facilities," said H. Reese Hansen, dean of BYU's J. Reuben Clark Law School. "It is one of the finest centers for learning law in the world."
The library underwent renovations from May 1995 to November 1996. The 60,000-square-foot addition was completed nine months ahead of schedule and $600,000 under budget.
Added to the existing 40,000-square-foot library, the addition and complete renovation of existing space makes the Hunter Law Library one of the most functional and best-equipped academic law libraries in the nation. It houses more than 400,000 volumes, and the additional space will accommodate 20 years of growth.
The new building includes state-of-the-art computer classrooms and research facilities, and the addition of 28 group study rooms encourages cooperative problem solving, said Constance Lundberg, associate dean and law librarian.
The functionality of the new library is also seen in the 476 student carrels, which serve as mini-offices, Lundberg said. Each carrel is equipped with locking storage areas, full-extension file drawers, task lighting, power outlets, and computer data jacks that connect to the law school's computer network and the Internet.
"Students can do everything from their carrels now–printing, word processing, Lexis/Nexis, Westlaw, and access to the Internet and e-mail," said Heinz Peter Mueller, manager of the law school's information systems.
Aesthetic renovations were also a part of the construction. "High ceilings, light walls and furniture, and an abundance of interior glass walls maintain the sense of openness and peace," Lundberg said.
"This law school is a tribute to Howard W. Hunter, the law school, and all the people who helped make it possible," President Bateman said at the dedication ceremonies.
"President Hunter was always a constant supporter of the law school," Hansen said. "We proudly accept, and will forever be grateful to honor, President Hunter's name in connection with the law library."
Howard W. Hunter, the 14th President of the LDS Church, attended Southwestern University Law School at night while working full-time. He graduated in 1939 and worked primarily in corporate and business law until he was called as an Apostle in 1959. He was well known for his pro bono service to the community.
"It is an honor to his memory to dedicate this building to him today," said President Thomas S. Monson, First Counselor in the First Presidency. "All those who use this facility should not only remember him, but also try to emulate the virtues he possessed."
"A great library is a fitting way to memorialize President Howard William Hunter, who had a fitting mind, an exceptional aptitude, and a great love for the law," said President James E. Faust, Second Counselor in the First Presidency.
The Howard W. Hunter Law Library is being paid for entirely with private donations. "No church donations were necessary for this addition because of the generosity of so many people," President Bateman said.