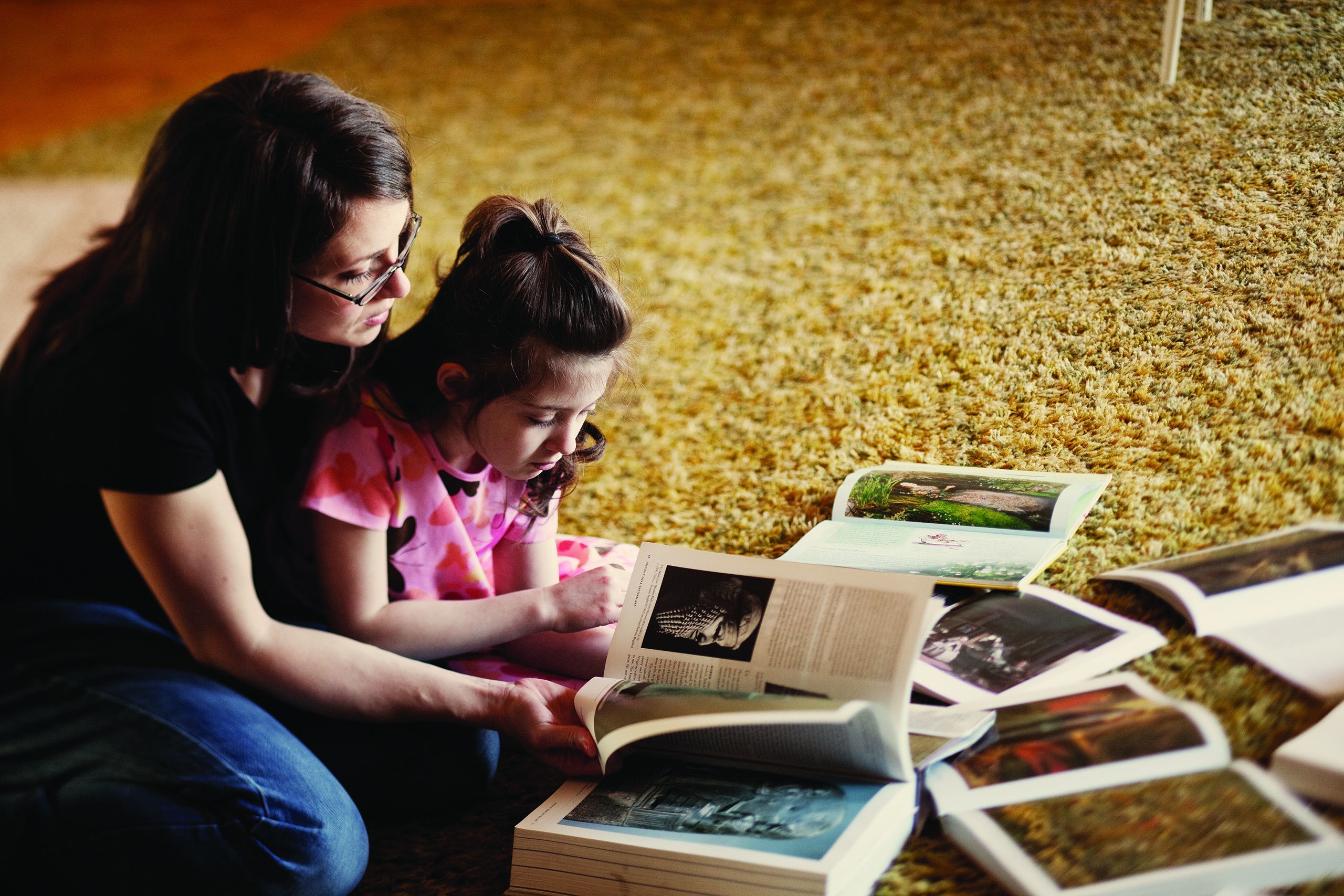 Three-year-old Jane Holmes loved princesses. But instead of fueling her interest with the abundant pink-and-purple paraphernalia available at every toy store, Jane's mother, Taliatha Palmer Holmes (BA '01), reached for her college textbooks. An art-history graduate now living in Buhler, Kan., Holmes showed Jane paintings of real princesses in their fancy dresses and answered her endless questions. Soon the two were decorating Jane's walls with a picture timeline of women in fancy dresses throughout history. Now 7, Jane still loves to look through her mom's art-history books and learn about the paintings.
Like Holmes, thousands of BYU alumni mothers apply at home the knowledge they obtained at BYU—from managing family finances and preparing nutritious meals to teaching music lessons and engineering winning Pinewood Derby cars. Along with these practical skills come less tangible benefits of their educations, like cultivating a family culture of curiosity and passion for knowledge.
Tamsin Hansen Barlow (BS '85), a biology graduate from Rochester, Minn., uses her education to bore her children at the beach. "I name every barnacle, sea slug, and seaweed and give them excruciating lectures on the biodiversity of rocky streambeds," she says. "But my education has also given me a broader range of responses to any given situation, especially child rearing. It has helped my husband, John (BA '85), and me teach them to understand different points of view, withhold judgment until they understand things as thoroughly as they can, show empathy and insight into human nature, recognize their own flaws, and learn to show grace to others and themselves."
The impact of a mother's higher education on her family is not just anecdotal. According to Jenet Jacob Erickson (BS '97), an assistant professor in BYU's School of Family Life, a mother's higher education has been shown to strengthen her "maternal sensitivity"—the way a mother responds to and influences a child's growth.
"Maternal sensitivity and responsiveness is the strongest, most consistent predictor of strong maternal attachment and children's cognitive and emotional development," says Erickson. "Children with secure maternal attachments are more likely to have positive peer interactions, as well as more positive emotions, social behaviors, and exploratory behaviors. In addition to these benefits, a mother's education also enhances her own well-being"
Erickson's own mother exemplified how a mother's higher education can enhance her family life. The daughter of a BYU professor, LaDawn Andersen Jacob (BA '70) grew up with an appetite for learning that was reinforced during her years as a BYU student. "She yearned to share whatever she learned with us—and she did so in thousands of ordinary moments," says Erickson. "She had, for example, developed a love of geography and art history through her education. We had maps on our table all of my growing up years. Dinner conversations were filled with political science and history discussions framed around those maps." Art prints posted on the fridge also informed dinnertime chatter, as did the family encyclopedia. "The love of learning she fostered through her education enriched nearly every dimension of our everyday life."
In many classes, BYU students devote themselves to endeavors designed, ostensibly, to equip them for service in the workforce. But BYU's goal of preparing students for lifelong learning and service places no restriction on where that service must occur. Many alumni mothers, like those whose stories follow, find that lessons they learned in campus classrooms apply directly to the work they do in their homes and families.
Violinists on the Line
Sheri Sifford Denney (BS '73), Thornton, Colo.
A chapel full of young men and women watch as the large hands of BYU defensive end Brett R. Denney (BS '09) bow the strains of "Nearer, My God, to Thee" on his violin at a football fireside. They have no idea that they owe this beautiful music to a psychology paper written by his mother in 1973 at BYU.
A law-enforcement major with minors in psychology and sociology, Sheri Denney was fascinated by the relationship between the left and right hemispheres of the brain and wrote about the topic for a psychology class. She learned in her research that strengthening the right side of the brain through artistic endeavors, such as learning to play a musical instrument, had been linked to academic and athletic success.
Years later, when her oldest child was 8, Denney decided to apply this theory to her family. From that point on the Denney children always took music lessons, even through their busy high school years. They didn't have much choice. "It was a rule in our house," Denney says. "If the kids wanted to play sports, they also had to be taking private music lessons."
Each of her children chose to pursue both music and athletics, and each had notable success. "Kimberley ('05), the oldest, was the family's first all-stater—in orchestra, playing her violin," Denney says. Ryan (BS '01), John (BS '04), and Brett made all-state football teams and played on BYU's defensive line. Ryan and John now play in the NFL.
Denney's husband, Craig (BS '74), was skeptical at first, especially during the early, less-than-musical years of scratchy violins. But as the children excelled in music, school, and athletics, he came around. Now when people ask him the secret to raising successful athletes, he tells them, "Make them play the violin."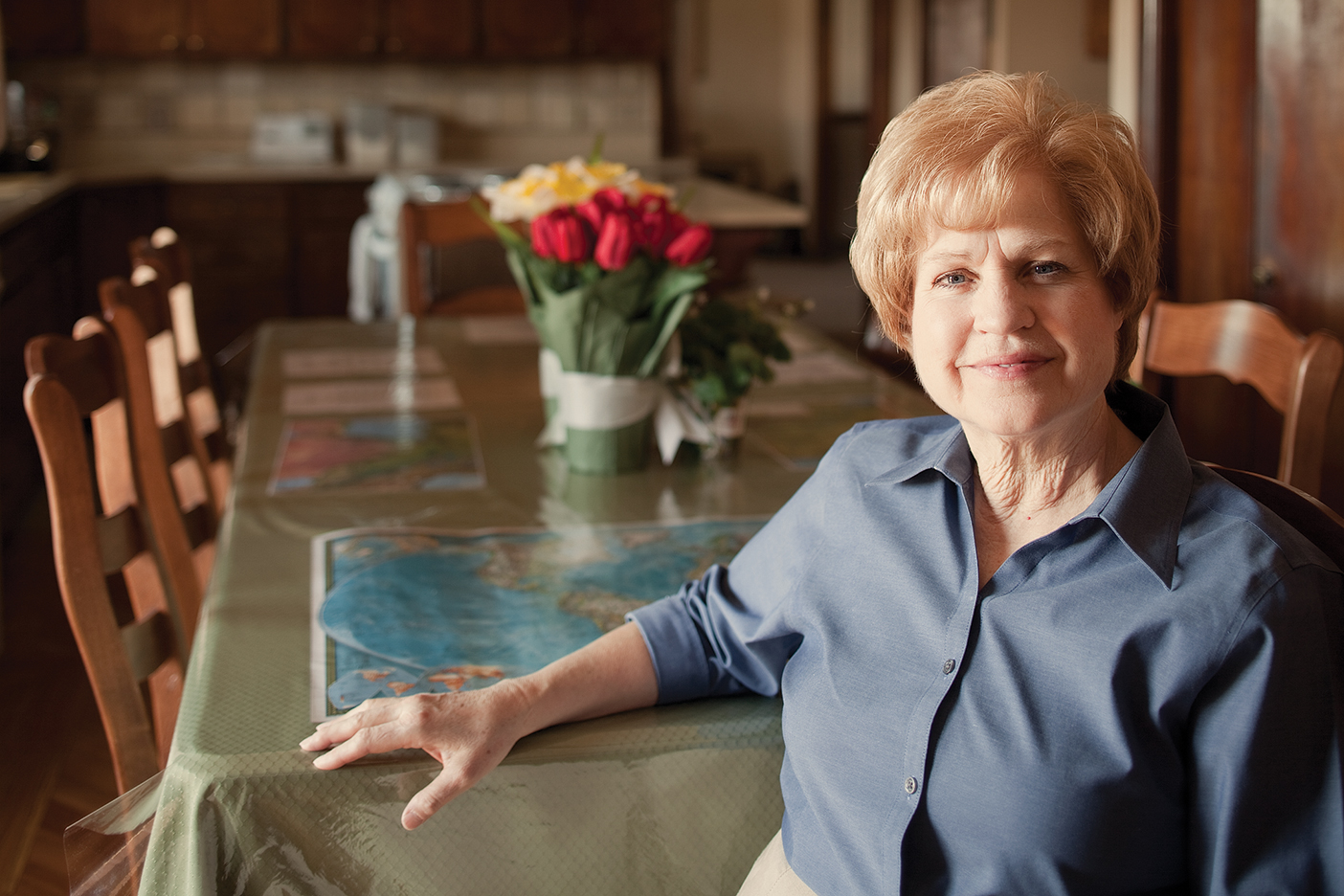 Managing the Home Office
Amber Barlow Dahl (BS '00), Sherwood, Ore.
Dallin, 11, and Haven, 9, were not getting along. Their mother, Amber Dahl, fought the urge to lecture or yell and instead invited them into her bedroom. She sat them down and talked to them about what it was like when they were little—sharing stories about how excited Dallin was when Haven was born and about things they once liked to do together.
She then told them that the way they had been treating each other was inappropriate and that they needed to treat each other with respect. To close the conversation, she reminded them how blessed they were to have each other and how fun it would be to grow up together as friends.
Dahl was using the "sandwich method," a trick she learned in a BYU management communications class. When delivering bad news to employees— laying someone off, denying a promotion, or not giving a Christmas bonus—sandwiching bad news between positive comments helps the recipient deal with the bad news more gracefully.
Dahl constantly finds herself applying business management principles to home and family management. In Professional Selling and Sales Management, Dahl learned a technique that has come in handy at home: when you give a sales pitch, you should nod your head. Customers will subconsciously nod along with you, and this physical signal of agreement makes them more inclined to accept the pitch. She uses this technique when making a "pitch" to one of her six children—like convincing her 3-year-old it's time to put on his pajamas. "It works like a charm," she says.
Dahl has organized her home based on principles of efficiency she learned in an operations class. In her last house, she realized that she usually got her three youngest children dressed on the main floor, not upstairs in their bedrooms. Since the laundry room was also downstairs, she decided to keep their clothing in bins on a laundry-room shelf.
"Even though I haven't worked in my field since graduation," Dahl says, "I use the principles of business management to manage my own little home and family every day."
Historical Perspective
Meredith Armstrong Richey (BA '79), Perry, Kan.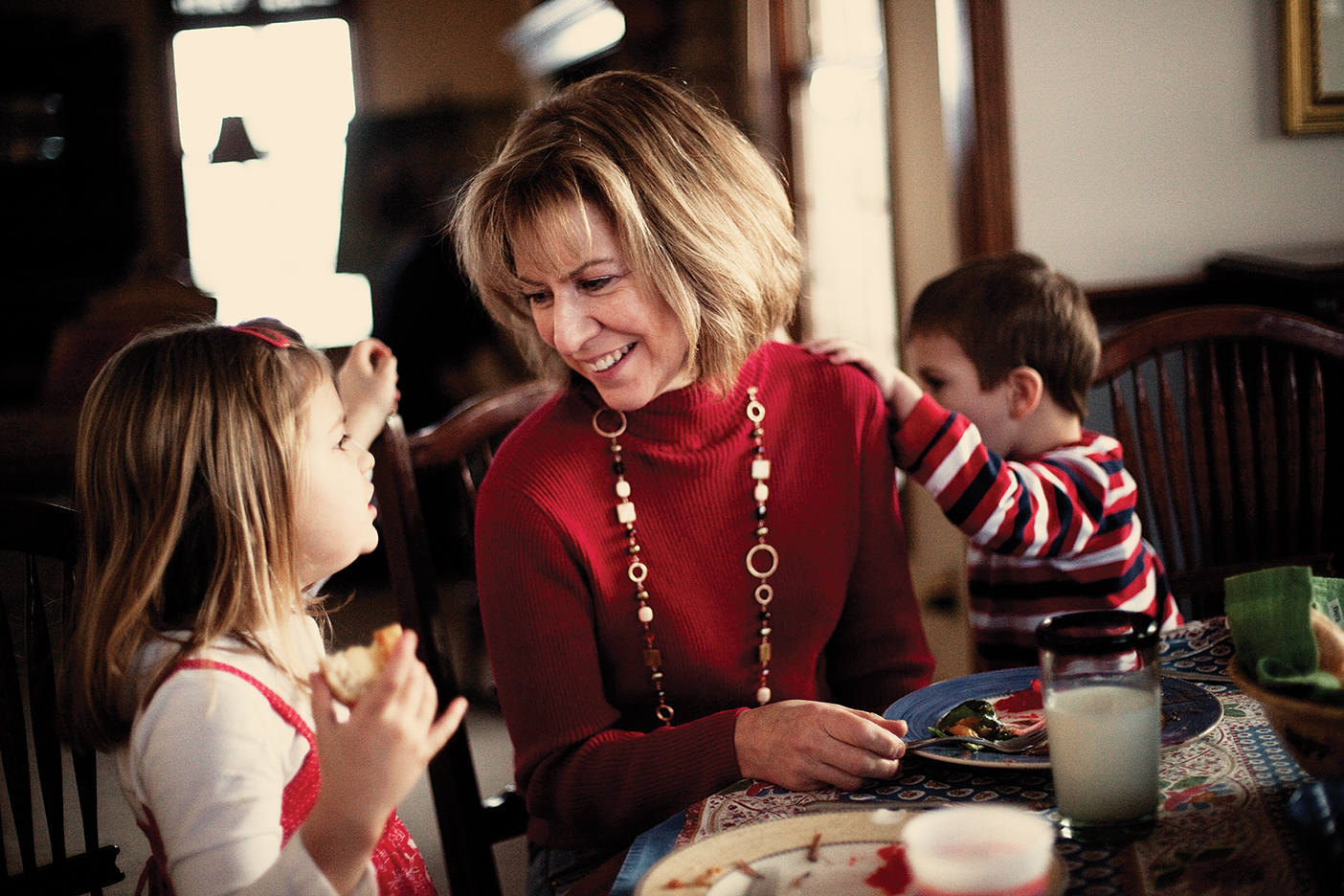 When each of her four children studied American history in school, Meredith Richey, who graduated from BYU with a history degree, wanted to make sure they knew the whole story. So she pulled out the Book of Mormon and taught her children about Nephi's prophecies about America to supplement what they were learning in school.
As a convert to The Church of Jesus Christ of Latter-day Saints, baptized the summer before her first semester at BYU, Richey felt that one of the most valuable aspects of her college education was learning how to integrate spiritual and secular knowledge. "The way my BYU professors intertwined the gospel into all my classes served as a basis for teaching my own kids."
Richey made sure she knew what her children were learning in their history classes, sometimes reading entire textbooks. Then she'd supplement their historical education with discussions around the dinner table, in family home evening, and during homework help sessions, exploring additional interpretations to what they learned in class.
"Studying history helped me to recognize that everyone interprets historical and current events in a different way, depending on their perspectives," she says. "I've tried to help my children understand this, that just because something is written in a textbook does not mean it is true. For example, one American history textbook said that Joseph Smith was hanged."
Richey's background in history has also encouraged her to be politically active. She served for four years as president of United Families California, a nonprofit state organization that supports traditional family values. This activism has inspired her children; one son recently got involved with a committee that helped to pass a smoking ban in Topeka, Kan., restaurants.
"My education has everything to do with who I am today," Richey says. "It gave me a foundation for teaching my children and for acting on what I believe in."
Learning—One Page at a Time
Margaret Nix Everton (BA '01), Salt Lake City
Margaret Everton always keeps a moleskin notebook close at hand. Her current notebook contains one page about how Parliament was set up during Queen Victoria's reign, followed by a page with an explanation of football positions, followed by a page of musings on the political temperature in France.

Everton, an English major, began filling such notebooks while taking classes in an ancient, drafty building in Paris during a BYU Study Abroad program. "Our intensely philosophical classes were interspersed with visits to châteaux and lunches along the Seine. I learned through those experiences how to imbed hunger for and pursuit of knowledge into everyday life."
Later, back in Provo, she attended a poetry reading by BYU's poet-in-residence at the time, Leslie Norris. She was so inspired by the reading that she signed up for one of his classes and later chose him as her advisor for her master's thesis. Two Norris quotes often come to her mind: "Process is vital" and "I believe in inspiration; I believe in searching for it." Everton explains, "He taught me that it's not the accumulation of knowledge that's important, but the process of learning."
Now, between freelance writing and taking care of her two children, ages 5 and 2, Everton usually has only one-page increments of time to delve into subjects that interest her. But nourishing her own thirst for knowledge has helped her to transfer the same passion to her children. "My children are excited to learn anything, which creates a really fun atmosphere," Everton says. "When they want to know something, we thoroughly research and experience it."
Take Benjamin Franklin, for example. When her family lived in Philadelphia one summer, Everton frequently took the children to museums, among them the Franklin Institute Science Museum. Her son Will, then 3 years old, was fascinated by a large statue of Benjamin Franklin. Everton and her curious son checked out books, talked about what it was like to live in colonial America, and learned about electricity.
As her children grow, Everton hopes to cultivate their curiosity in the same way her experience in Paris and Leslie Norris influenced hers. "My experience at BYU taught me about the process of learning," she says. "I have never stopped being a student and hope my children will be the same way."
The Purpose Is the Relationship
Tonya Baker Miller (BS '96), North Salt Lake, Utah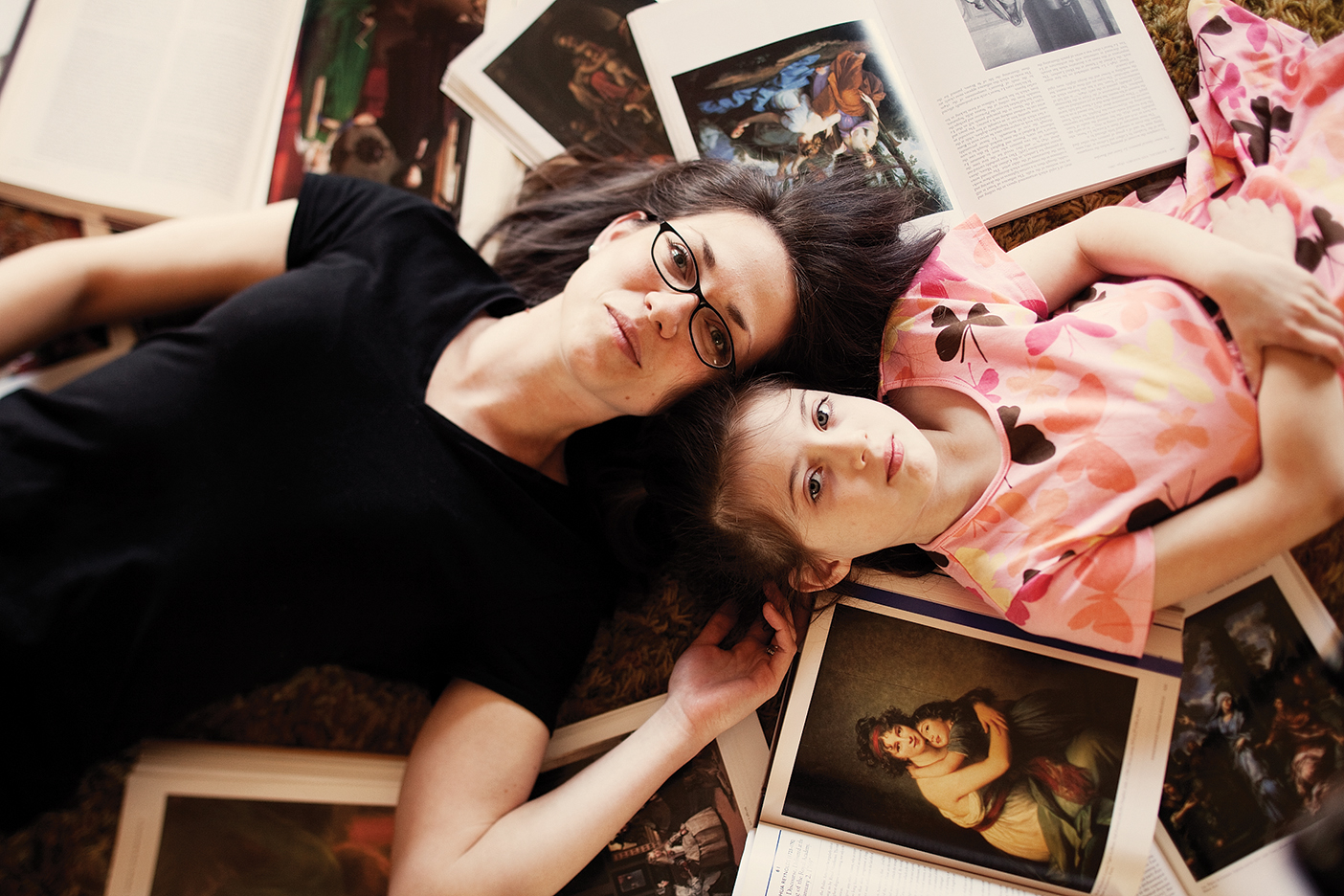 At Tonya and Dylan Miller's home, their sons and daughter are equally likely to be found doing the dishes, babysitting, raking leaves, or taking out the trash. Dylan (BS '96) does most of the cooking and laundry; Tonya loves to clean. The couple has deliberately taught and demonstrated to their children that there are no such things as inherently male or female household tasks.
This egalitarianism is due, at least in part, to Work and Relationships in the Home, a class Tonya took at BYU as she earned her degree in family science. "The class opened new horizons in my home and changed my perspective," Miller says. "It helped me examine who does what and why. I realized how archaic traditional assumptions about household roles are."
The class also helped her learn to prioritize household tasks. For one assignment, Miller had to list each task she felt was essential to managing a home and then determine the value of each task, in terms of both money and time. Especially now that she has children, Miller frequently thinks about this exercise as she and her family evaluate and assign the tasks within their home.
In another class, Issues in Family Science, the teacher required students to write, "The purpose of the task is to strengthen the relationship," at the top of every quiz. Remembering this quote helps Miller put seemingly futile and menial household tasks into perspective. This goes for chores she does on her own to serve her family, as well as those she does with her children. "Doing chores, such as dishes and cleaning up toys, with children takes much longer, but it teaches them and strengthens our family relationships. My house may be messier, but my kids know how to work."
Banding Together
Amelia Tingey Hohl (BA '04), Pittsburgh, Penn.
Before attending BYU, Amelia Hohl had never picked up a mandolin. By the time she graduated, she had performed on the instrument all over the country. Now she performs mostly in the dining-room-turned-music-room of her home with her 4- and 1-year-old children—her favorite (and most enthusiastic) audience.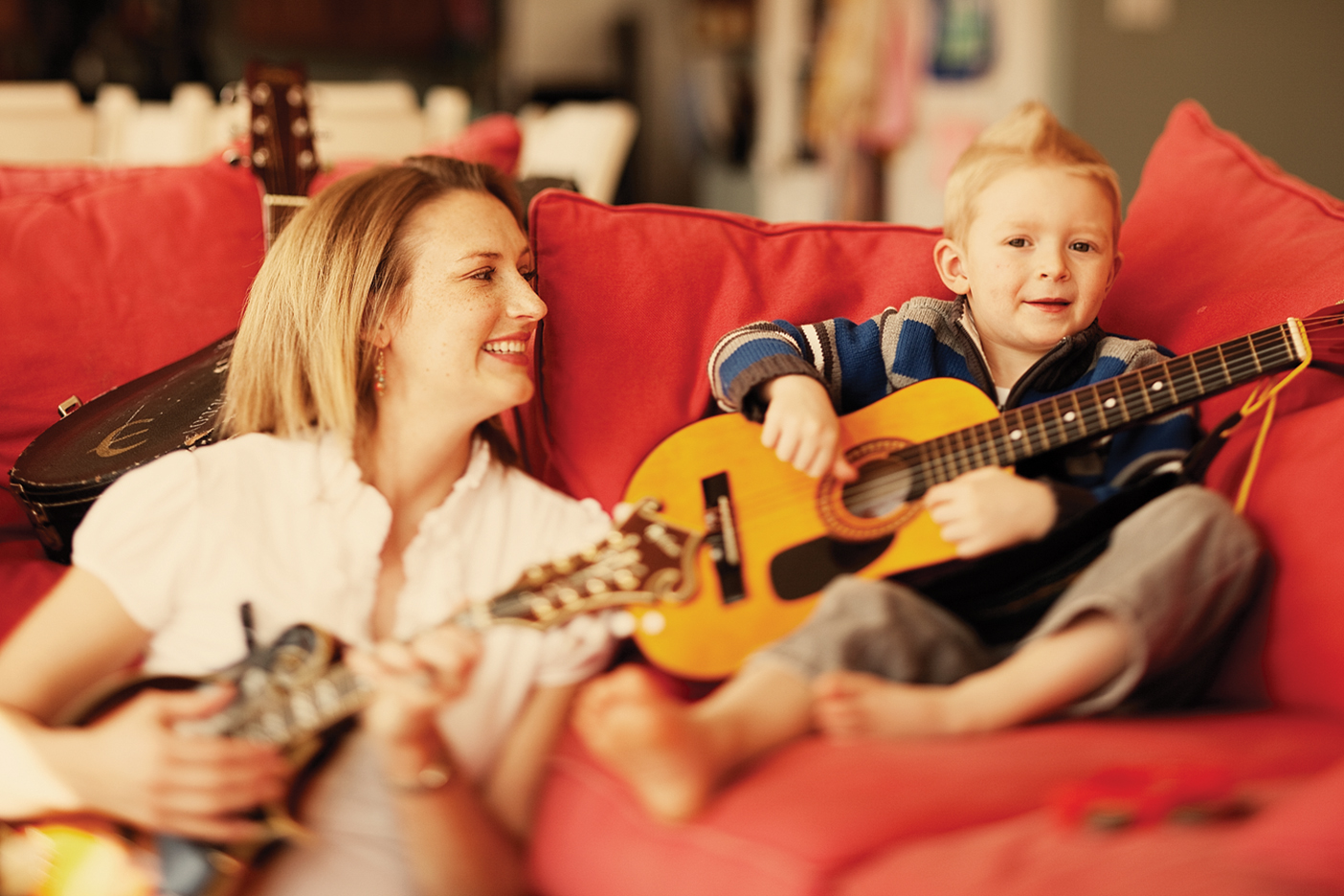 In Hohl's freshman year at BYU, she approached Mark Geslison (BA '90), director of folk music at BYU, and asked to sing with his band. He taught her to play the mandolin, and before long she was part of the Folk Music Ensemble touring group, which took her all over North America for performances with the BYU International Folk Dance Ensemble. "In addition to playing and singing the music I loved, I was able to constantly share the gospel with people I met from all over the world. That's where I really gained my testimony," Hohl says.
Hohl had such a great experience with the Folk Music Ensemble that she taught her younger sister, Lucy Tingey ('11), to play the mandolin and guitar. Ten years later, Tingey is a member of a BYU bluegrass band and plans to audition for the Folk Music Ensemble next year.
Now that Hohl has children of her own, she immerses them in folk music. Besides singing her children folk lullabies and teaching them to sing traditional songs, she has collected a menagerie of instruments, including a lap harp, a guitar, drums, and rhythm eggs for the children to play. "Ever since I met Mark Geslison and his family [which often performs as a group], I have been looking forward to the day when I could have a family band of my own and we could play together, strengthening family bonds, laughing, having fun, and performing wholesome music. That is one of the ways I hope to teach my children to connect with, love, and respect each other."
Frugal Living
In addition to the knowledge Vicki Clawson Cunningham (BS '84) gained by studying food science at BYU, her college experience taught her to live frugally. "Living on a student budget taught me the satisfaction of getting more for less and the creative high to be found in careful resource management," says the Canyon Country, Calif., resident. "At BYU I began the tradition of making gifts, the habit of walking or playing games for entertainment, and the practice of holding modest expectations, and these things continue to enhance the life of my family."
Kidney Beans and Mason Jars
The classroom management skills D'Lonna Allred Nelson (BS '99) learned in her elementary education classes taught her the importance of positive reinforcement, which she now uses to encourage good behavior in her home in Coppell, Texas. "It is amazing what kidney beans and a mason jar can do. It can inspire my four boys to clean a messy room, be kinder to each other, and get their homework done without complaining—all for a bean to put in a jar that, when filled, will be traded in for a family movie night, dinner of choice, or family bike ride."
Whitney Archibald, a former BYU Magazine intern, daily applies her BYU education in her Rochester, Minn., home with her husband and three young sons.