A combination of two plants thrives in Pakistan's desert soil.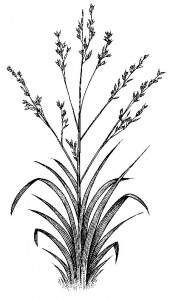 Salt from the Indian Ocean permeates the soil well beyond Pakistan's shorelines, spreading far inland, leaving miles of shoreland unusable for farming. But with help from a BYU researcher, a team from Pakistan has found a way to produce useful crops in this salty soil.
Microbiology and Molecular Biology Department chair Brent Nielsen (BS '80) worked alongside professors M. Ajmal Khan and Bilquees Gul (PhD '98), a husband-and-wife team from the University of Karachi, to study Panicum turgidum, a plant native to Pakistan's shorelines. Panicum was already being used to feed local livestock—Nielsen, Khan, and Gul were looking for ways to maximize its growth. In an area deprived of many of the ideal conditions for economic growth, more Panicum could create much-needed opportunities for local herdsmen.
Panicum, a "salt excluder," survives salty conditions by keeping salt out of its system. Most plants lack this ability and can't grow in saline soil, explains Nielsen, coauthor of the study published in the journalAgriculture, Ecosystems, and Environment. But soils can eventually become too saline—even for a salt-excluder. "If you water the plants with salty water and this plant doesn't take up the salt, the salt is going to build up and the surface soil is going to become even more salty," Nielsen says.
To absorb the extra salt, the Panicum plots at the team's experimental farm in Pakistan were surrounded by Suaeda fruticosa, a "salt accumulator" that absorbs salt. When the Panicum was harvested, the Suaedaplants were burned and the ashes were used for making soap. After a year of testing, the salinity of the soil had not increased significantly, meaning the land could now support a much higher yield of Panicum.
The findings are significant for the BYU–University of Karachi team: Khan began studying salt-tolerant plants with BYU researchers, namely now-retired BYU botany professor Darrell J. Weber, more than 20 years ago.
Not only have the researchers found a better way to grow Panicum—they now have new insights into ways to utilize salty soils worldwide. Texas and California have salty soil similar to Pakistan's. As development occupies good agricultural land, only semi-arable land is left for farming, and irrigation and evaporation further reduce the soil's usefulness, Nielsen says. "Some of the water is used by plants, some evaporates, but the salt is left in the soil." Without regular precipitation, the soil becomes more and more saline, and staple crops like wheat and corn can't survive.
If the proteins the research team has identified in Panicum can be translated to plants like wheat and corn, Nielsen says, it's possible these crops could be genetically engineered to survive in more places, opening up millions of previously unusable acres for farming.