In the gray urbanity of a rough New York City neighborhood dwells a little bit of BYU blue.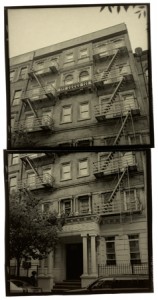 In the gray urbanity of a rough New York City neighborhood dwells a little bit of BYU blue.


Just after getting engaged, Jason R. Gardner (BA '03) and his fiancée began their Manhattan-wide search for an apartment to rent. The couple finally found a spacious one-bedroom on Wall Street, in a new, upscale doorman building with on-site gym and laundry—exactly the kind of place they'd hoped to find. With other potential renters literally standing behind them in the apartment, waving checks, they put down a deposit. But "something just didn't feel right," Gardner says. They worried about the expense but also about feeling isolated in the financial district, which empties out when the markets close. Renter's remorse set in.
"Do you know Amber Henrie?" A friend from church was on the phone, wondering if Gardner had found an apartment yet. "I hear she has an opening in her building."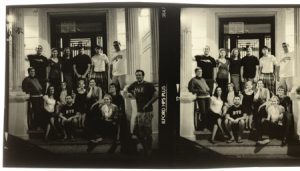 Up on 111th Street in Harlem, far from the gleaming towers of the financial district, sits a somewhat dilapidated, prewar, five-story walk-up, halfway down the block from Malcolm X Boulevard. Amber M. Henrie (BA '03) and Sally Atkinson (BA '03) moved there in 2004 to escape a roach-, mouse-, and drug-infested building in Washington Heights, the neighborhood north of Harlem. At the time, theirs was one of four apartments in the building occupied by BYU alumni or Latter-day Saints. That number has since doubled.
Gardner and his fiancée got in touch with Henrie, who went straight to work, bringing them up for a visit and passing along the e-mail address of the building manager, Adonis Mallios. "Amber is like the mayor of the building," explains Erica Gardner. The apartment Henrie showed them was a small converted studio, only 350 square feet. The building had no gym, no laundry, no doorman. But it had something the place on Wall Street lacked: a sense of community.
"My fiancée and I are friends of Amber Henrie," Gardner wrote in an e-mail message to Mallios that same night. "We go to her church. I hear you have an apartment open." He got an immediate reply, unheard of in the tight New York real estate market: "Sure. It's yours." They were amazed—no interview, no background check, no first and last month's rent up front, none of the usual hoops. The Gardners let the deposit on the Wall Street apartment go and, after being sealed in the Manhattan New York Temple, moved into their new home in Harlem.
An Unusual Gathering of Zion

"Everyone laughs about how Adonis would fill the whole building with Mormons if he could," says Henrie. Convenient, affordable housing is perpetually in short supply in New York City, so members of the Church often pass along leases or information about openings. Still, the gathering of Zion on 111th Street is unusual both in its location and its concentration.
Nine of the 20 apartments in the Harlem building currently include LDS residents. In the last 5 years, at least two dozen alumni of BYU or BYU–Idaho have lived there, and that's not even counting the many BYU summer interns who have passed through its doors. The building soon gained notoriety in the New York New York Stake. Cameron L. Kelly, a graduate of BYU–Idaho, remembers how people at church used to say, "Oh, you live in that building." As the son of BYU advertising prof Kevin Kelly, he realized "that building" needed better branding, so he dubbed it "Harleman Halls" (his sister had lived at Helaman Halls at BYU). The name stuck. "Everyone in the stake knows about Harleman Halls," Henrie says.
This being New York, the LDS residents of Harleman Halls, past and present, share an interesting range of occupations: one taught at one of the roughest high schools in the Bronx; another teaches at an elite Upper East Side prep school. One is a social worker; another founded a nonprofit to help children in the developing world. There are lawyers, accountants, publicists, and composers, as well as a pastry chef at a top NYC restaurant. One carried a machine gun and played the tuba for the 42nd Infantry in Iraq. The list includes a fashion designer, an actor/waiter, and a sound engineer who worked on several Super Bowl commercials.
As for the Harlem location, there are several explanations. Sure, there is higher crime in Harlem, and racial tension is not uncommon there. But rent in Harlem is less expensive than in other neighborhoods. Plus, there's a subway stop only half a block away from the building, and Central Park is just a block south—a huge bonus, as that kind of proximity is reserved for the super-rich anywhere besides Harlem. And then some residents simply want to live among friends and fellow Church members.
Let's be honest though: predominantly black, jazzy, hip-hop Harlem is not where you'd expect to find a bunch of BYU grads. And yet some longtime Harlem residents are not surprised: "The religious cat is always the first cat to move into the 'hood," says Damian Washington, Harlem born and bred. With his girlfriend, Angela Boulart, he lived among the Mormons of Harleman Halls for two years. "The religious cat has that 'We're all brothers' thing," he explains. "They have a different head about them." Whatever the reasons that brought these BYU grads to Harlem, once there, they found a vibrant, interesting, at times challenging, but surprisingly friendly and livable neighborhood.
Of course, when you put that many young, single (most of them) Mormons together in one building in the big city, you've got a scene. As one might expect, Harleman Halls quickly became a center of social activity in the stake, with Sunday dinners and family home evening activities; dances and movies on the roof; Thanksgiving, Christmas, and Easter dinners; and Super Bowl parties (go Giants!). Singles in other wards started calling to ask if they could host their parties at the building, knowing the parties would be well attended. Boulart appreciated being invited to such get-togethers by her many Mormon neighbors when she lived in the building: "They have a dynamic thing going on, and they're inclusive," she says, "in a way that I've never seen in a New York building." Boulart seems pleasantly perplexed by it all: "They're all so happy—unnaturally friendly for New York City."
Residents of Harleman Halls say that, as in real dorms, the strongest bonds are formed just by hanging out. Amy Middleton (BA '01) remembers warm summer evenings when a knock on the shared wall between her apartment and the guys' apartment next door was a signal for anyone feeling sociable to come out and cool off on the fire escape. In the wintertime, Cameron Kelly and Nathan S. Bowen (BM '02) bonded by taking lawn chairs up to the roof where they would sit and talk for hours in the cold open air—they called it "ice fishing."
Not in Provo Anymore

It's after midnight on 111th Street in Harlem. Rats streak across the sidewalk, diving into bags of garbage. An aggressive drunk complains loudly about "crackers" taking over the neighborhood, then recedes into the darkness. Six or seven young black guys in baggy pants and hoodies are hanging out around a stoop, presenting an uncomfortable obstacle for passers by. A croaky female voice calls out from the shadows: "Do you have any food?" It's the homeless heroin addict who sleeps outside the halfway house for prison parolees, which is a stone's throw from the residences of several local drug dealers.
Crime is a fact of life in Harlem. Of the BYU alumni interviewed for this article, one was mugged on 111th Street by a gang of youths who had followed him from 115th Street; another was robbed at gunpoint in the lobby of Harleman Halls. The list of major crimes on the block in recent years include murder, a drive-by shooting, drug parties, prostitution, and more.
Wayne B. Collier ('91), a Latter-day Saint who lives in another building on the block, recalls waiting for his wife and son to come out of the neighborhood supermarket when undercover police officers came running down the street chasing a suspect. The police shot the man right across the street from Collier, in plain sight. "Killed him," he says. "Right there on the sidewalk."
Collier, a Princeton grad who spent a year at BYU, has seen a spectrum of interactions in the neighborhood—from outright violence to downright friendliness. In the course of one racially-charged confrontation, a belligerent man demanded to know where Collier was from. "I'm from North Carolina," he responded. The man's countenance changed instantly. "Oh yeah? Me too!" The two men then had a nice chat about the towns they were from.
Collier has lived on 111th since 1999 and has seen a lessening of racial tensions in recent years, tensions that he attributes in large part to fear among old-time residents that they will be priced out of their homes by neighborhood gentrification. According to Collier, secretary of the neighborhood block association, most people on the block are now neutral to positive about their LDS neighbors. As for the impact of so many BYU alums on the neighborhood, he says simply, "I think the neighborhood has changed them more than they've changed the neighborhood."
Cougars aren't in the majority—yet—at Harleman Halls, and they like it that way.
"The nice thing about the building is it's still a diverse mix," says Jason Gardner. "I don't feel like we rule the building, but it's good to know there's always someone who can help if you forget your keys or need to receive a package."
But Erica Gardner quickly counters with evidence that Latter-day Saints aren't the only ones who can help in a pinch. "I crawled through the window in 2FW when I lost my keys," she volunteers, explaining how she met some of their black neighbors.
"Oh yeah?" Jason says, amused. "The thing is, there aren't so many of us here that it detracts from the New York living experience."
Community Within the Community

There's no gainsaying that what brought young Latter-day Saints together in Harleman Halls was a desire for community within the larger community. And that is the joy and the genius of what they have created in one small building: not just a fun place to live but an island of support in a city known for grinding people down. This was brought into sharp focus one January night.
Gardner, an avid sports fan, often hosts BYU sports nights at Harleman Halls. A group of Cougar alums were gathered for a BYU-Utah basketball game when the phone rang. It was Henrie.
"Do you want to come up to watch?" Gardner asked.
Henrie's tone was urgent: "Carlynne is having a major asthma attack. She can't breathe. She needs a blessing."
Within seconds Gardner and another neighbor, G. Oliver Elliot, a Columbia student who transferred from BYU, were out the door and up the stairs, administering to Carlynne Cutler, a BYU–Idaho graduate. No one wanted to wait for an ambulance, so the call went out to Collier, who has that rare thing in Manhattan: a car. In the time it took to get Cutler down the stairs, Collier was waiting curbside, with the motor running. When Henrie came down two minutes later with jackets for the cold weather and wallets for identification, Cutler was already halfway to St. Luke's Hospital on 114th Street and Amsterdam. Henrie followed in a cab, staying at the hospital until her neighbor was discharged. True-blue Gardner and Elliot made it back in time for the second half.
---
A New York freelance writer, TangoTanner reduced the number of BYU alums in Harleman Halls by one when he married Sally Atkinson.
---
A Bit of Harlem at BYU
By Sally Atkinson (BA '03)
Lakia Holmes ('10) met the Mormon missionaries three years ago when one of them literally fell into her lap on a crowded New York City subway train. After getting off at the same stop and realizing they lived just around the corner from her, Holmes also realized these young men in suits were some sort of street preachers. "I wasn't expecting to take the discussions or anything," says the Harlem-born Holmes. "I just thought it was quite interesting to see two white guys in the middle of Harlem doing missionary work."
Growing up in Harlem hadn't been an easy life for Holmes. Her mother was addicted to crack, sometimes disappearing for weeks at a time, and her father left soon after Holmes was born. She bounced around foster homes and struggled in school. "I spent more time on the street than I did at school," she says. But by the time she met the missionaries, Holmes had finished her GED and was taking college courses in the Bronx.
Soon after joining the Church, Holmes moved from her grandmother's apartment to Harleman Halls—only a few blocks away but a foreign environment nonetheless. Since seven of the building's apartments were then home to Latter-day Saints, Holmes had an immediate support network. Her Relief Society president lived two flights up. Her home teachers were just steps away.
Still, Holmes worried she might not have much in common with her white Mormon neighbors. Her attitude changed after she and a roommate cooked up a Southern feast, showcasing Holmes' roots, and invited people from the stake. "We had all the fixin's—pigs' feet, collard greens," she says. People were hesitant about the pigs' feet until a friend who had loved them on his mission devoured a plate full. "I'd never seen someone who wasn't black be so happy to have pigs' feet," Holmes says. "It was cool to see people trying something they'd never even seen before and getting to know a part of my life and culture."
Being surrounded by so many returned missionaries and BYU grads, Holmes soon began to desire those same experiences for herself. Six months after moving into the building, she was on her very first airplane flight, headed to BYU for school. A year later she was serving a mission in Atlanta.
Now in her sophomore year at BYU, Holmes finds herself between two worlds, challenging misconceptions on both sides. A fellow student, upon learning Holmes was from Harlem, asked whether she had ever been involved in a crime. Back home in Harlem she was asked if she had to live in "one of those compounds" in Utah. Holmes tries to answer such questions with humor. When students assume she must be a BYU athlete simply because she's black, Holmes, who is 5'3″, jokes, "Do I look like I can play basketball?"
She credits a bunch of BYU grads in Harlem for helping prepare her for life in Provo. "Living at Harleman Halls was like being at BYU before I even came to BYU," she says. "They really changed my perceptions of the Church and of the world." This semester, as the newly called Relief Society president in her BYU singles ward, Holmes will no doubt return the favor.
---
Sally Atkinson works at Newsweek magazine in New York and lived in Harleman Halls for three years.
Feedback: Send comments on this article to magazine@byu.edu.