A guest of the BYU Wheatley Institution, General David H. Petraeus entertains and informs.
On a March evening, General David H. Petraeus, head of the U.S. Central Command, confronted a barrage of questions. But his interrogators weren't U.S. legislators or Iraqi leaders. They were BYU students, hundreds of whom crowded into the Joseph Smith Building auditorium to hear what the commander who led the "surge" of forces in Iraq had to say.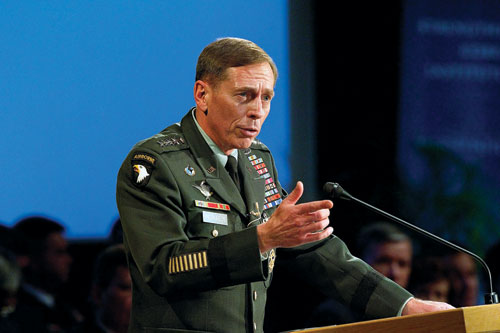 One student inquired whether it was really possible to win a war while avoiding citizen fatalities. "Well, you can and you have to," Petraeus answered. "I used to challenge our forces to say, 'Will this operation take more bad guys off the battlefield than it creates by the way it is conducted?' . . . You cannot have tactical successes that are strategic defeats."
Amos Jordan, a former U.S. Army brigadier general and senior Wheatley Institution fellow, asked whether the lessons learned in Iraq can be applied to Afghanistan. "Afghanistan is very, very different from Iraq," Petraeus said. "[But] there are many lessons that we learned in Iraq that are indeed applicable if applied with real care and a granular appreciation for local circumstances, because all counterinsurgencies are local. . . . You have to do this village by village, valley by valley."
Petraeus joined a growing list of high-profile speakers brought to campus by BYU's Wheatley Institution. During the 2009–10 school year, the institution also hosted James R. Schlesinger, former United States secretary of defense; Zbigniew K. Brzezinski, former national security advisor to Jimmy Carter; Rabbi David S. Rosen, director of the American Jewish Committee's Department for Interreligious Affairs; and Brent Scowcroft, former national security advisor to Gerald Ford and George H. W. Bush.
"We want to be [a] center for important scholarship and important discussion in several fields that are important to our society," says Wheatley Institution director Richard N. Williams (BS '74).
When BYU benefactor Jack Wheatley founded the institution in 2007, he envisioned a research center that would boost the scholarly influence of BYU and be a meeting place to discuss issues that are critical to the strength of core societal institutions. Ten Wheatley research fellows, along with scholars at BYU and other universities, focus on initiatives in education, ethics, international affairs, and the well-being and financial security of families.
"We want to see if we can make a difference in not just bringing ideas but some solutions to some of the problems we have in society today," says Wheatley.
Watch video of General Petraeus' Q&A.
Petraeus' Top 10
General David H. Petraeus shared 10 reasons BYU grads make great soldiers:
10. They have already been on many a mission.
9. Army chow is no problem for folks accustomed to eating green Jell-O and shredded carrots.
8. It's no problem if they don't know what rank somebody else is; they just refer to them as brother or sister.
7. They never go AWOL; they prefer to call it being less active.
6. They will seize any objective swiftly if you tell them refreshments will be served.
5. They know how to make things happen. In fact, if you ever need a base built quickly in a barren wasteland, you have only to stride out to where you want them to start, plant your walking staff firmly in the ground, and say with a loud voice, "This is the place!"
4. They have innovative ideas for handling insurgents, like assigning them home teachers.
3. They always have a year's supply of provisions on hand.
2. They are the world's most reliable designated drivers.
1. They understand how far Iraq has come over the last seven years; in fact, they think that Iraq's old spot in the "Axis of Evil" can now be filled by the University of Utah.