---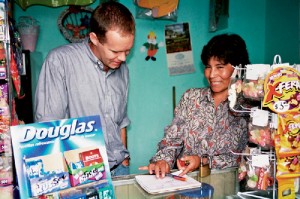 By Charlene Renberg Winters, '73
IT'S easy to see why Geoffrey K. Davis, '96, of Redmond, Wash., would be interested in working with poor people around the world. It's almost as if helping the poor is embedded in his genes.
Davis' grandfather was involved with Peace Corps at its early stages. His father, an international corporate attorney, worked in Hong Kong, Sweden, England, and the Middle East. And Davis is president of Unitus, a growing international microfinance accelerator that works with microfinance institutions (MFI) to help poor entrepreneurs break the cycle of poverty.
"From childhood I heard stories about helping others, and I knew I wanted to do something internationally," he says. His plans became more focused after meeting several African political refugees living in France who shared crowded beds, sinks, and a kitchen.
"As I heard about the horrific things that happened to them, I knew I wanted to help people like them."
With that goal in mind, he majored in international relations at BYU. There he was introduced to international development and microfinance—the practice of extending small loans, or microcredit, to poor entrepreneurs—and he decided to start a microcredit program in Mexico.
"Our first loan was to a woman who sold goat cheese," he says. "She needed $35 for a thermometer to pasteurize her cheese, because pasteurized cheese sold for more in the market. But she didn't have the money. With a $35 loan, she nearly doubled her profits. She was able to repay the money and pay for school supplies, uniforms, and bus fare to send her oldest child to school. The small loan changed her family's life."
After leaving BYU, Davis worked in international business and then with the Grameen Foundation, a leader in the microcredit industry, before earning a master's degree in public policy from Harvard.
Now as president of Unitus, he helps MFIs help the poor people of the world.
MFIs emerged in places like Bolivia in the 1970s, when social innovators began loaning money at market interest rates to poor people, who could offer no collateral. The result was empowered entrepreneurs who nearly always repaid their loans on time and who worked their way out of poverty.
For all its success, however, microcredit is underperforming, according to Davis, who says that more than 90 percent of eligible entrepreneurs have no access to microcredit loans. This is primarily because most MFIs only serve a small number of clients. Unitus hopes to change that.
"For an MFI to grow, it needs adequate capital and operating capacity—these are lacking in most MFIs," says Davis. "Through a series of analytical tools we've developed, we find the MFIs with the greatest potential for significant expansion and then catalyze dramatic growth in the number of clients they serve. We drive this growth through significant investments in capital and active involvement in building their internal operating capacity. We aim to increase the number of clients they serve by 10 times before we're done. The end goal is to get microcredit to thousands—hundreds of thousands—more families so they can put more food on the table and send their kids to school or the doctor."