---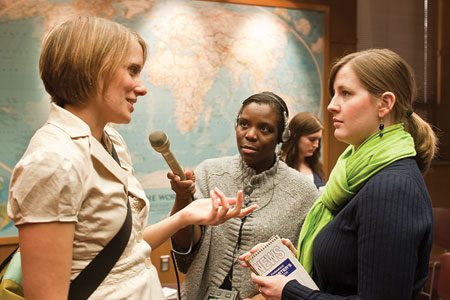 She had covered the aftermath of Hurricane Katrina. She had worked for CNN International in New York City. But as her plane banked hard and began its spiral into the Baghdad airport to avoid any waiting insurgents, Dianna M. Douglas (BA '02) knew she was in for a journalistic adventure unlike anything she'd experienced before.
When her plane landed, the National Public Radio (NPR) producer was led to an armored car, which then delivered her to the NPR bureau house. As Baghdad bureau chief that fall, Douglas had two main objectives—tell the Iraq War story in new ways and keep herself and her staff safe.
It was 2006. The U.S. military was trying to retake Baghdad from insurgents, and the U.S. public had tired of hearing about yet another bomb.
"We would try to tell stories in an interesting way so people didn't say, 'I don't understand this. I don't get it. I don't care,'" Douglas says. "We also tried to tell our readers, 'This is what a Shiite is. This is a Sunni.'"
For their coverage of Iraq, Douglas and about 30 other NPR journalists received the 2007 Alfred I. duPont–Columbia University Award for excellence in broadcast journalism.
"We told a lot of unusual stories that year," says Douglas. "We tried to tell the big stories about big operations and big battles. And then we tried to tell the smaller stories."
While in Iraq, Douglas was in charge of the staff, which was made up of Iraqis—both Shiite and Sunni. She orchestrated their movements throughout the city, since Americans were restricted on where they could go.
"American journalists were getting kidnapped a lot while I was over there," Douglas says. "I couldn't leave the house because I was worth a lot of money."
Douglas, now NPR's national desk producer, says her time in Iraq helped her see everyone involved as "more human."
"The war was really politicized here in the states, and reporting on it in any way became political. I think that is really unfortunate, because it's so much bigger than that," she says. "So many people there don't care about the politics. They are just there."