---
Every Thursday night at the Provo Food Truck Roundup, the hundreds of students and Provo residents perusing the assembly of food trucks find a nearly endless array of gastronomic temptations: Italian wood-fired pizza topped with fig and baby arugula; melty grilled cheese sandwiches stuffed with green apple, candied bacon, and a caramelized red onion mayo; gourmet mini donuts covered in chocolate and cream cheese icing, sliced bananas, and fresh whipped cream; and much more.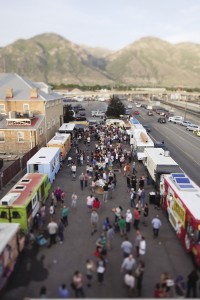 "There's really just an explosion in the food truck world right now right here in Provo," says Anders H. Taylor ('11), one of the roundup's organizers.
Since July 2012, when Waffle Love became the first Provo-based food truck, mobile restaurants began slowly rolling into Provo—until late 2013, when a surge hit. "It seems like there's a new truck every week coming to the area," says Shawn W. Doman (BS '10), co-owner of the truck Corndog Commander. When they're not at the roundup, trucks will set up in business parking lots or latch onto events ranging from fundraisers to soccer tryouts to private parties, keeping their followers updated on their locations via social media.
Doman and other BYU grads like Richard F. Gooch (BA '13), Anthony J. Felt (BS '14), and Michael P. Jenson ('14)—owners of the taco truck Pico Norte—pursued food trucks as a way to connect with their community and venture into entrepreneurship without a huge initial investment. "I don't think we would've done this if we weren't in a college town," says Jenson. "Provo is being revitalized, and I think food trucks are playing a role in that."
—Natalie Sandberg Taylor ('14)