---
Outdoor Adventures
By Laura Cannon Anderson (BS '06), Edmond, Okla.
My master's program in mathematics required discipline: I had to survive graduate courses, TA a calculus course, and make progress on my research—algebraic constructions of the 17-gon. I filled my remaining hours contemplating potential solutions to advanced mathematical problems. I went to bed every night with my mind spinning.
Then I met Alvin D. Anderson (BS '05, MS '08), a Chaco-clad geology graduate student and the former president of the BYU Outdoor Adventure Club. He convinced me that, after working long hours all week, I deserved a break from indoor life—every weekend. So I left behind my theorems and unwritten proofs and joined him on some real outdoor adventures.
One weekend we packed ropes and harnesses up Rock Canyon and used them to scale the quartzite walls. Another weekend we paddled down the Provo River in an inflatable raft. Drifting lazily in and out of tall green reeds near Utah Lake made me oddly anxious. Shouldn't I be doing homework? I had to concentrate on relaxing and enjoying this quiet time away from books.
Winter didn't stop us. In 5-degree weather we snowshoed to Lake Blanche in Big Cottonwood Canyon. What a grand discovery, snowshoeing! Bothersome pebbles and undergrowth vanished beneath deep snow. After a strenuous ascent we loped down the mountainside with pillow-soft footfalls.
When springtime came and the snow began to melt, Alvin took me hiking in Maple Canyon. His proposal on a mountain ridge fittingly bookmarked our story of outdoor adventures in Utah and beyond.
Mountain Man for a Week
By R. Ray Depew (BS '81), Loveland, Colo.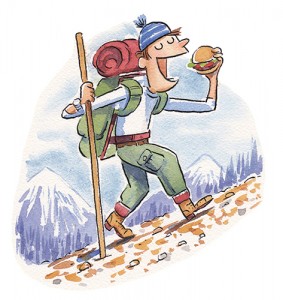 In April 1975 I got trapped in the lodging gap between winter semester and spring term with a week between when I had to move out of my old apartment and when my new one would be available. My nearest family was 3,000 miles away, my friends had all gone to their homes out of state, and I was too short on funds to rent a room to get me through the gap.
But I had my backpacking gear. So I put my other possessions into storage, shouldered my backpack, and headed up Rock Canyon. It was a great place to spend a week. I hiked back down regularly to use the showers in the Richards Building, ate cheap hamburgers at a burger joint on 1230 North, and spent a week sleeping under the stars and exploring the wonders of Rock Canyon.
People might have thought of me as homeless; I was just doing what it took to get by—and having fun at the same time.
An Up-and-Down Ride
By Jessica Condon (BS '07), Winston Salem, N.C.
Living in the relative safety of Provo—and not having a car—I discovered a great love for biking. I loved wheeling myself up to Vivian Park in Provo Canyon or up the steep hill to Rock Canyon and back when the sunset magnified the beauty of the Provo Temple or down to Utah Lake and through the swarms of gnats, always making sure to keep my mouth closed.
One day, after my sister saw a guy I had been dating that summer holding hands with another girl, I got very angry and needed to vent my frustration. I hopped on my bike just south of campus and rode down close to Utah Lake, up the long hill of University Parkway, down the other side, and back to my apartment. I checked my watch and was amazed that I had made the loop in less than an hour. Triumphantly announcing my time to people from my ward who were gathering to play Ultimate Frisbee, I looked up to find one particularly handsome guy smiling back. Feeling much better, I decided to join them.
Apparently, the handsome guy wasn't put off by my flushed cheeks or helmet hair—nor by my Ultimate game—because a year later we were married. I even helped him pick out a bike so we could spend the remainder of our time at BYU biking together.
Introducing Cindy to Allis
By Byron William Taylor (BS '79), Orem, Utah
As a freshman at BYU, I quickly learned that my social standing was not enhanced by my having grown up in Utah County. Worse, my choice to live at home relegated me to the steerage class of the BYU social community. I decided to use the curse to my advantage. My friend R. Brent Adams ('77) and I worked hard at planning dates in obscure, pristine locales not known to outsiders. We had a favorite spot, well off the beaten path in Mineral Basin, where we'd take dates to cook steaks. A hidden grey sand beach on Utah Lake was our choice for wiener roasts.
My most profound off-campus dating experience happened one summer evening 35 years ago. We ended up at the farm where I grew up and on the old Allis Chalmers tractor, where I conducted a driving lesson for my date, Cindy Naylor (BS '77). I didn't anticipate her joyful response. Having grown up in one big city after another, she was truly smitten by the tractor.
A lot has happened since that pastoral summer evening. Cindy and I were engaged a few months later. Most of our child-rearing years were spent in Missouri. Now, it's just the two of us back on that Utah County farm. My big-city-girl wife is content with her role as farm matriarch, following in the footsteps of my mother and grandmother.
Although the Allis Chalmers has not run for a couple of years, she is here too, sheltered as a welcome reminder of my early farm life and of our courtship.
How Not to De-Stress
By Miriam G. Walther Clark (BS '08, MS '12), Klamath Falls, Ore.
As grad students with a baby, my husband and I were naturally short on money and time. So when a friend volunteered to babysit, we jumped at the opportunity to de-stress. We decided on dinner and a corn maze.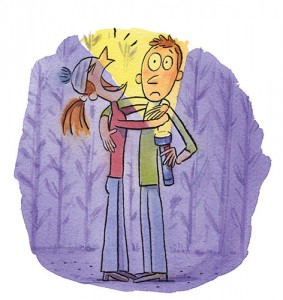 I called beforehand to ask how long the maze would take, and I was assured that everyone makes it through in about 45 minutes. We told my friend we'd be home within two hours.
Dinner went according to plan, and we were off to the maze.
We entered the dark maze and were soon lost. As we walked in circles, 45 minutes came and went, then one hour, one and a half hours, two hours. Tired legs combined with postpartum hormones as I began to panic.
I called the maze cashier to explain the situation: "I have a little baby who is waiting for us—PLEASE HELP!"
"We'll send an employee right out. Where are you?"
"All I see is CORN!" I glanced around. "Oh, and a sign numbered 10."
"OK, someone will be there shortly."
After 15 minutes my patience was gone. I called back, and the cashier said the employee was also lost and recommended I shout out so he could find us.
I yelled, "SAVE ME! My baby is stuck, and I have to get home!"
After 30 minutes the employee found us. "Sorry, I just got lost," he said, holding the map in his hand.
Maybe a corn maze wasn't the best way for us to de-stress.
A Backyard Retreat
By John B. Vaterlaus (BA '00), Omaha, Neb.
During my last two years at BYU, I became friends with an elderly woman named Maria. A convert to the Church, Maria had immigrated to America from Denmark. She had posted a request on the Wilkinson Center service board for help with her large backyard.
Although her home was located near the noisy freeway, Maria had a beautiful and transcendent backyard, filled with a vibrant vegetable garden, colorful flower gardens, and lush green grass, covered by a canopy of shade and fruit trees. Truly, Maria's yard was a delightful oasis in the bustling city.
Maria took great pride in her gardens and yard, but in her golden years her need for assistance grew with each passing season. From planting flowers in the spring to pulling weeds in the summer to raking leaves in the fall, there was always work to be done.
Among the stresses of exams, a senior thesis, graduation, and job hunting, the service in Maria's sanctuary afforded me time for reflection and solitude. I will always be grateful for the respite that a little fresh air, yard work, and beautiful surroundings supplied.