---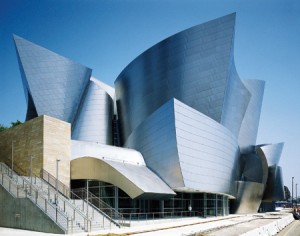 RICHARD S. Smith (BS '82) wanted a degree in architecture, but a BYU engineering administrator told him, "We only do nuts, bolts, and mechanical engineering." Architectural courses were not available. However, BYU did offer courses in 3-D computer-aided design. "This is the future," Smith thought.

So he studied 3-D design technology, hoping his education would eventually lead him to architecture. The aerospace industry, which was beginning to use this technology and was seeking 3-D designers, was a good start. He worked on the L-1011 TriStar wide body airliner at Lockheed Aircraft. He later joined IBM and gained experience working on such projects as the redesign of a new fuel-valve system for NASA's space shuttle after the Challenger explosion, a nuclear power plant, and Reagan's Star Wars program. But an unusual phone call in 1991 would steer him back to architecture.

On the line was a representative from the office of renowned architect Frank Gehry. "Do you know how to design a building in the shape of a fish?" he asked.

"I was taken aback," Smith recalls. "I said, 'Sure. A fish is aerodynamic, isn't it? Just like an airplane.'" The conversation led to Smith's involvement in the design and construction of a large fish sculpture for the 1992 Olympics in Barcelona, Spain. Smith formed a company called C-cubed Virtual Architecture and for the next 12 years, Smith was closely involved with Gehry's designs, helping make Gehry's firm a digital leader.

"Gehry sculpts. He creates physical models of crazy shapes out of paper and cardboard," says Smith. "We become involved by digitizing his shapes into 3-D computer models. We then detail the computer models, virtually building the structures."

While with Gehry's office, Smith worked on such notable projects as the Guggenheim Museum in Bilbao, Spain, and the Walt Disney Concert Hall in Los Angeles. Since then he has continued his work with other architects.
As a technological maverick, Smith hasn't had an official title since he began working in architecture. Some have called him a computer whiz or a digital guru. But Smith still has his eye on his undergraduate dream. He prefers the title virtual architect.