---
By President Cecil O. Samuelson
The journey to success is one of ups and downs—and persistence to keep going anyway.
This past July on the way to a family excursion, Sharon and I arrived in London the morning after Andy Murray, a native Scotsman, won the Wimbledon Championships. This major event in international tennis had not been won by a Brit in 77 years. The UK media were filled with accounts of Murray's dramatic win. His picture was on the front page of every newspaper. His success was the lead story on television for days.
What I found interesting was that there was little, if any, mention of his serving faults, unforced errors, or lost games—or any of the particularly excellent points scored by his opponent. The entire story would seem, if you didn't look at the match statistics closely, like a perfectly executed victory that was never in doubt.
Perhaps winning Wimbledon is more like successfully completing the game of life than any of us might really expect. The plan of salvation makes it possible for all of us—when we have tried to live our lives the best we can and have worked to overcome our mistakes—to come to the Final Judgment and hear the wonderful pronouncement "Well done, thou good and faithful servant" (Matt. 25:21).
Perhaps you have felt as some of our BYU students do. They come to this university with remarkable skills and abilities, yet they find themselves surrounded by extremely capable classmates and a faculty that has high expectations. They face a lot of hard work and sometimes disappointment and difficulty. For some this leads to anxiety, depression, and a host of other negative thought patterns.
In similar challenging situations, we all need to be the best we can be, but we also need to be realistic about our circumstances. Personal growth comes from being stretched. We should guard against the all-too-common problem of perfectionism or being unrealistically hard on ourselves. To return to sports analogies, even Jimmer Fredette and Tyler Haws occasionally miss a shot. In baseball any player who can get a base hit three times in every 10 at-bat opportunities is likely to be a hero even though he has gotten out seven times along the way.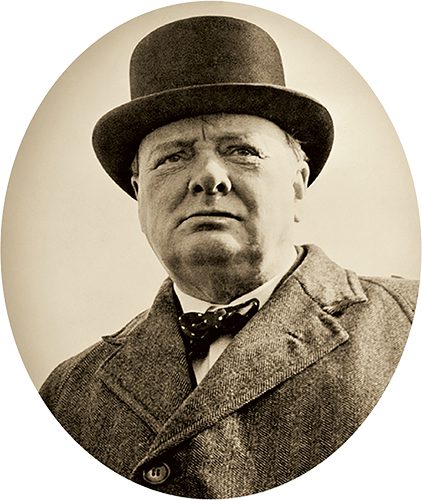 Some of my favorite heroes had major failures to go with the great successes for which they are remembered. George Washington, the father of this country, lost several key battles as general. Abraham Lincoln was visionary and courageous; we don't dwell on his far-from-perfect course to the White House. Winston Churchill lost about as many elections as he won.
Among the things I have found most helpful is this statement attributed to him: "Success is not final, failure is not fatal: it is the courage to continue that counts."
We need to learn to bear with our own weaknesses and failings and also with those of others. If we have unrealistically high expectations, we are in effect failing to recognize not only the blessing but also the essentiality of the Savior's Atonement.
Remember these words of Alma to the people of Gideon as he described the mission of the Lord Jesus Christ: "And he shall go forth, suffering pains and afflictions and temptations of every kind; and this that the word might be fulfilled which saith he will take upon him the pains and the sicknesses of his people…And he will take upon him their infirmities, that his bowels may be filled with mercy" (Alma 7:11–12).
Our pains and infirmities include much more than our sins and illnesses. They include our mistakes, our failures, and our disappointments. These we must have to gain essential experiences, but we also need to understand that we can find in the Savior's sacrifice every compensation we require to overcome all that vexes us. May God bless us in our struggles with the knowledge that the Father and the Son are there for us and will bless us in our efforts to become more like Them.
---
This essay is adapted from a devotional address delivered by President Cecil O. Samuelson on Sept. 10, 2013. Read the full text at speeches.byu.edu.