After dealing with injury in Athens, diver Justin Wilcock sets his sights on gold for the 2008 Olympics.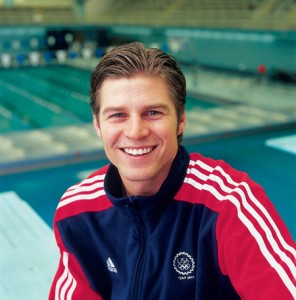 At the top of Justin S. Wilcock's closet sits a hat. Though he doesn't wear it every day, it serves as a constant reminder of his dream. The logo on the hat reads, "Beijing 2008 Olympics."
The hat isn't his first motivational item. When Wilcock, '05, was a freshman at BYU in 1997, he saw a newspaper article that announced Athens as the locale for the 2004 Olympics. He clipped the article, framed it, and kept it over his bed for seven years, until he'd fulfilled his childhood dream of competing in the Olympics.
At 5 years old, this middle child from small-town Smithfield, Utah, watched the Olympics on television and decided he would one day go. "Some kids want to be in the NBA, some kids want to be doctors, and some kids want to be in the Olympics," he says. "I was just one of those kids."
Though he started his athletic career as a gymnast at age 7, he switched to diving at 12 when he realized that diving was just concentrated flipping, the aspect of gymnastics he loved most. He competed in an out-of-state tournament just a few months after he began. "I had the passion for diving right away," he says. "I love that sensation of going through the air and being upside down."
Wilcock performed well at competitions throughout the country in high school and was heavily recruited at the collegiate level before choosing BYU, for whom he competed at the NCAA finals his first year. That was the same year he found the newspaper clipping. "I knew Athens would be my Olympics," he says. "There were a few doubts but in my heart, I knew it was going to happen."
After a Church mission and two more years of successful competition at BYU, followed by two years of 36-hours-a-week training with a coach in Texas, Wilcock found himself living his dream as one of two men to qualify for the U.S. Olympic diving team for the 3-meter springboard in June 2004. Just a week later, however, he got a stress fracture in his back while weight lifting, leading to two painful months of light training and uncertainty of whether he'd be able to compete.
On Aug. 23, the date of his Athens competition, he woke up with a pain level he rates a 9.5 out of 10. "I didn't have any range of motion, I couldn't bend over, and I couldn't arch," he says. As he warmed up throughout the day, however, he was able to move, and he decided he would compete regardless of the pain or difficulty. "My dives weren't very pretty," he says, "but I knew I could do it. My coach said I had earned the right to be there and to compete, and I felt that if I didn't dive, it wouldn't have been a complete Olympic experience."
Wilcock has a hard time watching recordings of those dives now. He finished 32nd out of 32 divers, hitting the board with his foot on his final dive. Despite the painful setbacks, he rates the experience a positive one overall. "I definitely learned humility," he says, "and I also learned the importance of sticking it through until the end." Wilcock resumed training in November and goes to rehabilitation sessions three times a week to strengthen the muscles around his spine. He is now looking forward to 2008, when, says BYU diving coach and former Olympic medalist Jon Keith Russell, '73, "he'll give anybody a go for the gold—I don't care who it is."
Wilcock will graduate in horticulture in April, then move back to Texas, where he hopes to get his MBA while he trains like crazy. And his goal for Beijing?
"Gold medal," he says, smiling. "All the way. No question."
Read more at justinwilcock.com