A BYU nursing professor and students reach out to nurture and be nurtured abroad.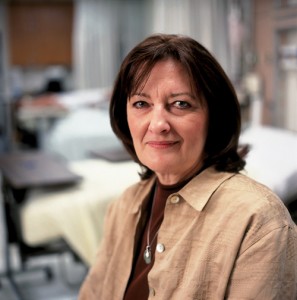 From the time she began her nursing studies nearly four decades ago, Catherine Robinson Coverston, '69, felt she had a specific calling in life to benefit people internationally with her nursing talents, as suggested by her patriarchal blessing. What was less clear was how she was to do this. Through the years she had many international nursing opportunities—from teaching prenatal classes to pregnant women on a military base in Germany to caring for immigrant patients in inner-city hospitals to teaching international students at BYU to be nurses. Even so, she never was sure she had found the international nursing experience she had felt driven to fulfill for so long.
But when Coverston traveled with a small group of BYU nursing students to Tucumàn, Argentina, in 2000, she knew she had found what she was supposed to be doing. Volunteering for four weeks at an understaffed and undersupplied hospital, she could share her compassion and nursing know-how, all while mentoring her eager students. "When we started doing the international programs," she says, "I knew that was it. So I felt I needed to order my life so I could have the energy to do those programs."
Since that first trip to Argentina, Coverston has traveled with students to Guatemala once and to Argentina two more times, including a trip earlier this year. The trips and qualitative research they conducted, addressing such topics as Argentine women's perceptions of prenatal care, have resulted in published articles for both Coverston and her students in International Nursing Review andHealth Care for Women International. However, it is the simple, but often life-saving, lessons that they are able to bring, as well as the simple, but often life-changing, lessons they take home, that both Coverston and her students point to when discussing the value of the trips.
International Exchange
During the 2000 trip to Argentina, Coverston noticed that doctors were leaving new mothers alone soon after they had delivered their babies. Many mothers would start hemorrhaging, a life-threatening condition. To prevent the hemorrhaging, Coverston and her students taught the mothers, while the Argentine doctors were present, a technique called uterine massage, a practice encouraged throughout the world, which mothers can do for themselves to prevent the dangerous bleeding. "Before we left that year, doctors were teaching uterine massage to the moms in the delivery room," she says.
When Coverston returned to the Argentina hospital this year after a two-year hiatus, she was thrilled to learn that doctors there were still teaching and using this technique, among others, to protect the mothers. "We had to work on it again this year—the problem is not completely fixed, but this technique has definitely made a difference," she says. "And it's just so rewarding to see, because these things are so significant. It's great to think we might have had a small impact on that."
The nursing students who have traveled with Coverston, although pleased with their contributions at the hospitals, are also quick to note the lessons they learn from their international counterparts. "For one thing, it's helped me to be more culturally sensitive," says Lisa Barnes, '05, who studied in Argentina this year. "Also, the nurses there had to make do without a lot of supplies, so it taught me to look for other ways to solve problems."
Because of this shortage of supplies and lack of technological equipment, Coverston says, students learn to return to the roots of nursing.
"One of the first things you're taught in nursing is to use your hands to palpate, your eyes to observe, your ears to assess—but it's just amazing how much we get caught up in technology," she says. "In labor and delivery, I tell students to put their hands on women's stomachs to feel contractions, to see what they can learn from it. They don't want to do it because the technology is doing it for them. In Argentina that's the only way they can tell; you have to put your hands on them. Now, back in our own hospitals, not only will these students use technology, but they will use themselves, and the tools they have. They'll use their hands and their eyes."
Elaine S. Marshall, dean of the College of Nursing, adds, "Students learn to use their minds, skills, and hearts to care for mothers and babies in very compromised situations." Doing so, she says, they return "better able to care for all people."
Labor of Love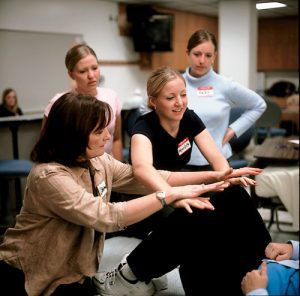 Coverston, who worked with surgical patients and in intensive care when she first began nursing, chose to become a labor and delivery nurse after she had a bad experience with the birth of her first child. "I didn't have a supportive or helpful nurse, so it was a difficult experience," she says. "When it was all over, I decided that somebody had to be able to make it a better experience." Since that time she has devoted herself to making the birthing experience a good one for women, be it through her own nursing or her teaching, both at BYU and abroad.
"In labor and delivery, there's nothing that gives me more joy than helping a woman in her labor experience," says Coverston, who has four children and nine grandchildren. "There's just nothing better than knowing that you made her feel like she could be a good mom. And in teaching, particularly on these international trips, it goes beyond explaining what the fetal monitor does and what oxygen does. So much of it is the attitude that comes with it. I try to show students how much I care for these women, and I see them watch and learn."
Barnes credits Coverston with inspiring her labor and delivery work while in Argentina, noting Coverston's absolute devotion to the patients. "Catherine was right in there with us the whole time, showing us things we could do to help the women when they're in labor, always helping us focus on them," she says. "And she was a large source of comfort for the women she worked with, in everything she said and did. I tried to emulate a lot of what she did, and the more I learned from her, the more I felt like I was helping the patients."
Coverston, who has been juggling the demands of nursing, academia, and myriad community service responsibilities for more than 15 years now, decided earlier this year to retire from her clinical job at Salt Lake City's LDS Hospital and commit more fully to her students and her international studies. She has a Widstoe fellowship to study the value of international programs for nursing students, and she plans to continue focusing on her other international research, committing herself to the calling she's been working a lifetime to fulfill.
"I have some grief about leaving the clinical work behind, but I also realize I've chosen a path that I need to take," she says. "This year in Argentina was very exhausting, but it was so rewarding too. To see the changes in your own students is amazing, and seeing the changed attitudes at the hospital is phenomenal. We know that we're making a difference."