---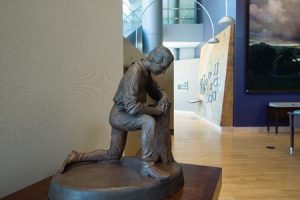 In a large gallery bathed in natural light from a wall of tall windows, Educating the Soul: Our Zion Tradition of Learning and Faith opened on the second floor of the Joseph F. Smith Building in August. The free exhibit includes videos, artifacts, and letters that examine the Church's education system from the time of Joseph Smith's First Vision to the present.
"We needed to tell the stories of our educational pioneers," says C. Terry Warner (BA '63), the exhibit's executive director. "Their stories will inspire our students and visitors as they identify with our educational forebears and understand their sacrifices and ingenuity. Their stories tell us who we are."
Educating the Soul, a permanent exhibit, is open 9 a.m. to 5 p.m., Monday through Friday.