On his 96th birthday, President Gordon B. Hinckley turned the first shovelful of dirt for a new BYU building that will bear his name.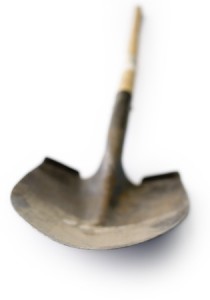 With the enthusiasm of a man one-third his age, President Gordon B. Hinckley thrust a shovel into BYU soil and dug a hole.
Joined by donors, trustees, and his five children, the leader of The Church of Jesus Christ of Latter-day Saints marked his 96th birthday by officially beginning the construction of the new Gordon B. Hinckley Alumni and Visitors Center. But while other participants wielded ceremonial blue and white shovels, President Hinckley used a wood-handled, slightly rusted spade from his tool collection at home. And he scooped up dirt as if he were, well, excavating for a new building.
"That's quite a hole you dug," remarked BYU President Cecil O. Samuelson to the prophet when the ceremony was done. It should be, after four group photos and a dozen or so shovelfuls.
To be built on the site of the former Alumni House, the Hinckley Building will house various university advancement offices. University leaders refer to the center as the school's front gate, which will welcome visitors, tell the BYU story through a display area, and provide comfortable reception and meeting spaces. A clock tower will be the building's defining architectural feature. The 80,000-square-foot structure, to be funded entirely by donors (see "Filling the Hole," below), is expected to be complete by fall 2007.
The building is also distinctive, noted President Hinckley, because it is being built while the person for whom it is named is still living. "I suppose Brother Samuelson concluded I was only half dead and that we could go forward accordingly," he quipped, drawing laughter from the crowd of more than 800.
President Hinckley expressed gratitude for the honor and made reference to a similar tribute paid to his wife in 2003, when BYU established a social sciences chair in her name. "There is only one thing that dulls the luster of this occasion," President Hinckley said, "and that is the absence of my beloved companion. But she has on this campus a chair, which carries her name, and I now have a building. Maybe we could move her chair into my building and we'd be together again."
Visit more.byu.edu/hinckley to watch BYU Broadcasting's video of the groundbreaking ceremony or to see a video that celebrates President Hinckley's years of association with BYU. Atgbhb.byu.edu you can see live video and images of the construction, learn more about the building, and donate to the building.
Filling the Hole
EVEN before the first soil was turned for the Gordon B. Hinckley Alumni and Visitors Center, alumni and donor leaders were working to fill the hole. Their efforts to fund the construction, operation, and maintenance of the building have been remarkably successful. In a short time, they have secured more than two-thirds of the needed funds.
"I'm happy that we've had generous donors come through once again, as they always do," says Jack R. Wheatley, a donor and cochair of the BYU President's Leadership Council, "and that we have the building well along in financing and far enough along to really go to work."
More than 50,000 people have contributed to the building. Donor names (without donation amounts) will be recorded in a book. Copies will be housed in the building library, secured in a time capsule, and given to President Hinckley. The President's Leadership Council is matching alumni gifts, up to $5,000, one to one. Donors Ira and Mary Lou Fulton are matching student gifts five to one.
To donate, call 1-800-525-8074, visit byu.edu/gbhb, or write to BYU Annual Fund, PO Box 27188, Provo, UT 84602.
Quotes from the Groundbreaking
Amidst the turbulence of our times, we reach out for one who will guide us to safety; that one is President Gordon B. Hinckley. He is our prophet, seer, and revelator. He is an island of calm in a sea of storm. He is as a lighthouse to the mariner who is lost. He is your friend and my friend. . . .
He's a man of optimism. . . . He's a man of gifted intellect. He's a man of compassion, a man of capacity, a friend to one and all, and a leader who inspires spirituality. . . . He is truly a prophet for our time.
—President Thomas S. Monson (MBA '74)
It is said that institutions are merely the lengthy shadow of great men. When I think about the institution BYU, it is the lengthy shadow of thousands and thousands of great men and women, many of whom—most of whom—do not have their names remembered on this campus. And so [we feel] a great deal of gratitude that . . . our parents' names will be remembered forever at this great institution.
—Virginia Hinckley Pearce
Without question, President Hinckley has traveled farther than any President of the Church to declare his testimony to the people of this earth. So in many respects, his life is his testimony.
—President James E. Faust
It is not an exaggeration to say that [our grandfather Bryant S. Hinckley's] first encounter with Karl G. Maeser at this school 123 years ago continues to influence our lives for good. On this beautiful morning as we break ground for the new Gordon B. Hinckley Alumni and Visitors Center, we are grateful for the role that Brigham Young University has played in our lives, and we recognize that there are thousands upon thousands of alumni and their families who have likewise been blessed by this remarkable institution. This new gateway to the campus will extend the reach of the university.
—Clark B. Hinckley (BS '71)
Digging In for the Gordon B. Hinckley Alumni And Visitors Center
Watch BYU Broadcasting's video of the groundbreaking ceremony or see a video that celebrates President Hinckley's years of association with BYU.

On his 96th birthday, June 23, 2006, President Gordon B. Hinckley helped break ground for a new building on BYU campus that will bear his name. The Gordon B. Hinckley Alumni and Visitors Center will be a "front gate" to welcome visitors and former students to campus and to introduce people to the mission of BYU.
Groundbreaking Ceremony
Click on http://byubwmv.byu.edu/gbhb.wmv to launch Windows Media Player and watch BYU Broadcasting's half-hour video recording of the groundbreaking ceremonies, including a news report about the Alumni House, which was recently torn down to make room for the Hinckley Building. Windows Media Player is required to view this video. Click on http://www.microsoft.com/windows/windowsmedia/player/11/default.aspx to download a free copy of Windows Media Player for your computer.
Special Video Presentation
You can also see a special seven-minute video presentation that was created for the groundbreaking luncheon; it celebrates President Hinckley's decades of involvement with BYU. There are two sizes available.

Small (8.1 MB)
Large (42 MB)

These are large files that could take a while to load, depending on your Internet connection. QuickTime is required to view this video presentation; if you do not have QuickTime, please click here (http://apple.com/quicktime/download) to download the free version.