A Bolivian student has choreographed an unlikely path to dancing success at BYU.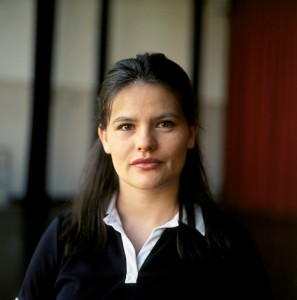 It's not even possible, Angela Rosales Challis, '05, remembers thinking. Her impossible mission? Not just getting into BYU but also the university's department of dance. Admiring the display cases filled with pictures of smiling dancers as she wandered the Richards Building (RB), Angela Rosales knew the obstacles she faced: The Bolivian native was still learning English. She had little advanced dance training. "I just couldn't see myself there," she says.
But Rosales is nothing if not determined. Not to mention creative. "She considers seriously what it is that she's doing. But that doesn't mean that she's not going to have fun with it at the same time," says BYU dance professor H. Patrick Debenham, '73.
Those two traits propelled her down the path to BYU. After high school Rosales left her family in Cochabamba, Bolivia, to study dancing at one of the few affordable places—Cuba's National School of the Arts. She remembers with a laugh the predicament her lack of formal training put her in: The then 19-year-old Rosales found herself in a class with 11-year-olds, who asked if she was their teacher. "No, I'm your classmate," Rosales answered. And while the instruction in Cuba was good, after a year with little communication from her family and lack of interaction with Church members, Rosales returned home. That's when her mother, herself a BYU graduate, suggested going to Utah.
Coming to Provo on a student visa in 1999, the first thing Rosales saw on campus was a children's dance program. At that moment, she fell in love with BYU, and after taking two semesters of English classes and passing the Test of English as a Foreign Language, Rosales enrolled in January 2001. Last year she married Chad Challis of Riverton, Utah, and Angela now stands two semesters away from earning a degree in dance education with an emphasis in modern dance. Over the last three years she has gamboled her way into outstanding choreographer honors from her department, received a merit award from the modern-dance club Dancensemble, and earned a full-tuition Mabel Smith Hanks Scholarship.
At BYU, Challis has also been a member of a community dance troupe called Kinnect. Whether performing or choreographing, her passion and enjoyment for dancing helps others understand modern dancing's unique style. "She knows how to help not only her dancers but a larger group of people get the feel for what modern dance can be and should be," says Debenham, who serves as the advisor for Dancensemble.
Challis says modern dance leads to self-discovery. It has shown her what she is good at—being creative—and what she lacks—discipline. She feels that by teaching modern dance, she can help others experience similar self-awareness. "I think modern dance gives you a lot of freedom to be yourself and to find yourself," she says. "You get to know yourself in a way that you wouldn't in everyday life."
Challis' unique style shows most when she teaches. With Kinnect, Challis tours local elementary and middle schools and shares her passion for dancing. After she performs, she works with a small group of children and helps them choreograph their own dances. "I think dance brings light to our lives," she says. "You can just see the students' smiles and their eyes so bright. You don't see that everyday."
These days as she strolls through the RB, Challis sees her own face smiling back at her through the display cases. Challis one day hopes to take her family, Chad and newborn daughter Camila Alejandra, back to Bolivia. She wants to start a dance school to help others find the joy and self-discovery that comes through dance.